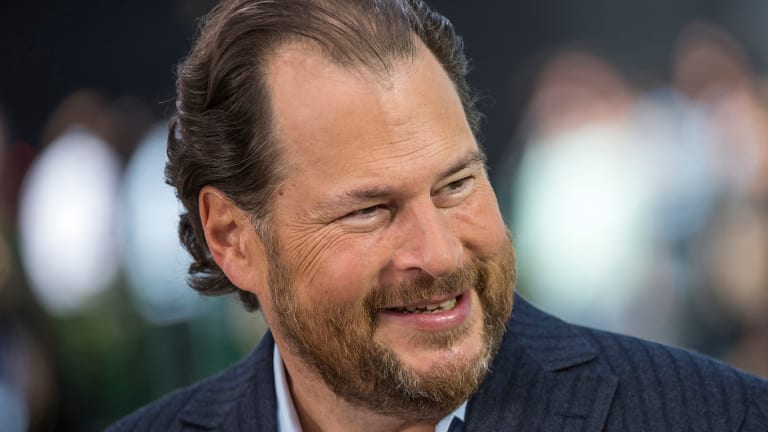 Here's One Way to Solve the Wage Gap
Salesforce.com takes action to combat a pervasive problem.
Salesforce.com CEO Marc Benioff announced last week that the company made $3 million in adjustments to employee salaries in order to remedy wage inequality between its male and female workers. The changes are part of the company's broader initiative to address inequality by pursuing not only equal pay but equal advancement and equal opportunity overall as well. "I think I got called out this year," Benioff said, "and it was a difficult moment for me as a leader, for sure. We also believe very strongly in equality. We believe in equal rights for our employees, for them to have those rights, that is. Equal pay for women is critical."
Salesforce has more than 17,000 employees, 70 percent of whom are male. Of its tech workers, female representation drops to 23 percent. In order to achieve wage equality, the company closely assessed a sample of its existing employees "across the entire company and all departments—all with similar tenure, levels, and peak performance." Finding evidence of inequality, Salesforce adjusted the salaries of both men and women.
But the company has made other changes as well. According to its blog, Salesforce "set and achieved a goal of having women make up at least one-third of the attendees at our executive management meetings and one-third of the speakers at our customer events." Additionally, the number of women who have been promoted in the past year has increased by 33 percent. Women make up a greater portion of the company's leadership as well. "Globally, 19 percent of our leadership (vice president and above titles) are now females—an increase of 27 percent from the 15 percent we last reported a year ago."
I must admit that I cringe when I hear of people talking about filling quotas and meeting thresholds as a means of addressing sexism. I understand that this is not a popular opinion, but I don't really care how few women make up a company's leadership or management as long as sexism is not the reason for it.
That said, it is encouraging to see Salesforce take such a thorough approach to addressing wage inequality. Addressing wage inequality appropriately is tricky and certainly not as simple as doling out the same salary to everyone with the same title. Productivity, performance, tenure, etc., are all legitimate factors in wage discrepancy. Correcting for legitimate sexism without punishing hard workers takes deliberate and honest scrutiny of one's payroll and business practices.
In my opinion, all companies ought to step back and seriously question whether their workers are fairly paid and their business practices are just. In the words of Rob Enderle of Enderle Group, "There is a lot of emphasis and concern about disparity in salaries between men and women and not a lot of progress in correcting the problem. For a company like Salesforce to step up and put their money where their mouth is, it's very important because it sets a precedent." Let's hope that other companies follow suit.
Image Credit: Getty Images