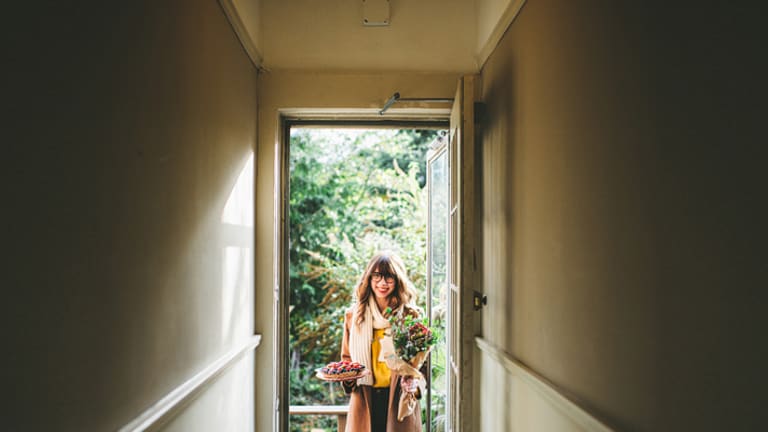 Yes, I'm Single and Looking Forward to the Holidays This Year
Single ladies, let's celebrate the season with these awesome ideas.
I recently read an article about how Norwegians view their long dark winters as a cause for celebration rather than a time for doom and gloom. Naturally, this got me thinking about other gloomy prospects; namely, being single during the holidays.
For me—and dare I say, for many other singles—these couple months can feel like a constant reminder of being alone: company holiday parties without a plus one, fireside sitting with no one to snuggle, forlorn mistletoe, and a random kiss on New Year's Eve. The only thing Norwegian about my winter is likely to be the oversize Norwegian wool sweater I'll be curled up in waiting for the couple-friendly festivities to end.
In some areas of Norway, winter brings up to sixty days of darkness, not to mention near-polar temps. But according to researchers at Stanford University, Norwegians don't survive winter by complaining together, as we do. Instead, they focus on all of the beautiful aspects of winter. In Norway, this is the time of year that everyone revels in warm beverages, outdoor adventures, breathtaking sunsets that are sometimes prolonged for several hours (due to the sun never rising above the horizon), and building a warm community.
This struck a chord. What would a holiday season sans partner be like if we approached it as the Norwegians do the frigid cold of winter? My guess is that if I stop focusing on how cold and single I am, I will begin to see how being alone during the holiday season provides plenty of reasons for good cheer.
I talked to my single and thriving friends and asked them how they stay merry and bright during the holidays. What they came up with made me all warm and fuzzy inside.
Start Your Own Traditions
Single days are a great time to figure out how you want to celebrate the holidays. You could do the same things your parents did every year, or you could begin a new tradition that you can carry with you the rest of your life. "It's a blessing to have the time to figure out the life you want to live, and that includes how you celebrate the holidays," Megan says. She told me that single life gives her the opportunity to start her own holiday traditions that will continue when one becomes two, and two becomes an even bigger family. "Traditions that are about service and staying active are important to me, so every year I run on Thanksgiving and Christmas, and I do some type of service project with my church," Megan says. "I don't expect that to change when I meet someone. They can join in alongside me!"
'Tis the Season for Undivided Quality Time
The Norwegians linger over their breathtaking winter sunsets. With only your own time and agenda to worry about, single folk can soak in more time with their parents and siblings without having to go halfsies with in-laws or in-laws-to-be. "You don't have to divide time between two families, so you get special time with siblings and parents," Erica says. It's so true! Now is the time to be available, to make sugar cookies with your younger siblings and nieces and nephews, or sit with your puzzle-obsessed big sister by the fire and pretend to hunt for microscopic puzzle pieces (this is not just me, right?). Rejoice in this time to give your family your undivided attention.
Dash Away on a Spontaneous Adventure
The single life lends itself to last-minute gatherings and travel. "I'm not talking some exotic, budget-busting trip to the North Pole," Carolyn says. "Although a snapshot with Santa's elves is sure to be a hit on Instagram!" Carolyn says that she has found single life to be the perfect opportunity to travel and nurture relationships with far-away friends and family. "Visiting extended family for Thanksgiving? Not a problem," Carolyn explains. "Being around to watch my goddaughter blow out her first-birthday candle? Piece of cake. A weekend excursion to New York City to see the Christmas decorations? Done." Another perk to being able to travel a lot during the holidays is the opportunity to meet new people. "You never know who you will meet or where your travels will lead you," Carolyn says. "But the allure and goodwill that permeates the holidays is hope enough that I'll end up under the mistletoe someday soon."
Give the Gift of Generosity
Nothing warms your heart like a generous gift from a loved one—except maybe being the one giving the gift. "The holidays are a time to be generous," Meg says. "While I'd love to share with a special someone, generosity is fun with friends, too!" Meg is thankful to be able to be extra-generous with her friends and family while single. "I've hosted a Christmas brunch for girlfriends and have been able to spend extra money on gifts for family and friends," she explains. How lucky are we that we get to lavish our loved ones with our time and thoughtful gift giving, too?
Savor the Present
Putting aside our hopes for the future and enjoying the moment is the stumbling block for most who are single. Yes, yes, there are so many good things about single life...but let's move on to the next thing already! The holiday season is a great time of year to practice living in the now. "I have found that, yes, the holidays can be a thoughtful reminder of the 'not yet' and 'someday,'" Jessie says. "But finding joy in my friends and family that I have now is what this season calls me to do. Plus, I don't have to share my slice of apple pie."
Do like our Norwegian friends do, and revel in all of the goodness that single life has to offer over the holidays. "Take full advantage of your surrounding family, learn new recipes, stay up late by the fire reading, take a destination trip (I went skiing last year!), glance through old scrapbooks and photo books—the list goes on," Jessie says. "It first starts with a chosen attitude about how you are going to tackle the holidays." Nicely put, Jessie!
Being single during the holiday season doesn't have to be a thing of dread. This year, when the temps turn polar, and the twinkling lights start to glow, do as the Norse do, and celebrate all the good things that come with being single!
Photo Credit: Manchik Photography