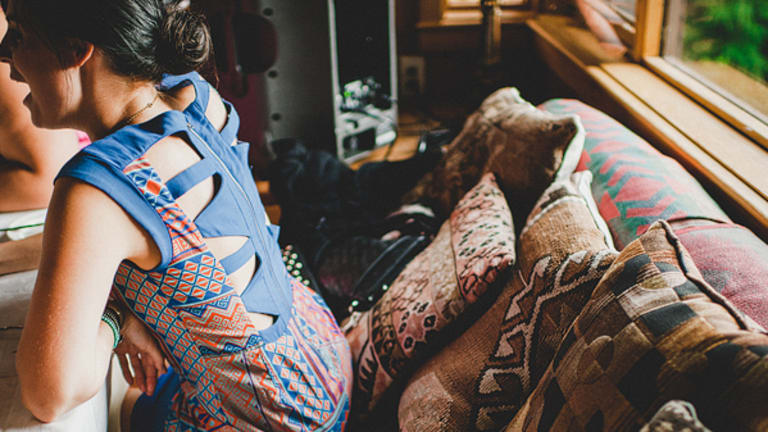 A Frugal Girl's Tips on How to Save Money and Still Be Social
Money isn't everything—we always need our friends.
"AJ's 'Stock the Bar' party is tonight. What are you bringing?" —$42.50
"Run this half marathon with me!" —$190 (registration + $120 for the new shoes, $50 for the new shirt . . .)
"That band you love is in town. . . . We have to go!" —$76
"It's Alex's birthday. We're going to her favorite restaurant in the city." —$62
"Be my bridesmaid?" —$1,200 (flight, hotel, dress, hair, makeup, nails, out-of-town bachelorette party, etc.)
"Your sister is having a baby! You're throwing a baby shower, right?" —$353
"Let's take cooking lessons together! There's this Groupon . . ." —$119
"It's Girl Scout Cookies season. And my daughter's taking orders!" —$25
TOTAL: $2,067.50
I like spending money—I like it a lot. I especially like when it means getting to spend quality time with family and friends at some fun activity. However, despite my impulse to always do and spend, lately I'm trying to fight the urge and hold on to my hard-earned dollars.
If you're not careful, friendships can get kind of expensive, as you can see from my real-life examples above. Without watching myself, I could "accidentally" spend hundreds, if not thousands of dollars, all in the name of being social—and all within a single month.
But if you're trying to build up your savings account, as I am, it can be tempting to give up and isolate yourself: ignoring the phone, watching Netflix, and eating grilled cheese in your old pajamas—maybe with your partner or spouse. Or your dog. When you're pinching pennies, trying to be social can be really frustrating.
Recently, and maybe a bit begrudgingly, I started to embrace the word "budget." It's not that I'm necessarily a terrible spendthrift. But being married has given me an accountability partner, pushing me to look at my spending patterns with a far more critical eye than I would on my own. And as finances are a point of contention in most relationships, I realize it's important that we establish good financial habits early in our marriage.
The problem is that in order to put away enough money to serve as a "cushion" or for other future investments, one really needs to learn how to live well within their means. Whether you're single, married, or somewhere in between, it's probably a good idea to get a little financial nest. Friendships, though, are of imperative importance. They shouldn't suffer just because you want to save some dough.
Here are some simple tips on how you can stay on budget without making drastic changes like becoming a Netflix hermit or making others feel awkward about your financial goals.
01. Just do drinks.
I don't know why everything seems to revolve around food, but letting it anchor your social life can get pricey quick. When we looked at our Mint.com account, we noticed that a shocking amount of money we spent was on going to restaurants. It was prolific. Sometimes it was the "event" of the night. But more than half the time, it was the preface before the event—be it a concert, a movie, or a night on the town. One way to save dollars is to suggest an alternative. When a friend asks if you want to grab dinner, suggest drinks instead. Or if another friend asks you to dinner and a movie, suggest sharing coffee afterward. Want to get even more frugal? Invite your friend over for cocktails or a nightcap. Simple trade-offs like this won't affect your quality of time and can easily save you $20 to $50—which can greatly lessen your social expenses over time.
02. Take advantage of free events and cheaper alternatives.
Speaking of movies, why go when there's a free concert at the park? Instead of always going along with someone else's suggestion, stay on top of the local news, and see what's happening in your city, week by week. Next time someone asks you out to dinner, mention that there's an event going on at the same time, and you were wondering if they'd be open to checking it out with you instead. As for deals, keep an eye out for lunch specials, happy hours, or routine discounts—and offer those up as viable alternatives. Chances are, your friend will be as open to saving money (without sacrificing on the fun), too.
03. Initiate your own budget-savvy get-togethers.
If you do it right, hosting doesn't have to be expensive. After all, it's your place, your rules. If you want to bring a group of friends together, offer to host a potluck—and everyone brings a side dish. Make it creative by giving the potluck a theme. "Dish must incorporate the color green" or "Southwestern cuisine only." Putting certain constraints on the meal can evoke people's imagination and add some variety. Some other budget-friendly get-togethers include:
- $10 Wine Night: Everyone brings a bottle of wine, but it must be less than $10. If you want to add a fun twist, you can have a panel of judges to determine who brought the best wine.
- Clothing Swap: Friends bring five to ten items that have been lurking in the back of their closets to haggle and trade.
- Routine Game Night: Take turns with who hosts, and teach someone your favorite card game.

You don't even need to "host" per se to initiate a get-together. You can suggest playing tennis matches at the public court, or start a book club. Once you start thinking out of the box, the possibilities are endless . . .
04. Get outside and explore.
One of the least expensive weekends we've ever spent was camping with friends. After all was said and done, it cost us $75 for three days—and that included food. However, depending on where you live, the upcoming winter weather may not be very friendly for this excursion. But it can be a beautiful time to get outside and explore. Gather your friends and go hiking, or check out local bike trails. Plan a picnic in the park, and bring a thermos of hot cocoa. If you have friends who are musically inclined, encourage everyone to get together over a warm bonfire, and play some music.
Or sometimes it's fun to take a drive (or a subway ride, for you big-city dwellers) and explore different neighborhoods that you've never been to. Plus, with Christmas season around the corner, it's a perfect time to explore at night and judge who has the best lighting decorations this holiday season.
05. Don't be afraid to say 'no, thanks' or go your own way.
Our resources, unfortunately, are finite. Before you spend, see how much money you can allot for social events, and prioritize. Think of the social commitments you have coming up (bar mitzvahs, weddings, the holidays) that will require a financial commitment. Perhaps you were also invited to your coworker's birthday dinner. While that's fine and good, you shouldn't feel obligated to attend just because you were invited, especially if your sister's birthday is a couple weeks away. Depending on how close you are, you can celebrate instead by bringing a balloon to the office or buying them a drink the next time you're together at happy hour. In a way, budgeting is a lot like balanced eating—there's time to indulge, but if you really insist on having that chocolate croissant for breakfast, maybe you should pass on the bread basket that night.
While these are small tips, they can make big ripples in your financial power—and make you more disciplined, in both the financial and social arenas. Plus, while you might not have to overtly say you're saving money, your more astute friends might notice that you've become a bit more resourceful. If anything, that's a pretty awesome quality to have in a friend, no matter their current socioeconomic clout.
Photo Credit: Manchik Photography