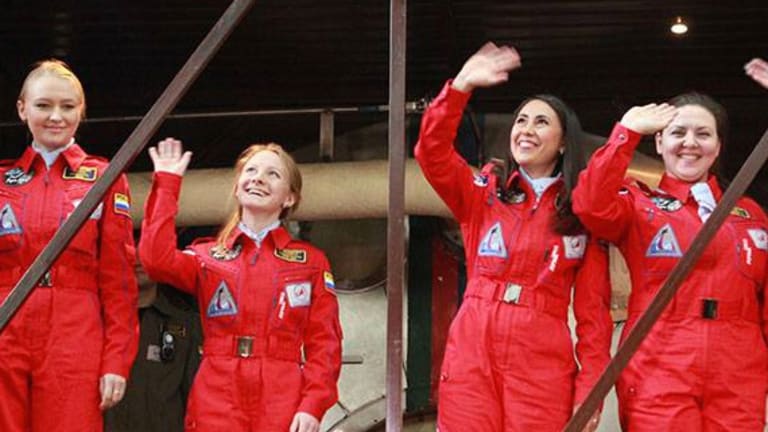 What Happens if You Put Six Women in a Spaceship for a Week? People Ask Stupid Questions
Cosmonauts prove they have class in the wake of sexist comments.
When Yelena Serova was deemed the first female cosmonaut—the Russian equivalent of an astronaut—in twenty years, the media asked her one very telling question. No one asked how she overcame the expectations of an increasingly traditionalist culture to blast off for a five-and-a-half-month stay on the International Space Station. They also didn't seem concerned about complexities of research in a zero-gravity atmosphere. In fact, none of the questions reporters had for her seemed related to her career at all. Instead they asked about her hair.
Admittedly boasting a flawless topknot, Serova deflected the question to her male colleague, asking reporters, "Aren't you interested in Alexander's hair?"
A year later, six women are embarking on an eight-day simulation to the moon, and they, too, faced the same immature line of questioning. This set of reporters inquired as to how the cosmonauts will fare without men and makeup for a week. Darya Komissarova humorously responded: "We are very beautiful without makeup." Hear, hear!
Despite the ridiculous line of questioning, the women simply reiterated their professional dedication to the success of the mission and their enthusiasm for carrying out their experiments. Their goal isn't to bring glamour to space travel; they are physicians and psychologists and other notable researchers who bring diverse, highly qualified backgrounds to their scientific scholarship.
But perhaps even more troubling than the media's questions was director Igor Ushakov's parting words: "I'd like to wish you a lack of conflicts, even though they say that in one kitchen, two housewives find it hard to live together." What? At best, this is a terrible attempt at humor; at worst, it reeks of sexism and undermines his team's undoubtedly rigorous preparation.
It's difficult to know what to expect from a nation whose former head of Roscosmos promised to ensure that the number of women on a spacecraft would not surpass the number of men. Is the weeklong all-women simulation merely an effort to placate advocates of gender equality following an all-male 520-day simulation to Mars? Regardless, Russia discounts the prowess of women scientists, engineers, and cosmonauts at their own loss. Women in space mend hardware, conduct biological experiments in zero gravity, and pilot spacecraft. Even if they did chat about guys and apply mascara, who cares?
Some space travel occurs over long stretches of time, and team cohesion is an important factor for success. But contrary to Ushakov's comment, men and women who have undergone space simulations remark that they do actually prefer a diverse set of exploration companions. An array of various backgrounds engenders a robust set of problem-solving skills crucial for working in an inherently dangerous and stressful environment such as space.
Fortunately, the six women currently inside the Moscow Institute for Biomedical Sciences seem up to the challenge. Women who advance in science learn quickly not to give credence to the naysayers. Unruffled by the denigrating comments at the press conference, the team leader remarked, "So far, I can't think of what would rattle us." If their professionalism and poise in the face of media hypocrisy reflects how these six women handle stressors, surely their simulation experience will only further a bright path for future women in space exploration.
Photo Credit: Institute for Biomedical Sciences