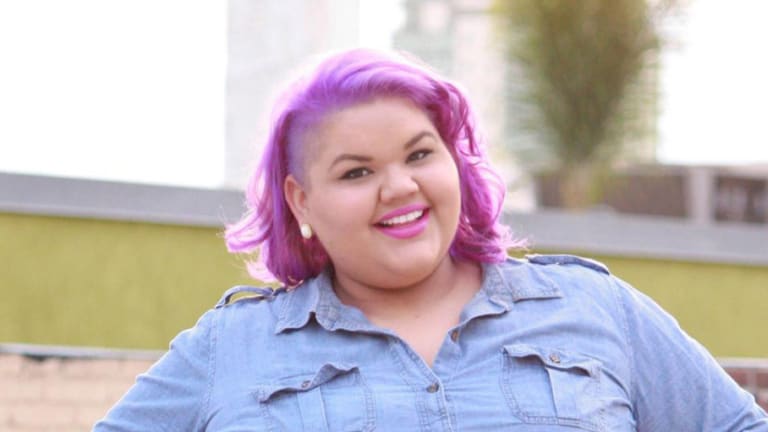 Project Runway Winner Proves Women of All Sizes Are Fashionable
Ashley Tipton's colorful Mexico City–inspired collection was the first on the show not designed for straight sizes.
Twenty-four-year-old Ashley Nell Tipton won season fourteen of Project Runway in last night's finale. Tipton's final collection at New York Fashion Week was vibrant, feminine, floral—and, for the first time in the show's history, not fashioned in "straight sizes," industry speak for the typical thin runway model types.
A San Diego native, Tipton learned to sew from her grandmother at age 7, when she made clothes for her Barbie dolls. As she grew up, designing became her outlet. She studied fashion in college, and even before appearing on the show, she had sold her designs to women all over the world. When her grandmother died the same week she applied to Project Runway, she brought the lessons she learned as a girl to a much larger stage that would no doubt make her grandmother very proud. She explained in last night's program that sewing with her grandmother taught her that "it's OK to be different."
Tipton has succeeded in making her different point of view a strength. Like ModCloth's decision to remove plus-size language from its website, Tipton's work "prioritiz[es] style over size." According to her website, Tipton "is on a mission to represent full-figured women and to enable them to have the same options to express their style and individuality through fashion as women who wear 'standard' sizes." She designed for typical models throughout the season, choosing in the finale—where the finalists design and show a full collection at New York Fashion Week—to use only full-figured models.
Individual challenges have included a variety of sizes in the past, and models have not always been size-2 professionals. The most relevantly memorable instance is the "Fix My Friend" challenge from season ten, in which designer Ven Budhu complained about designing for a larger woman than the other contestants. Tim Gunn put Budhu in his place, saying that his client was on the "cusp [of] plus-size," as if that even mattered. The other contestants—and the Internet in general—agreed that Budhu was out of line and lost a good deal of respect for the otherwise talented designer.
Tipton's collection, on the other hand, garnered powerful reviews from judges Heidi Klum, Zac Posen, Nina Garcia, and Carrie Underwood for its poise, its grace, and its appreciation of and respect for the female body. "Congratulations for having the courage to show what you really believe in," Garcia said, after Tipton was revealed to be the season's victor. "You take this win and ride with it," Posen said. "I think you're gonna do some groundbreaking stuff."
Tipton's garments were largely crafted from hand-dyed lace in gentle pastels. A lace aubergine gown—made in just two days, in the final challenge—balanced the softer tones, all of which were inspired by Mexico City in the 1950s. In addition to her clothing, each model wore a unique floral headpiece, as did Tipton herself. The judges celebrated her breaking the barrier around straight sizes at Fashion Week, but her collection was ultimately successful because of its consistency and the joy it exuded.
Tipton's win is cause for celebration for every woman, in every size. I love that she took a craft passed down through the generations from one woman to another and used it to challenge the status quo. I, for one, am looking forward to Tipton's forthcoming fashion spread in Marie Claire, as well as the line that the $100,000 prize will give her the opportunity to create. Tipton is certainly one to watch, and I'll be staying tuned. Congratulations, Ashley!
Photo via Facebook