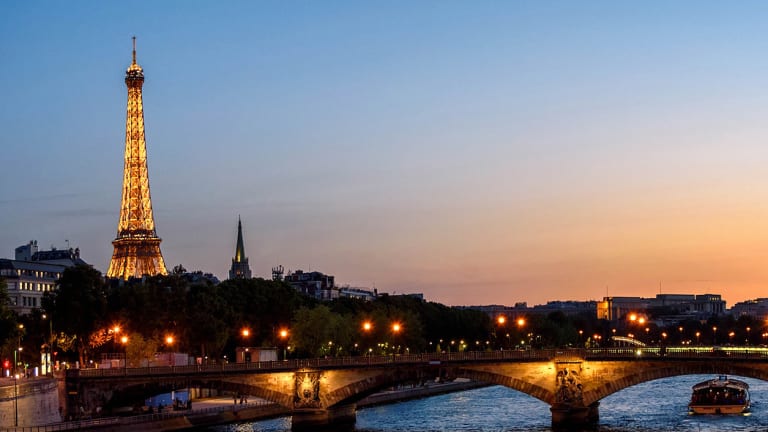 How the French Are Reminding Us Not to Let Tragedy Kill Our Joie de Vivre
Paris Goes #TousAuBistrot
They have weapons. Screw them. We have champagne.
So reads the latest cover of Charlie Hebdo, the satirical French publication that was attacked by terrorists in January of this year. And thus, the French teach us all the chicest way to grieve.
The French are nothing if not lively, and in the wake of last week's attacks on Paris, they're coming together as only the French would do: at the bar. At 9 p.m., Parisian restaurant owners invited all to come to their neighborhood bar to observe a moment of silence for everyone lost in the attacks but also to party. Because: Paris. #TousAuBistrot, the invitation declares: "Everyone to the bar!"
While we're changing our Facebook profile pictures and driving the stake between left and right even further into the ground, the very people that were attacked are declaring to the world that they will not let grief overtake them.
This Parisian spirit of gathering and celebrating in the face of tragedy was also captured by cartoonist Joann Sfar, who illustrated a simple character speaking the following sentiment, which immediately went viral: "Friends from the whole world, thank you for #PrayForParis, but we don't need more religion! Our faith goes to music! Kissing! Life! Champagne and joy! #ParisIsAboutLife."
Prayers and celebration certainly aren't mutually exclusive, of course. At best, it's simplistic to suggest that; at worst, more than a little insulting to those who have had Paris in their thoughts and prayers this week.
But what's most striking about these responses is this idea of refusing to let grief dim the joie de vivre. The zest for life is woven into the very fabric of the country. Exhibit A: The French parliament spontaneously broke into song this week after observing a moment of silence.
It flies in the face of what many of us would expect following such a mass tragedy. We expect civic shutdown, life on hold, everything dulled under the weight of loss. Americans needed Mayor Rudy Giuliani to go on Saturday Night Live and give us permission to laugh again after the September 11 attacks.
The French? You'll find them at the bistrot tonight, just four days after the largest mass murder the nation has faced since World War II. You'll find them gathered together at sidewalk tables, champagne flutes in hand. You'll find them kissing—once on each cheek, of course—and dancing, perhaps. They are not denying the tragedy; they are simply refusing to let the deaths they have already witnessed steal their own lives away as well.
So tonight, like always, you'll find Paris living. We'll drink to that.
Photo Credit: Joe deSousa / Flickr