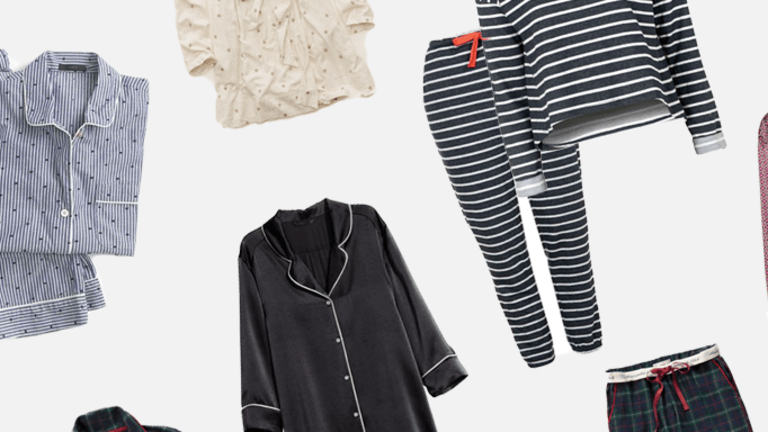 Pajamas You Won't Mind Being Seen In This Holiday Season
'Tis the season for stylish sleepwear.
It's an extra-crisp morning in late fall, and you're savoring a few stolen moments over a steaming cup of coffee (complete with a splash of vanilla eggnog). You're probably reveling in your last moments spent in your favorite PJs before you must don daytime attire and meet the world.
Or do you?
As the holidays creep closer, so do opportunities for playing Scrabble, baking shortbread, and watching Christmas specials with family and friends. PJs are perfect for such pastimes. They are also a no-fail gift idea because absolutely everyone loves new pajamas, and rarely do we buy them for ourselves. We've picked out some of the cutest, coziest, and most classic sleepwear. Next time the neighbors stop by to surprise you with peppermint fudge and cranberry preserves, and you still haven't gotten dressed, you'll just be glad for the opportunity to show off your holiday pajamas.
Oh, and of course we know: You totally woke up like that.
The Matching Set //
Nothing says put-together like matching sleepwear, be it a jersey top with a coordinating pant, a solid silk set, or button-up flannels. Inspired by Jessica Day and Mindy Lahiri, this retro staple keeps you comfy and comes in a multitude of fun patterns to suit your style fancy.
The Nightgown //
If dresses are for parties, then are nightgowns for slumber parties? The nightgown is both feminine and no-fuss (because sometimes we just don't want to wear pants). Maybe it's not the warmest option, but that's what woolen socks and moccasins are for. Come morning, this party might just carry on into mimosa hour.
Loungewear //
The loose cuts, stretchy fabrics, and soft textures that are characteristic of clothing known as loungewear create the perfect marriage of lazy and luxe. These fleece pullovers and jersey joggers are a step above pajamas, but they're not quite "real" clothes—cozy but still cute for when you don't feel like making supper in your officewear but want to look put-together.