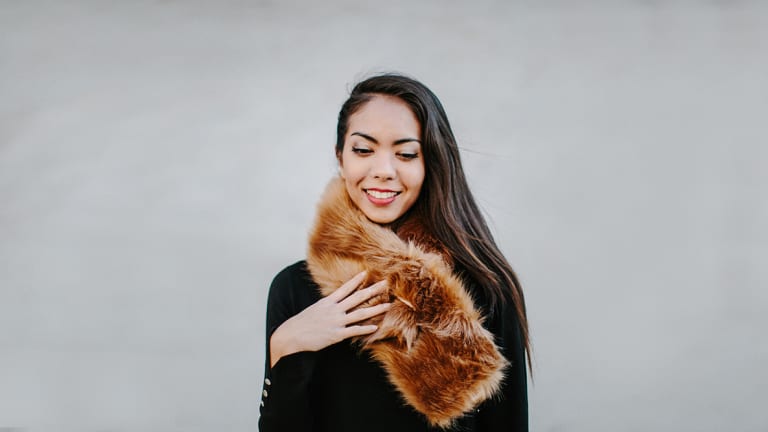 4 Totally Different Ways to Style 1 Classic Black Sweater
Make your clothes work harder with some clever styling.
The classic black sweater. It's fitted, not too thick, has a simple neckline, and maybe has a little button or zipper detail here or there. With any luck, you already have one; if not, it's is an affordable investment that will carry you a long way this season. When it comes to staying warm and looking good, your cozy go-to black sweater has got your back.
So, just how do you get the most out of this one article of clothing? Here at Verily, we are all about finding creative ways to reinvent our favorite pieces in new ways. And almost nothing is more versatile than a simple, solid-colored sweater.
01. Preppy
First up is the classic button-up and sweater combo. This preppy look is fun and pulled-together, perfect for work or your everyday activities. Get creative with your accessories, and try some bold statement earrings, printed pants, and quirky flats. Here we chose a pair of plaid trousers and burgundy tassel loafers to make this black sweater outfit one of a kind.
02. Professional
We've all gotta work, so why not work in style? This classic professional outfit pairs our trusty black sweater with a pencil skirt, pumps, a coat, a statement necklace, and a tote—proving that it's not a matter of purchasing new items but restyling the items you already have. This elegant silhouette is flattering on anyone, inside or outside of the workplace.
03. Glam
The black sweater may be basic, but this outfit is anything but. We all need a little glam in our lives, and the black sweater serves as the perfect canvas for your adventurous aspirations. To recreate this look on your own, incorporate simple feminine pieces such as a flared midi skirt, pumps, a clutch, and a luxurious faux-fur stole for the ultimate in wintertime glamour.
04. Urban
For the girl who likes a little edge in an ensemble, channel your inner New Yorker. And what does a New Yorker wear in the winter? All black (of course), leather, and booties. Your black sweater pairs seamlessly with a leather jacket and dark-wash jeans. To really make your black-on-black outfit stand out, experiment with varying textures and funky accessories. Try studded booties, a fringe purse, and a floppy wool hat for the perfect street-style look any day.