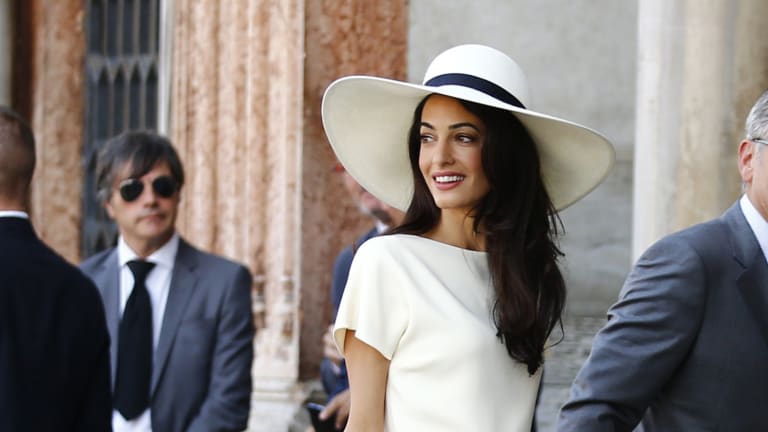 Prepare to Be Inspired by Amal Clooney's Seriously Classy Workwear Outfits
Create a powerhouse wardrobe that will boost your confidence in no time.
If you're looking for some classic and fashion-forward inspiration for your daily officewear, look no further than Amal Clooney. Here at Verily, we are major fans of the powerhouse lawyer, activist, and author. Not only does she have an impressive career, but we also can't help but notice her seriously stylish outfits in and out of the courtroom—and we're taking notes!
We picked up on a few key elements that make Clooney's outfits so unique. Luckily, they're things we can all apply to our own outfits with relative ease.
Colorful //
When picturing the wardrobe of a lawyer, most would imagine a closet full of dark gray and black pantsuits. Clooney's closet is far from this description. Bright red, orange, blue, green, every color of the rainbow—she's probably worn it. For workwear, she pairs her brights with structured neutrals, such as this orange top with a tan skirt and nude heels, which makes the color feel a little more tame.
Tailored //
Speaking of pantsuits, if and when Clooney does wear one, you will find yourself shocked that a pantsuit can even look that good. How does she do it? She finds tailored suits that flatter her shape and that are not boxy in fit. As seen in this photo, the feminine fit of the blazer cinches in at her waist and does not overwhelm her frame. Her pants are also cut shorter than the average pantsuit, showing off her fabulous shoes and highlighting her ankles. Having a hard time finding a perfect fit off the rack? Find a suit that has the shape you're looking for, and take it to a tailor to make it just right for you.
Feminine //
You won't see this powerhouse woman stealing too much from the boys—her style is classic and ladylike to the core. Tasteful silhouettes and vintage throwbacks are all elements in Clooney's closet, as seen in this look. The subtle 1940s reference of this bright pink tweed dress has us running to the vintage boutiques.
Dramatic //
She's no Lady Gaga, but Clooney is not afraid of adding a little drama to her chic ensembles. A perfect example of Clooney's flair is this jaw-dropping white-on-white look. Worthy of an Old Hollywood film, this outfit is going in the Verily hall of fame of "Chicest Outfits of All Time." If white on white isn't your thing, take a cue from the silhouette, and swap out the white palazzo pants for an equally fashionable black pair.