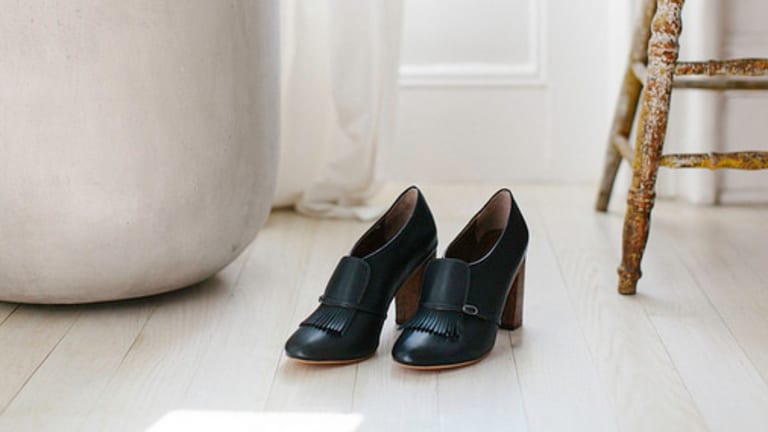 How I Rediscovered My Personal Style After Having a Baby
Feeling good about yourself as a new mother is notoriously difficult, but these tips can help.
The realization that I had "lost myself" in the wake of motherhood was jarring. It first dawned on me as I stared, bleary-eyed, into a Starbucks bathroom mirror early one morning only a few months ago. Gone was the confident woman who, once upon a time, strolled the streets of Paris and would have spent her last dollar on Vogue. That girl was nowhere to be found.
What I saw wasn't pretty: This woman (I can't even bring myself to say it was me) had accidentally put her shirt on inside-out, there was a hole in one of the seams, and the fact that it wasn't quite long enough for her torso resulted in repeated—and fruitless—tugs and pulls. Her unwashed hair was in the same lopsided messy bun she had slept in, and the converse and jeans that had, of late, become her daily uniform fell far short of the "casual-cool" vibe she had vaguely aimed for.
I wasn't always this way. Somewhere between pregnancy and my daughter's second birthday, though, I lost the spark of joy that clothes used to give me. Even if someone had given me a thousand dollars that morning in Starbucks, and said, "Go treat yourself to some nice new things," I wouldn't have known where to start. What would suit me? What did I want to look like?
I could blame the lack of sleep or the early mornings that involved getting up before it was light, getting dressed quickly and quietly, and sneaking out of the house to snatch a few hours of work before my husband had to leave for his job. I could blame the fact that I—like all parents—am frequently used as a human Kleenex. I could blame my fluctuating body shape and ever-evolving style needs: first that growing belly, then the yearlong need for quick-but-not-revealing boob access that followed. But in reality, I've realized that the real culprit was something else entirely.
Somehow, caught up in the whirlwind of early motherhood, I started thinking of getting dressed as a chore and that spending any time on my appearance was precious time wasted.
Perhaps this style crisis sounds a little overdramatic, but I truly believe that how we dress is intimately tied up with issues of self-care, body confidence, and our own feelings of self-worth. As Linda Grant says in her book, The Thoughtful Dresser:
"I consider it to be absolutely normal to care deeply about what we wear . . . as if appearances don't matter when, most of the time, they are all we have to go on. Or sometimes all that is left in the ruins of a life. So I no longer take seriously those derisory accusations leveled against those who are interested in clothes. You might as well accuse Proust, Virginia Woolf, George Eliot—all of whom wrote about clothes and thought about clothes."
I'm thrilled that I'm a mom now, but I do still want to feel good about myself. So, how do you rebuild a sense of personal style from scratch and rediscover the joy of dressing well again, especially when you have limited time and money plus a number of practical requirements for your wardrobe? Below are a few things that I've found helpful in the pursuit of feeling happy with your personal style as a new mother.
There Are Different Times for Different Clothes
A big mistake I made while pregnant was wearing all of my favorite clothes. Don't ask me why I did this. It resulted (of course) in irreparably stretching many lovely pieces of clothing. When I wear them now, they look very unflattering and shapeless. At the time I didn't want to invest in a "pregnancy wardrobe," but I actually didn't save money in the long run because now those pieces are ruined.
Admitting to yourself that some clothes should be saved for pregnancy, date nights, and other baby-free social occasions really helps keep a wardrobe in good condition.
Get Back to the Basics
Working out what my body type and coloring are and familiarizing myself with some of the basic rules of dressing has been a helpful way to plan outfits. Knowing these things about yourself takes a lot of the guesswork (and time) out of shopping for items. As a pear shape, my hips are wider than my shoulders, so I know that wearing patterns and horizontal stripes on my top half helps to balance me out. It can be tempting to fight these rules when you fall in love with a piece of clothing or see a style that looks great on someone else, but I've learned the hard way that you can't change what you look like, and dressing for your body type and coloring will ultimately make you feel more confident and comfortable.
Know Your Wardrobe Needs
Not only do you need to be honest with yourself about your body type and coloring, but you also need to be honest with yourself about your practical requirements for clothes during this phase of your life. It's hard not to be too attached to the way you used to dress; I used to wear a lot of shorter, floaty skirts and harder-to-wash fabrics that were prone to snagging and fraying. I've had to get used to the fact that as a mother, you have to bend down and sit on the floor and get messy a lot. Opting for longer skirts and easy-to-clean fabrics has been a way for me to adapt my old style to my new lifestyle.
Make Your Own Capsule Wardrobe
Creating a capsule wardrobe helps you know exactly which pieces go well together and is a must for anyone who wants to save time. I've found that having a smaller collection of clothes that I really love and know how to style has taken the stress out of planning an outfit. It's also helped me to think more creatively about what I wear.
Get a Great Haircut
Finding a haircut that works for your hair type, is flattering for your face shape, and is easy to maintain can be a real game changer for anyone, especially a new mother. If you feel good about your hair, you are well on the way to feeling good about how you look overall.
Again, be honest with yourself here: I've always loved having long hair, but I know that during this phase of my life, it's not realistic to expect this of myself. So I decided that a long blunt bob would be the most low-maintenance and stylish option for my fine hair.
Rediscover the Joy of Style
The most important thing to do when you are stuck in a style rut is to discover—or rediscover—the joy of clothes. Making style boards on Pinterest and collecting images and styling ideas can help you do this, as long as you pin wisely, only selecting styles and colors that you think will suit you. Personal stylist extraordinaire Hilary Rushford has many helpful tips and resources on her website that can inspire you. I find that following the blogs and Instagram accounts of fellow mothers such as Natalie Lynn Borton, Taylor Sterling, and Karla Reed is also a great source of inspiration and helps me to visualize how outfits can be both practical and stylish.
When you don't have much money to spend on new clothes, it can feel daunting to admit to yourself that you're not happy with the way you dress. Try filling up your birthday and Christmas wish lists with pieces of clothing that you've carefully considered and know will bring you joy, and let your loved ones help you build a new wardrobe that you can truly enjoy.
Before you know it, you'll be falling back in love with pretty patterns and skirts that twirl, and above all, you'll be happier than ever in your skin.
Photo Credit: Jennifer Trahan