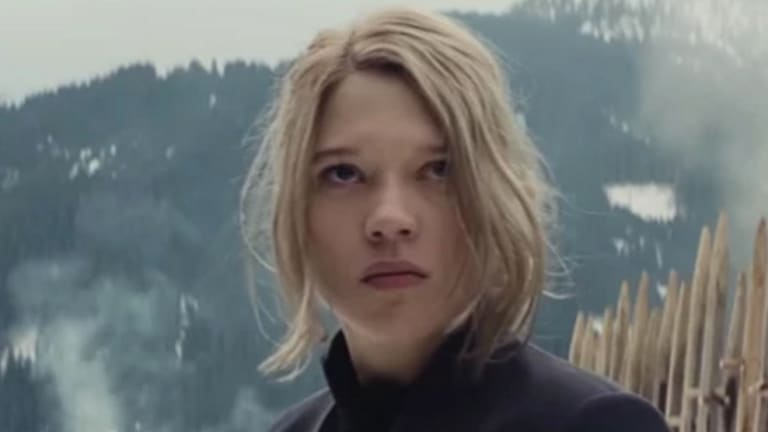 This Is Why Madeleine Swann Is Not Like the Other Bond Girls
The new Bond girl is pretty awesome.
Actress Jessica Chastain recently said in an interview for W magazine, "People ask me if I want to be a Bond girl, and I say, 'No, I want to be the villain.'"
I don't blame her, really. If we think about the Bond canon, Bond girls may be iconic, but they're always secondary to the man. Villains, on the other hand, are James Bond's equals. That's what makes the movie, in fact—that they're an equal match.
Bond's women, on the other hand, are typically little more than accessories or access points to someone more powerful. It's not uncommon for Bond to sleep with a woman before leaving her moments later, betraying her, or finding out that she's betrayed him and killing her. I can't even tell you the names of most of the women in a Bond film. In the latest iteration, Spectre, here's how our protagonist treats his ladies: He leads a woman on to bring him to her hotel room so that he can have a better shot at someone he wants to assassinate, he seduces a widow whose husband he killed, and he woos the daughter of a former assassin whose dying wish was for Bond to protect her. No wonder Chastain isn't interested.
There are notable exceptions, of course: Vesper Lynd in Casino Royale, Bond's original love interest and a double agent, and Wai Lin, a Chinese spy who is every bit Bond's equal in Tomorrow Never Dies, come to mind. And, in my opinion, a new Bond woman can be added to that short list: Madeleine Swann, played by Léa Seydoux, in Spectre.
What follows is not for the spoiler-averse.
Bond meets Swann along his latest paper trail following expansive terrorist organization Spectre—a group he believes is responsible for the death of his boss and mentor "M," played by Dame Judi Dench in the previous film, Skyfall. Along the journey, Bond learns that the organization is planning to kill one of its own members, an assassin named Mr. White, who played a pivotal role as Bond's foe in Casino Royale. (If you think there's a lot of twisting and turning to weave Daniel Craig's three Bond films together, you'd be right.) When speaking with White, Bond learns why White had a target on his head—he opposed Spectre's initiatives to traffic migrant women and girls into the "leisure sector." What influenced the former villain to opt out of his villainous group? He has a daughter. Bond promises to protect White's daughter in exchange for intel on where to find Spectre's head honcho. All this leads Bond to a picturesque glass-walled office in the Alps, across the table from the stunning and intelligent light-haired Swann.
But, despite White's dying wish for Bond to protect his daughter, Swann hardly needs saving. Seydoux describes Swann like this: "My character is a rebel. She doesn't need Bond or wait for him to save her. . . . [Madeleine] is Bond's equal. It's not what you expect from a Bond film. It's a much more intense, complex, and deep relationship." Seydoux is right. She's a near match, if not equal, to Bond in combat, assassination know-how, and intellect.
Far from a one-dimensional character, Swann is remarkably multifaceted in her strength and smarts. Perhaps most striking is not her being equal to her male counterpart but instead what makes her different. There's one way in which Swann is superior to Bond, and that is in how she sees beyond the assassin's life—she sees it as ultimately lacking and wants more. Swann is highly educated as a doctor in psychology, and despite being trained in combat by her father, she prefers to live far away from things that would tempt her back to that life, hence her station in the Austrian Alps at a private medical clinic.
Later, after Bond entered her life, she has the courage to leave him. In most of the films, we assume that the romantic liaisons Bond has picked up somehow move to the wayside in between films, as Bond does. But in Spectre we get to see the woman's side: She sees where her involvement with him will lead—more fighting, more violence, more winding roads with no end. She has the courage to walk away.
As someone who eagerly awaited this latest Bond film—considered to be Craig's last in the lead role as Bond and featuring a Sam Smith ballad—I have to honestly say that if it weren't for Seydoux's role playing the powerful Swann, I'd have been gravely disappointed in the film. If we bracket out her performance, the film had far fewer "wow" moments or clever humor than many of the rest.
"Bond will return," we're told in Spectre's closing credits. It may be in vain to hope Swann will as well, but if she cannot, I at least hope that we'll have more Bond girls like her.
Photo Credit: Columbia