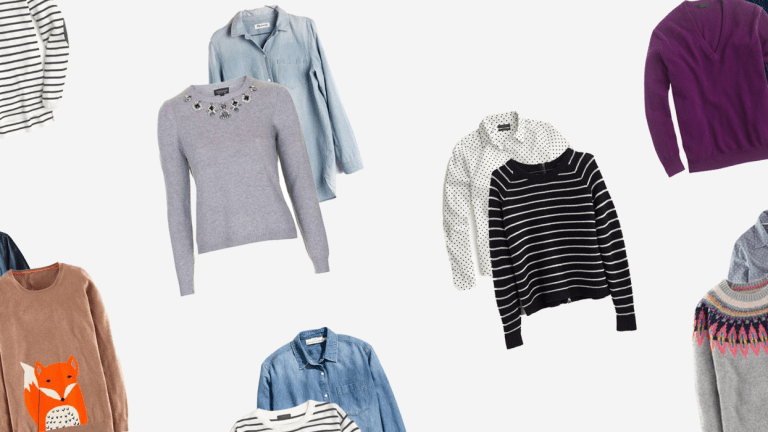 A Field Guide to Layering Sweaters and Button-Ups
How to get the perfect shirt-and-sweater combo.
I have to admit, I never owned a button-up shirt until two years ago. I'm more of a boho, eclectic gal with a closet full of impractical clothes, so when it comes to basic staples, I'm a little behind the bandwagon. But I now proudly own a button-up, and let me tell you—this shirt goes with everything! And for the fall and winter seasons, it's especially stylish under a sweater.
I realize this is a fact well-known to probably all of you. But this really shocked my system because, well, a button-up under a sweater just seemed so . . . boring. But it doesn't have to be! Thanks to the range of fabrics and fits, whether in traditional white, laid-back chambray denim, comfy flannel, or preppy polka dots, you can layer up and keep warm without looking like you're in a school uniform.
The range of both button-up and sweater styles is virtually limitless. Below are a few tips and tricks to help you navigate this go-to, perfectly put-together layered look. Here's what pairs best with . . .
CHAMBRAY //
Chambray, or a denim button-up, is as much a wardrobe mainstay as the white oxford shirt. A denim button-up gives a laid-back yet polished look because the fabric is casual, but the silhouette is sophisticated. Plus, its solid hue in light, medium, or dark blue makes it a versatile shirt to pair with any color sweater.
Really! A denim button-up can go with almost anything. Go classic with a black-and-white striped sweater (03), or quirky with a fun print, such as this darling fox sweater (02). To really master the casual/dressy feel, try layering a sleek sweater with sparkly embellishment (01). Talk about festive for the holidays!
PLAID //
Nothing says fall like plaid flannel. This cozy version of the button-up shirt can be dressed up or down depending on your mood. There are different types of plaid—buffalo, tartan, and gingham are all popular and come in a range of colors. Because this old-school print is usually colorful in and of itself, people often think it can be tough to pair with other colors. Not so!
When mixing patterns and colors, you can either pair analogous or complementary colors. (Check out this handy color chart). Analogous colors are two colors that sit next to each other on the color wheel (or are in the same color family), so this black-and-white buffalo plaid shirt pairs well with a neutral gray sweater (01). Complementary colors sit directly opposite on the color wheel, which is why this bright teal gingham shirt pairs well with a strawberry pink sweater (03).
Plaid also layers nicely with thick, textured knits because it's typically a casual, warm, and durable fabric that can handle the heft of a thicker knit. A red buffalo plaid button-up looks fitting under a classic cable-knit sweater (02)—perfect for a brisk November walk.
POLKA DOTS //
Like chambray juxtaposes casual with classy, a polka-dot button-up gives feminine charm to this classically masculine shirt. When mixing prints, pay attention to the size, and balance large prints with small prints. A tiny polka-dot print will work well with a larger print, such as this black striped sweater (o2) or this gray sweater with a bright and colorful neckline (03).
Again, when layering a colored polka-dot button-up, turn to the analogous or complementary color rules. This dark navy polka-dot top pairs beautifully with a deep purple solid sweater (01—an analogous pairing).
CLASSIC WHITE //
A traditional white oxford is a no-brainer, versatile layering piece. But because it's slightly more formal and sleek, it really goes best with thinner sweaters in luxe fabrics such as cashmere or cashmere blends. (You wouldn't as easily pair a white oxford under a thick fisherman sweater like you would with plaid). With a neutral white button-up, you can play with any solid-colored sweater you like. Or try fun prints in modern gray, black, and white color schemes.