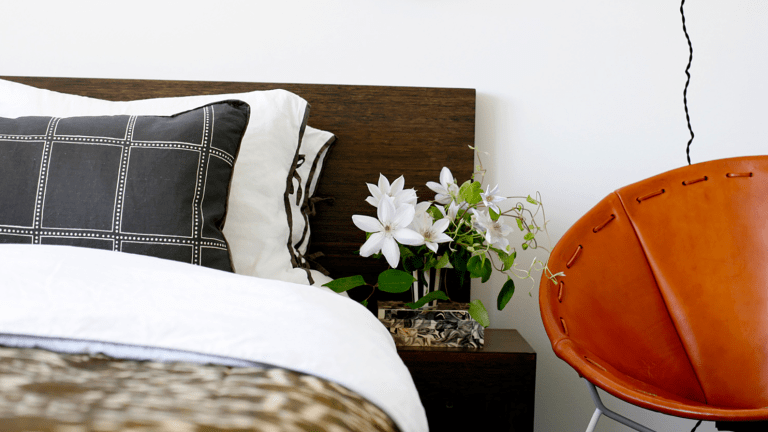 Practical Tips to Help You Be a Great Host (and Enjoy It, Too)
Being a great host means taking care of yourself as well as your guests.
There's an old saying that houseguests are like fish: After three days, they start to stink. But does this adage have to prove true? Or are there steps we can take to ensure that our time hosting family and friends is sweet and not stinky?
Hosting people in your home can be stressful and feel intrusive. But it can also be a beautiful opportunity to spend time with friends and family that we often miss during the hubbub of big holiday parties and reunions. Sharing your home lets you spend true quality time together in a comfortable environment, and that's worth treasuring.
In her book Outwitting Stress, Nancy Rosenberg notes that the host will feel more comfortable if the guests are comfortable. "The purpose of making your guests feel comfortable and welcome is not purely altruistic. If they are well taken care of, they will be better guests, which will take some of the pressure off you."
She also reminds us that being a guest is stressful, a fact that hosts should remember as they welcome people into their homes. "Guests are away from home, out of their element, away from their routine. It's easy to focus on the stress of hosting and entertaining and forget that being a guest is also stressful. Aim to reduce stress in your guests, and you'll reduce your own as well," Rosenberg says.
Here are some practical ways to facilitate enjoyable guest visits by looking after their needs while taking care of your own sanity.
01. Designate and prepare your guest area.
Guests need a specific area that they can call their own for the duration of their stay. A separate room is ideal but not necessary. Primarily, guests need privacy, a place to retreat, and a quiet, dark place to sleep. If you don't have a separate room for guests, clear out a portion of a closet, or have a designated space for them to store their belongings.
Ensure that you have enough clean linens and comfortable bedding. If you find yourself short on these items, make plans to purchase more or borrow from friends. You may also ask your guests to bring their own.
Add a few finishing touches to your home just for your guests. Place a carafe of water and a couple glasses somewhere handy. Greet them with fresh flowers. Show them where the snacks are located and what they can access for themselves in the kitchen. These thoughtful little details show your guests that you are excited they are staying with you, which will ease them into their visit.
02. Define your personal boundaries.
Just as you need to make sure that your guests have a defined space, make sure that you have your own opportunities to rest and retreat as well.
Hosting guests upsets our routines and infringes on our personal space, creating added stress. To combat this, prepare your home and yourself for visitors by planning specific times to recharge. This could mean spending personal time in your office or planning to rise early to enjoy a cup of coffee and relax in the quiet of your kitchen before the house stirs.
Regardless of what you choose to do, ensure that you have a plan to care for yourself and your family's needs. Politely communicate when you plan to spend personal time. "I'm going to yoga Tuesday and Thursday nights," or, "I have a date planned this weekend." It's thoughtful to accommodate your visitors, but you don't need to move heaven and earth, especially when some plans can't change. Guests will be more than understanding and accommodating.
03. Ready your home and routines in advance.
In addition to preparing a welcoming space, ready your home to avoid anxiety and distraction. You want to be able to sit down and enjoy your company, not feel flustered because your fridge is empty or you're running out of toilet paper.
As I prepare to host this holiday, my goal is to clean and tidy my house enough so that I'm able to give my guests my full attention. My goal isn't to impress my guests with my decorating or homemaking skills. Instead, I simply want to minimize or remove distractions, such as a sink of dirty dishes or a paper-filled desk.
Planning meals and preparing them in advance is also a great way to alleviate some of the work. Ask guests if and when they plan to dine in or out, and don't forget to keep any allergies or dietary restrictions in mind. Not only does this reduce the mental stress of meal preparation, but it can also reduce the housework that needs to be done.
Don't be afraid to outsource for help. If you're overwhelmed by the thought of cleaning your bathroom and dusting your living room, hire a housecleaner. And you don't have to make your guests a three-course dinner every night. Ordering pizza from your favorite place is just fine.
04. Write it down. Trust us.
The thought of hosting often becomes overwhelming when we don't have a strong handle on what we need to accomplish. To combat this, a few days before guests arrive, simply write down a schedule on how you plan to prepare your home.
Writing down a to-do list with specific tasks enables us to operate with purpose and confidence. This alleviates unneeded anxiety about hosting because we can plainly see what practical steps we need to take to prepare and when and how long it will take us to complete them. No more leaving everything to the last minute! It also makes it easier to outsource or delegate certain tasks. If it looks like you'll be pressed for time, outline a few backup plans (e.g. go-to places to order food or local sightseeing spots to send your guests).
05. Orient yourselves.
When your guests arrive, discuss the details of their stay and schedule. Make sure you're on the same page about your visitor's activities. Communicate what your own schedule looks like during their stay and the logistics of sharing your home (time for breakfast, bathroom schedules, etc.).
If possible, provide your guests with a key. If they will be in and out of your home during their stay, giving them access will alleviate stress for both parties. Scheduling time to let them in can turn into a headache if you have itineraries that don't perfectly align.
Hosting houseguests is demanding but rewarding work. By ensuring that you and your home are ready before guests step through the door, you set yourself up for an enjoyable time for everyone involved. Savor the sweetness of showing hospitality.
Photo Credit: Belathee Photography