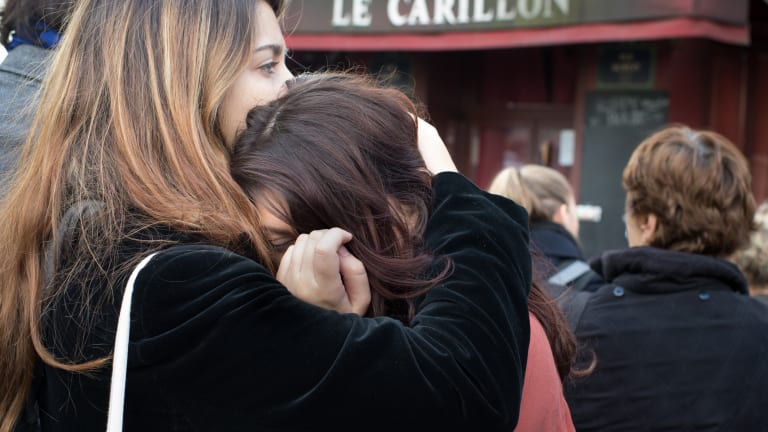 If You Need Some Hope After the ISIS Attacks on Paris, Read This
More than two million people, including Mark Zuckerberg, agree that it's up to us to be good people.
This past Friday, tragedy hit Paris. In a number of coordinated attacks, terrorists killed more than 120 people in gunfire and hostage-taunting stunts. French President François Hollande called a state of emergency not long after. All the while, the ever-connected world watched, and with it came a range of responses.
The first response was obvious horror. For the loss of life, the loss of security, the loss of predictability. And horror for the stain that this act would leave on the most beautiful city in the world. A poison to the "moveable feast"—the place that Ernest Hemingway once described would travel with you even after you left.
Among subsequent international responses was a tone of cynicism at the Western media. Paris experienced a few terrorist attacks in one night, the idea goes, and everyone loses it. But what about the attacks in Lebanon? What about the constant violence in other parts of the world? Those don't seem to get nearly as much attention from mainstream media.
But perhaps the most powerful responses have been the messages that hold on to hope, even amid the tragedy. The human stories of one person helping another—of individuals reaching out to complete strangers in love—will always be more powerful than the stories of those harming complete strangers.
Some uplifting stories rose from the ashes in Paris and Lebanon and all over the world this week that reminded us of what connects us more than anything else.
For one, people all over Paris used social media to open their homes to complete strangers who needed a safe house amid the terror attacks. Using the hashtag #PorteOuverte, numerous Parisians shared home addresses with perfect strangers to get them off the panicked streets and help reduce the impact of the destruction, one person at a time. In Beirut, one father's spontaneous act of tackling a suicide bomber reduced the loss of life in incalculable ways. And in India, a group of Muslims came together to pray for peace and denounce the attacks by ISIS as acts that were #NotInMyName.
But among the most powerful responses was a firsthand account by a 22-year-old woman named Isobel Bowdery, who survived the attacks at the rock concert in Paris. "You never think it will happen to you," she wrote in a Facebook post. "It was just a Friday night at a rock show. The atmosphere was so happy, and everyone was dancing and smiling. And then when the men came through the front entrance and began the shooting, we naively believed it was all part of the show. It wasn't just a terrorist attack; it was a massacre. Dozens of people were shot right in front of me."
Bowdery hid on the floor for more than an hour among the dead, "holding my breath, trying to not move, not cry—not giving those men the fear they longed to see."
This point—not giving into fear—is likely what compelled 2.7 million Facebook users, including Mark Zuckerberg himself, to "like" Bowdery's post. "Acts like this are supposed to highlight the depravity of humans," she wrote, but ultimately, "Being a survivor of this horror lets me able to shed light on the heroes."
What heroes, you ask? Allow me to share a long excerpt from her post (trust me, it's worth it):
"To the man who reassured me and put his life on the line to try and cover my brain whilst I whimpered; to the couple whose last words of love kept me believing the good in the world; to the police who succeeded in rescuing hundreds of people; to the complete strangers who picked me up from the road and consoled me during the forty-five minutes I truly believed the boy I loved was dead; to the injured man who I had mistaken for him, and then on my recognition that he was not Amaury, held me and told me everything was going to be fine despite being all alone and scared himself; to the woman who opened her doors to the survivors; to the friend who offered me shelter and went out to buy new clothes so I wouldn't have to wear this blood-stained top; to all of you who have sent caring messages of support—you make me believe this world has the potential to be better. To never let this happen again. But most of this is to the eighty people who were murdered inside that venue, who weren't as lucky, who didn't get to wake up today, and to all the pain that their friends and families are going through. I am so sorry. There's nothing that will fix the pain. I feel privileged to be there for their last breaths. And truly believing that I would join them, I promise that their last thoughts were not on the animals who caused all this. It was thinking of the people they loved. As I lay down in the blood of strangers and waiting for my bullet to end my mere 22 years, I envisioned every face that I have ever loved and whispered 'I love you.' Over and over again. Reflecting on the highlights of my life. Wishing that those I love knew just how much, wishing that they knew that no matter what happened to me to keep believing in the good in people. To not let those men win. Last night, the lives of many were forever changed, and it is up to us to be better people. To live lives that the innocent victims of this tragedy dreamt about but sadly will now never be able to fulfill. RIP angels. You will never be forgotten."
I think it's fair to say that deep in the soul of Bowdery, in the soul of the eternally beloved Paris, and perhaps in the souls of us reading, love outweighs fear at the end of the day. It's up to us to "keep believing in the good in people" and "to not let those men win." It's up to us to let those we love know "just how much." And, as Bowdery put it so simply and truly, "It's up to us to be better people."
*Excerpts were corrected for capitalization and grammar.
Photo Credit: Getty Images