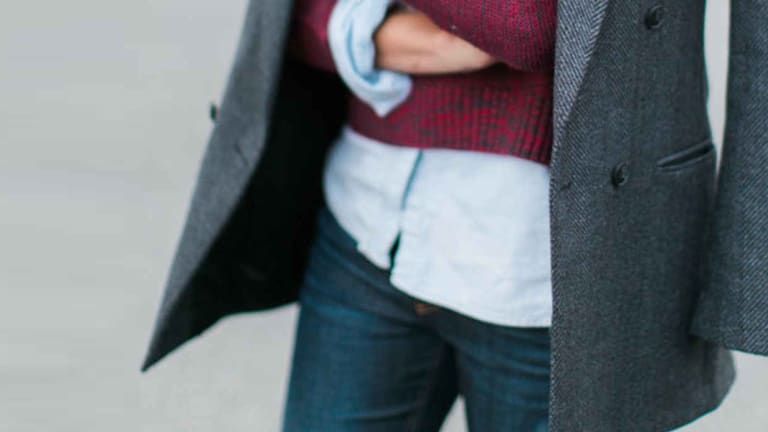 8 No-Brainer Layered Outfit Ideas
Get out of a wardrobe rut with these easy layered looks for inspiration!
Jackets, sweaters, scarves, boots—there's a reason almost every woman loves the colder seasons for fashion. There are just so. many. options. But now that autumn is in full swing, and we're already looking to winter (anyone else bombarded by holiday decorations in Home Goods?), it's easy to get into a daily style rut. What else can you wear besides a sweater and jeans or a dress and leggings?
Instead of staring into the apparent abyss of your closet, take a gander below for easy, no-brainer ways to layer your favorite pieces.
OXFORD + SWEATER + BLAZER //
A classic combo never looked so cool. Pair a traditional button-up oxford shirt with a warm sweater, and throw on an oversize blazer for a classy menswear-inspired outfit. Check out how to thrift for an affordable blazer here.
FLANNEL + CHAMBRAY + SWEATER //
Nothing says fall like flannel, and we're totally inspired by Anna Liesemeyer of In Honor of Design's comfy style. Try layering a classic flannel button-up, a chambray shirt, and a funky knit cardigan (all in the same color family) for a toasty weekend look.
TURTLENECK + FLANNEL //
Who knew a chunky knit turtleneck sweater and flannel button-up could look so chic? Kileen of Cute and Little pulls off this outfit with ease, and we love the graphic pattern play. Start with a long, fitted flannel shirt (or any button-up shirt), and layer a slightly bigger, boxier turtleneck sweater over it.
MAXI + OVERSIZE SCARF //
We're big fans of extending your closet by wearing versatile pieces throughout the year. Here our editor in chief, Kara, rocks her summer maxi with this gorgeous oversize blanket scarf. The trick to keeping such a "swept-up" look sleek is to wrap a belt over the scarf to highlight your waistline.
TEE + CHAMBRAY + LEATHER + COAT //
Layering doesn't mean losing your shape or style! Alex from To Vogue or Bust proves that layering is an opportunity to let your fashionable tastes shine through, even when layering four tops. Take Alex's lead, and start with a patterned tee underneath. Then build your way up with a chambray and leather jacket. Finally, top it all off with a lightweight coat, and let the collars of your underlayers poke out.
DRESS + LEATHER + COAT //
Alex from To Vogue or Bust creates another unexpected layering win by styling a long cardigan over her dress and leather jacket. The overall look has got us swooning—effortless cool has never been so attainable.
DRESS + PANTS //
A far cry from the nineties trend (we all know what that looked like), try pairing a flowing tunic or dress over dark-wash or black denim for a gorgeous, eclectic look. This might even suit those of you who are self-proclaimed non-dress-wearers. Check out more inspiration here.
BUTTON-UP + DRESS //
Feminine and appropriate for the office, try pairing one of your favorite dresses over a button-up oxford or silky blouse. We just love Maria Gonzalez of City Laundry's ladylike look here. For an extra layer of warmth, throw on tights and warm booties.