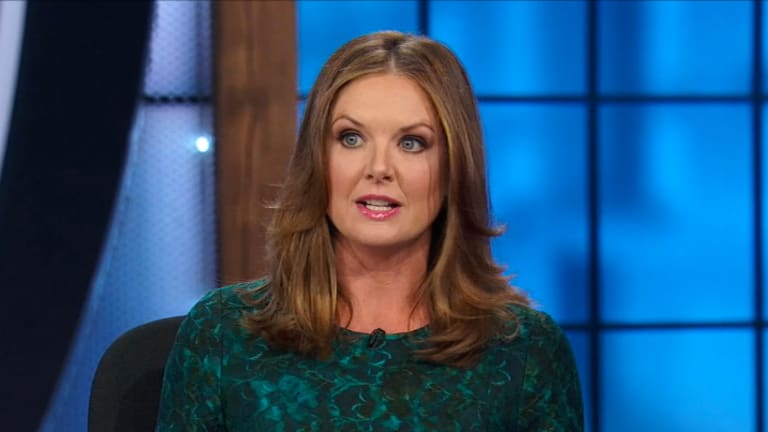 ESPN Commentator Calls Out the NFL for Domestic Violence Double Standards
Wendi Nix has words for a franchise that put another violent player on the field.
It's no secret that the NFL has been having a domestic violence PR nightmare for the past several years. This past Sunday, ESPN anchor Wendi Nix offered her suggestion on how to address it. Prompted by the fact that the Dallas Cowboys, led by owner Jerry Jones, refused to bench defensive end Greg Hardy after photos of his badly bruised and beaten ex-girlfriend surfaced, Nix encouraged sponsors and fans to speak up by canceling advertising and tuning out, respectively:
"I'm an unapologetic capitalist. I believe in big business, and I am sure as hell in favor of profits. But at the end of the day when economic principles can't be applied with even the smallest measure of social responsibility, there's one effective solution, and that's to let dollars vote. And that means you, American Airlines. That means you, AT&T and Miller Brewing Company. And it means us, as consumers of this great game—and you better believe I think it's a great game—but sometimes just for the hell of it, you've got to take a stand.


"So, if this is unacceptable to you, spare me the theatrics. Do something. Jerry Jones has made his choice; now let's make ours. And if the bottom line is the language Jerry Jones speaks, then let that dollar vote, and let the message be loud and clear."
Hardy had been convicted of assaulting and threatening to kill his ex-girlfriend in July 2014, but the charges were dropped earlier this year after Hardy requested a trial and the woman, who had just received a financial settlement from the NFL player, refused to cooperate.
The Ray Rice scandal of September 2014 opened the floodgates of public and media outcry for stricter penalties against domestic violence offenders in the league, as well as better training to prevent off-field altercations.
The NFL has, in some ways, succumbed to that outcry. Rice hasn't played football since his suspension, even though that suspension came quite late. Late, as in, after hotel security footage was obtained by TMZ showing just how badly Rice struck his then-fiancée. The NFL is believed to have falsely denied having access to that footage when it first made its decision to only suspend Rice for two games. Needless to say, public outcry ensued. Just a few weeks ago, the New York Giants had Mariska Hargitay, star of Law and Order SVU and founder of a domestic violence prevention nonprofit called Joyful Heart, participate in their pregame coin toss as part of their efforts to raise awareness about the issue.
But at the end of the day, Nix is right. The NFL is a business, and it's out to make a profit. The cha-ching of all those dollar signs can make it awfully hard to hear the message that, as fans, we demand higher standards. If employing players who happen to have violent personal lives helps a team win—on the field and on the way to the bank—it appears that many franchises will opt for that success. If the wins on the field don't translate to wins at the bank, though, if sponsors draw a line in the sand, and fans change the channel, they'll have to pay attention. So let's put the outcry to action and cast our votes.
Photo Credit: ESPN