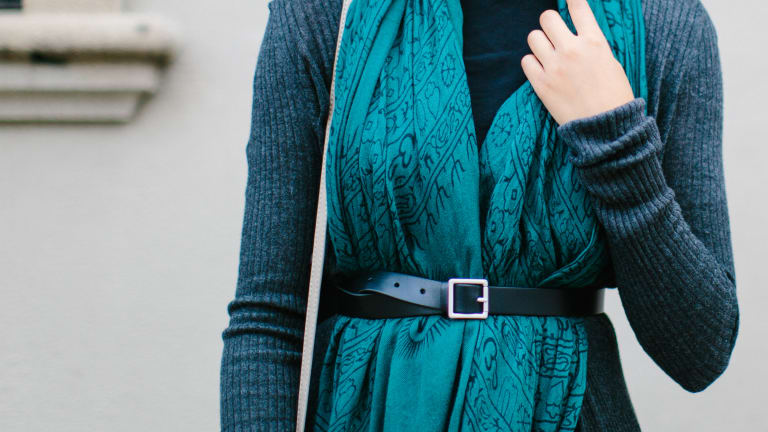 4 Chic Ways to Get Wrapped Up in Your Blanket Scarf
Two staples put together make for one unique look.
Just about everyone loves a good scarf. A little bit of cozy, a little bit of color. What's not to like?
And this season, the scarf trend is going big—literally. Large blanket scarves are everywhere! And luckily they offer lots of options for styling. We've learned about the different ways to tie a blanket scarf, but the truth is, we can sometimes feel a little drowned in all that fabric. Luckily, there's an easy fix to feel feminine and warm when you're all scarfed up: Belt it.
Belting your scarf is a great way to step up your fashion game while also shaking up your everyday ensembles. Not sure how to belt your scarf? Don't worry, we created four looks for you to try on your own—and all you need is a belt and a scarf.
01. Over the Shoulders
The easiest look is achieved by draping the full width of your scarf over your shoulders. Adjust the ends so that they lie in equal length down your front. Secure both ends by fastening a belt on top of the scarf at your waist. Cozy and figure-friendly all the way!
02. Around the Neck
This look is similar to the previous look, but you first loop the scarf around your neck as if you are creating a collar. We'd recommend using a slightly thinner scarf here—thicker blanket scarves can be too bulky with this style. Adjust the ends to be the same length, and secure them with a belt at your waist.
03. Draped Across the Chest
This one is a little more complicated, but you essentially create a whole new top, so it's worth the effort. Start by draping the scarf behind your shoulders, as seen in the Over the Shoulders look. Take the right end, and cross it over your torso, tucking it under your left arm. Now, take the left end of the scarf, and toss it over your right shoulder. Fasten a belt at your waist to secure the look.
04. To the Side
This is the chicest look, by far. Your best accessory here will be a regal posture—but you can pull it off! Begin by folding your scarf in half at the width. Place it over one shoulder, Braveheart-style. Have the ends lie flat against your stomach and back, and then belt it at your waist.