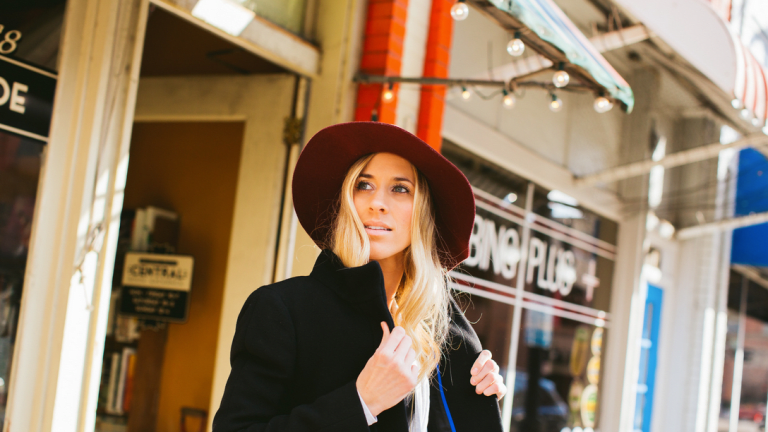 I Have to Be Honest, Sometimes #Girlboss Advice Kills My Dating Mojo
Entrepreneurs have great work advice, but when looking for love, sometimes you have to slow it down.
Currently sitting on my nightstand is Sophia Amoruso's book, #Girlboss, which is the last book in the litany of memoirs written by current power women that I have been reading. When I scroll through my Instagram feed and blogroll, I'm inspired by the take-charge entrepreneurial women encouraging each other to do what they love, follow their dreams, and get what they want.
I take great joy in being a #Girlboss myself, having started my own company within the past year. My professional life has benefited greatly from learning to be empowered and strong and to make things happen for myself. I had thrown myself fully into my start-up and only recently poked my head up to notice that I was going to need some balance between my personal and business lives. What I really dreamed of was a simultaneously thriving career and a fulfilling romantic relationship. So I decided that it was time to start dating again. I was eager to allow my newfound #Girlboss skills to assist me in romance as well as work life.
Like any #Girlboss worth her salt, I tackled dating with confidence and a killer résumé. I made my online dating profiles, curated the photos—changing them occasionally to see which ones got better responses, of course—told a story about myself, and tried to answer as many questions as possible so that I had a higher probability to be matched properly. I replied to messages with witty banter, and I pitched myself as a suitable "I don't need a man to be happy" kind of woman. I went on a lot of dates. But I was not, in fact, getting what I wanted.
In an interview with Success, Amoruso explained that being a #Girlboss means learning from your actions and trying new things to see what works. "I believe in having dreams and getting up and trying again when things don't work out," Amoruso says. She explains that it's important to "be OK with changing direction when something really isn't working." So, like a true #Girlboss, I took a good look at what was working and what wasn't—and I decided to toss the #Girlboss advice when it comes to dating.
01. Operate at maximum efficiency.
As my own boss and entrepreneur, I am constantly thinking of new systems to get repetitive tasks done with more ease and minimal time. Jenné Lombardo, founder of the marketing firm Terminal Presents, says that she "questions everything," asking herself, "How can I make this better; how could we be operating at maximum efficiency?" Amoruso also maximized her time by using templates for her eBay shop to make things go more quickly and smoothly. Time, everyone keeps telling me, is my greatest value. But I have learned that, in dating, efficiency shouldn't always be your top priority.
I will never forget one date I had. I hadn't been able to fit in exercise beforehand, so I asked this poor guy if we could take a long walk for our first date. I showed up in my workout clothes and acted visibly annoyed when he wanted to stop for ice cream along the route. Needless to say, I didn't put my best foot forward on that date, and I'm not surprised that he wasn't interested in date number two.
If dating becomes about me and my schedule, then I'm treating my dates like a task to check off my to-do list, and that's not good. Even if a great guy were to come along, I would probably miss the chance to really get to know him in my attempt to streamline the dating process. Sure, efficiency is a boon for women in the professional world, but dating sometimes takes the long way around, and that's not a bad thing.
Rather than economizing on my dates, I find that it's helpful to reserve one evening a week for dates and a few hours on the weekend for a coffee date. That way I can get my exercise and laundry done, and there is no competition for my time.
No date? No problem! I use the time for some self-care. I also try to vary what I do on dates. If I went to dinner with a guy two weeks ago, I'll suggest going on a hike with the next, which helps me remember that each man is unique and different.
02. Ask the right questions.
Tina Fey says in her book, Bossypants, "In most cases being a good boss means hiring talented people and then getting out of their way." I have lived by this advice in my professional life, but, surprise, surprise, dates are not interviews.
For far too long, I had a list of questions that I would run through. By the end of the date, I made a point to know how many siblings the guy had, where he was from, where he went to college, what he did for work, what he really wanted to do for work, if he was religious, and what he liked to do with his free time. My mission to ask all the revealing questions left no room for playful banter or fun conversation.
One of the best dates I've ever had involved baking a birthday cake. There were no serious discussions; instead we were able to get to know each other's personalities over the mixing of flour and eggs. While the cake was in the oven, we talked about what we had coming up in the week rather than his dreams for the future. This left plenty to look forward to in our conversations on subsequent dates. After all, does it really matter what his five-year plan is if our personalities clash in the end?
Rather than having my interview questions lined up, I find that it's much more helpful to focus on setting my date at ease and being open to following the conversation wherever it may naturally lead. It's OK if I don't find out what his five-year plan is after the first date; I'll have time to find that out on the second or third date!
03. Make it happen.
I wear a lot of hats running my business; I am the accountant, the social media manager, the customer service agent, and the designer. Whatever needs to get done is up to me to complete. Amoruso says of a #Girlboss, "She gets what she wants because she works for it" and that "fortune favors action." This kind of self-reliance is necessary to build a business, but in dating it can make it hard for a man to woo me (which, by the way, I want).
When I meet a new guy, I tend to fall into boss mode and take the date planning into my own hands. I want to get the date on my calendar to make sure it fits into my perfectly planned schedule. Watching my older brother truly enjoy planning dates for a new romantic interest recently made me realize that sometimes it is good to take my hands off the wheel and give the guy a chance to take initiative. Trouble is, I forgot to consider his plans or that maybe he would enjoy pursuing me.
I now make myself available by giving two options—Tuesday evening or Sunday afternoon, for example—and I leave it at that. It's better than my previous proposals of meeting for a drink for an hour in between my two other appointments in a convenient location for me. The man then has freedom to plan something, and I don't have to worry about rearranging my schedule if there is a conflict on the day and time that he chooses.
There is no doubt that some #Girlboss skills have been helpful in my dating life, but knowing that some things don't work and changing my approach has definitely upped my game. Here's to being a #Girlboss and having some well-balanced dating mojo as well.
Photo Credit: Brittni Willie Photography