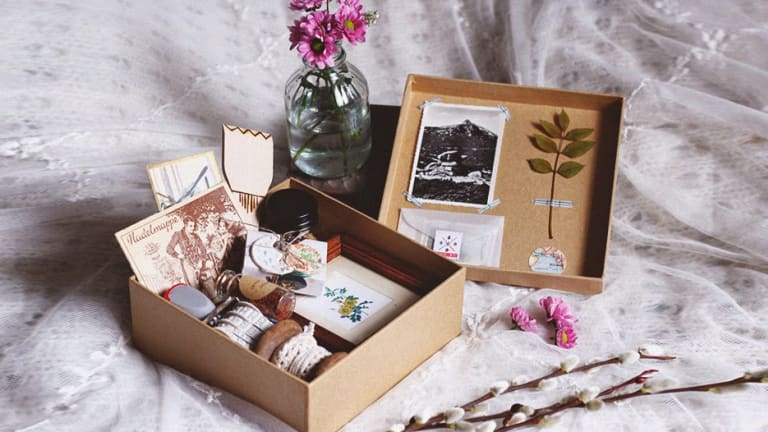 6 Thoughtful Holiday Gifts That Don't Require a Trip to the Mall
Make a real impression with your gift this year.
With the holiday season in full swing, it's time to make way for wish lists, long lines, and wrapping paper. And while picking out gifts for friends and families can be exciting, it's not uncommon to run out of ideas. A person can handle only so many monogrammed housewares, after all.
Fortunately, creating an exceptionally thoughtful present doesn't have to be a hassle—or cost a fortune. It comes down to thinking with simplicity and care. To get you started, try taking on this list of six ideas, complete with endless possibilities for personalization. The best part? Zero crowds.
01. GIFT AN E-COURSE
According to Franklin University, online education has drastically increased in the past decade. This is likely due to the ability to take a class from the comfort of your living room. You can coordinate with your own schedule, work in your pajamas, and learn something new. What's not to love?
Today's online education resources are incredibly diverse. Websites such as Skillshare, Udemy, and CreativeLive offer everything from calligraphy and sewing to writing and baking. You can even find courses on coding and small-business branding for the budding entrepreneurs in your life. Or gift a MasterClass, which offers online classes taught by masters including James Patterson (writing), Serena Williams (tennis), Christina Aguilera (singing), and Annie Leibovitz (photography). 
Fortunately, delivering a shiny new set of skills is super easy. Udemy offers gift courses that are redeemable with codes, while CreativeLive subscriptions can be purchased through Gift Rocket. You can also create a new account on any e-course platform, buy a membership or credits, and send the recipient the log-in information.

Want to get in on the fun? Gift yourself the same e-course, and take the class together. You'll acquire new skills and exchange ideas with your loved one along the way.
02. SHARE A SKILL
Knowledge, ideas, experiences—these are a few of our favorite things. This holiday season, why not take the time to teach a friend or relative something you care (and know a lot) about? This can be anything from your favorite baking techniques to a language. You don't need a pro to share a hobby or skill. As long as you know the basics and are passionate about it, your gift is totally worth sharing.
Learning a new skill in a social setting has its benefits, too. Stanford University's Graduate School of Education found that the presence of others makes the activity feel like more of a social gathering than a task. Stanford's researchers also state that people who learn in social settings are likely to pay more attention and open up to constructive feedback.
To make your skill more "giftable," give the recipient a gift certificate to cash in, and set a date. If you can swing it, add to the experience by renting a space that highlights the skill, such as a test kitchen, a photographic darkroom, a ceramics studio, or a yarn store. Oftentimes these locations offer their own classes, so you could also sign yourselves up to learn more together.
03. PROMPT JOURNALING
Whether we like it or not, hardships and stress are a normal part of life. The University of Rochester Medical Center found that journal writing reduces stress, anxiety, and depression. It opens up the door for self-awareness and value. Advances in Psychiatric Treatment also shares that this form of expressive writing can yield long-term benefits such as improvement of the immune system, memory, and even blood pressure. Essentially, journaling can seriously benefit one's health.
Spice up the gift of a notebook by making it personal. Take the time to sprinkle the pages with quotes, notes, and other inspirational tidbits. Amp up the thoughtfulness by adding photos and inside jokes. These small and meaningful touches will honor your relationship in the most endearing way.
Want to knock out a few gifts at once? Purchase stylish notebooks in bulk, such as Field Notes or Moleskine journals. Customize each one with an ink stamp, embellishment, or decal. Personalize them with writing prompts for each person's unique personality and interests. Thoughtfulness and care are the most priceless gifts you can give.
04. GO GOURMET
The holidays wouldn't be complete without mouthwatering grub. Fortunately, you don't have to roast an entire turkey to please foodie friends and family. Mason jars of homemade ingredients, dry foods, or recipe mixes are as good as it gets. They're easy to make, affordable, and downright delicious.
Think simple. Start by adding interesting twists to basic ingredients. For example, infuse sea salt with herbs, lemon zest, or wine. The ingredients are budget-friendly; there's also a good chance you already have them in your pantry.

Other ideas are infused sugar, oil, or butter. Herbs and spices are amazingly useful for this gourmet gift. Or you can take this idea up a notch by assembling a medley of ingredients to form a recipe mix. Dry mixes for cookies, brownies, and bread are all excellent ideas for the holiday season. Tweak each jar of goodness according to the recipient's dietary restrictions, preferences, and allergies. To complete your homemade gift, include a note with directions and additional necessary ingredients (e.g. liquids such as milk, oil, or eggs).
05. BUNDLE UP USED BOOKS
In a world of iPads and Kindles, there's still a special thrill to reading a physical book. Consider ditching the mall (and digital screen!), and head to your local flea market or thrift store. Curate a bundle of various charming books that caters to the recipient's interests, dreams, and everything in between.
Think back to the conversations you've had with this person. What are their hopes and goals? Have they always wanted to learn something or visit a certain country? To keep things exciting, diversify your selections—consider everything from memoirs to picture books. You can even include your personal favorites. It's like a miniature personal library that any book-loving gal (or guy) will adore.

06. PUBLISH A PHOTO BOOK
Thanks to social media, we can save memories with a single click. Instead of collecting photos on your phone, bring them to life with a printed photo album or scrapbook. This is an excellent way to honor life-changing events, from road trips to new babies.
You don't have to be Martha Stewart to pull this off. Many apps and websites make it easy to create a one-of-a-kind personalized book. For traditional designs and elements, check out Shutterfly and Snapfish. Even if you aren't tech-savvy, they make the design process user-friendly. Looking for something more modern? Artifact Uprising is ideal for fans of minimalism and simplicity, plus you can choose from twelve fabric colors and top it off with foil stamping. Like journal prompts, including specific memories such as dates and inside jokes are key for personalization. Think about what encompasses the unique connection of your relationship.
Thanks to these gift ideas, scrambling to the store will be a thing of the past. Remember, an amazing present doesn't have to be "perfect." Focus on the recipient's personality, and you can't go wrong. Hopefully, this will remind you—and the lucky person—the deeper meaning behind gift giving.
Photo Credit: Tina Sosna