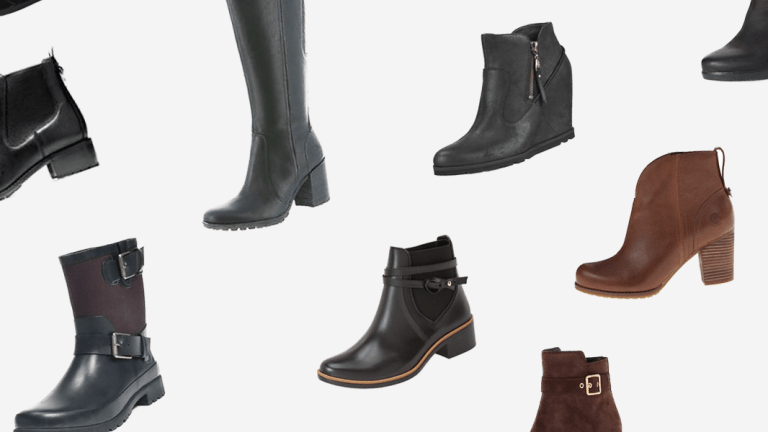 18 Stylish Boots That Can Survive the Winter Elements
Bye-bye marshmallow sledding boots!
Scene: It's a freezing-cold December day, but you have no choice but to face the elements. You step off the curb and into a pool of slush— immediately the icy water soaks through your boots and into your socks. Sound familiar? Of course we know that we could put on big rain or snow boots, but while effective, those clunkier styles aren't always practical. If you find yourself looking for an alternative to marshmallow sledding boots, don't worry, there's another way.
We found versatile boots that suit every occasion in your planner but also stand up against the winter elements that you didn't plan on. These boots will keep your feet dry and stylish as you stomp through slush in the morning on your way to work, run around on everyday errands, or head out on the weekend for date night or drinks with the girls. Of course, remember to take care of your waterproof and water-resistant boots with the proper treatments according to their materials. Snag a pair of these now so that by first snowfall, you're prepared. Let's all say it together: "Bye-bye, sledding boots!"
Office //
Do you wear your snow boots to work and then change into your office-appropriate shoes at your desk? If so, you know the pain of shoving a pair of wet, dirty snow boots into a plastic bag for your commute home. Cut down on all the shoe packing by just wearing one pair that looks professional and can handle the outdoors.
Everyday //
Let's face it—in the winter, all we really want to wear are comfy boots with chunky knitted socks. Luckily, these styles are great for just that. These boots are a perfect match for your favorite blue jeans and comfiest leggings. The brown color immediately adds a laid-back, casual vibe that is suited for your everyday errands and outings.
Going Out //
The battle between practicality and style makes choosing a Friday night outfit extra-hard in the winter. Sure, those pumps would look great, but visions of yourself slipping on black ice might have you thinking twice. What's a girl to do? A pair of black wedges or fun ankle booties will keep you looking chic as you hit the town while also (hopefully!) keeping you safe from sprained ankles.