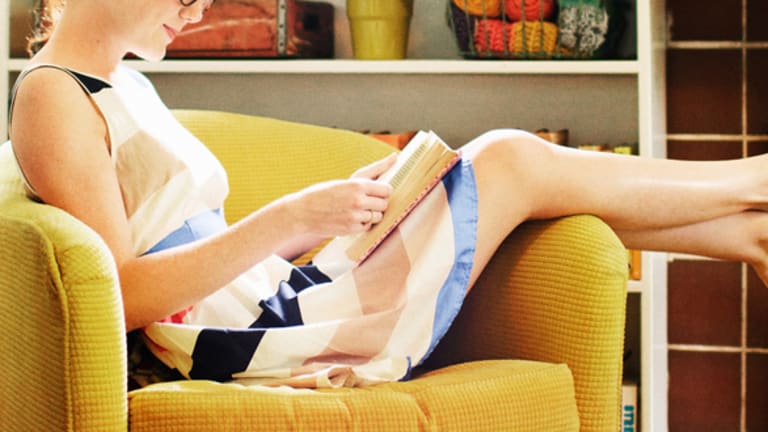 9 Great Books to Suit Every Mood This Fall
We've got your fall reading list covered.
Fall brings a lot of cozy opportunities—crunching through leaves while wearing a cute scarf, baking pies with the amazing bounty of seasonal fruits, and indulging in all things pumpkin. But perhaps my favorite fall pastime is curling up with a good book.
Granted, I am a book nerd. It doesn't take dropping temps and earlier sunsets to convince me to spend some quality time in storyland. But there is something extra-special about curling up under a soft blanket with a good book, whether you are outside enjoying the fall foliage or inside with a hot toddy on a gray and rainy day.
Picking a new book can be an intimidating prospect if you don't know what you're in the mood for, so here are a few options that will suit any fall mood. I try and challenge myself to read up to fifty books a year (a long commute and an equally book-loving boyfriend help me achieve that goal) and not get stuck in any one genre for too long. This year I am up to fifty-six books so far, ranging from memoirs to chick lit to historical nonfiction and almost everything in between. I even started out the year with a little sci-fi, which is not my usual style. Some of the books on this list are ones I have already read this year that I think will be good for fall, while others are recent releases that are at the top of my to-read list. Enjoy!
 All the Light We Cannot See by Anthony Doerr
You may have heard about this one already, as it has racked up several accolades and prizes since its release this past May, including the 2015 Pulitzer Prize for Fiction. This is not a light, summer beach read—it is a beautifully crafted tale of two young children (one French, one German) caught up in the drama of World War II. Doerr's prose paints such a clear picture of his world that I am loath for someone to turn this into a movie; I have such a vivid impression in my head that I don't want anyone to mess with. Start this one on a gray evening with a cup of tea and enough time to really dive in.
In a Dark, Dark Wood by Ruth Ware
Reese Witherspoon just acquired the rights to this psychological thriller, which is a delicious, fast-paced treat for those not easily spooked. Centering around a bachelorette party weekend at a remote house in the woods, Ware hooks her female readers with easily relatable bachelorette drama before veering off into dark territory. Don't start this one when you're alone or when you have to go to sleep soon.
Career of Evil by Robert Galbraith (aka J. K. Rowling)
If you haven't checked out Rowling's alter ego's writing yet, you are in for a treat. Career of Evil is the third installment of a detective series that follows an irascible private detective and his enthusiastic assistant. The books are incredibly engaging, hooking readers with expertly crafted characters and thrilling circumstances. Career of Evil is not for the faint of heart (the violence is quite detailed and gruesome), but it is well worth the discomfort. I'd compare the novels to more contemporary versions of Agatha Christie books, with the addictive quality of Harry Potter. Break this one out during a road trip or on your commute to work. It'll make the time fly by. (Start with The Cuckoo's Calling and The Silkworm if you are new to the series.)
The Accidental Empress by Allison Pataki
I am a huge fan of the historical fiction trend of writing novels about well-known periods of time from the lesser documented female perspective. Pataki's debut novel The Traitor's Wife chronicled the life of Benedict Arnold's wife, and Empress follows up this success with the story of Sisi, the wife of Emperor Franz Joseph of the Austro-Hungarian empire. The novel follows Sisi on her journey from impetuous and strong-willed child to controversial ruler. Pataki excels at illustrating how it is often the woman behind the man who charted the course of history long before we were allowed to move from behind to beside (and sometimes in front!). Pick this one up to indulge in during a bubble bath with a glass of wine.
The Wright Brothers by David McCullough
Fall always puts me in the mood to learn something new (I would be a perpetual student if that were logistically feasible). Part of me wishes I had saved learning more about the infamous Wright brothers for a brisk and breezy fall day, when I could look up into the clouds and imagine going from a world where humans couldn't fly to a world where they could. McCullough is the writer who taught me that nonfiction doesn't have to be dry and boring. He doesn't disappoint with this portrait of the incredible Wright family's determined attitude and invigorating fascination that changed the world. Try this one when you need a reminder of the payoffs of dreaming big.
The Witches: Salem, 1962 by Stacy Schiff
I am about a quarter of the way into my yearly fall nonfiction book, and this period of history continues to boggle my mind. I have to fight the impulse to think that I know who these people were (Arthur Miller's The Crucible is a favorite of mine, and I can't wait for the Broadway revival this spring), but this look into the circumstances and environment of such a notorious part of our early colonial history is riveting. I can't say how it will end, but if you're looking for a juicy, debate-inspiring, dinner-table-conversation book, this may be it.
My Kitchen Year: 136 Recipes That Saved My Life by Ruth Reichl
I know, a cookbook might not seem like something you curl up on the couch with, but after seeing my friend Bri do just that, I officially advocate for curling up with this cookbook. Reichl is the former editor of Gourmet magazine, and this book is more than just recipes—it chronicles how she reconnected with herself by rekindling her love of preparing food during the year after the magazine shuttered. It is a love story about how cooking can be used as mediation and is seen as the highest form of care of others. As a bonus, the recipes are mouthwatering! The book follows the four seasons and starts with fall, so now is the perfect time to start paging through it. Open it up when you are feeling frazzled and need a reminder of how sometimes the simplest things bring the most joy.
Purity by Jonathan Franzen
I confess, I have never read a Jonathan Franzen book, and this hotly anticipated new release is on my list of must-reads primarily for the "smarty pants" cred that seems to follow Franzen devotees around. Billed as a "grand story of youthful idealism, extreme fidelity, and murder," how can you not be intrigued? Give this one a try in an independent coffee shop surrounded by freelancers and graduate students. Franzen is a polarizing writer—I have only ever heard people rave or rant, never in between, so this one is a sure conversation starter.
The Japanese Lover by Isabel Allende
I am a sucker for historical fiction, and this recent release keeps popping up on different "read this" lists that I follow, so of course it had to jump to mine. GoodReads describes it as "an exquisitely crafted love story and multigenerational epic that sweeps from present-day San Francisco to Poland and the United States during WWII." I plan on starting this on the next sunny, not-freezing day, so I can take it to the park by the water and read in a place that honors the scope of the plot. I have never read any Allende, so I can't really speak to her style, but the press about it screams book club staple to me.
Happy autumn, and happy reading! I'd love to hear what you think—as well as any book ideas that you have to share.
Photo Credit: Shannon Lee Miller