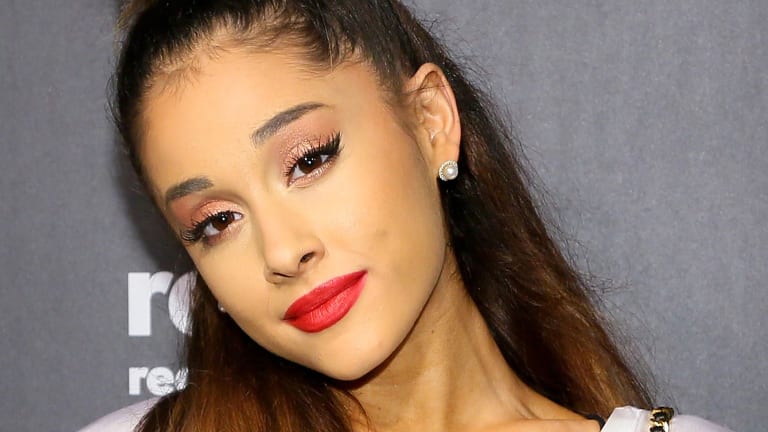 Ariana Grande Had the Best Response to the Man Who Tried to Body Shame Her
In the latest (unofficial) iteration of Hot or Not, a Twitter user took to social media to give his totally unsolicited opinion about whom he'd prefer if given the choice between Ariana Grande or Modern Family's Ariel Winter. Why he would think that he might ever actually have the opportunity to make such a choice, or that the Twittersphere would care one way or the other, was not disclosed.
The Twittersphere did care about his opinion, though, but only because of the response it garnered from his hypothetical bachelorettes. Following a recent radio interview in which she listed sexism and misogyny as two of the things she'd tackle if she could change anything about the world, Grande didn't miss this opportunity to put the Twitter user in his place.
"Sigh . . . tweets, comments, statements like this are not [OK]," the singer wrote. "About anyone!!! We live in a day and age where people make it IMPOSSIBLE for women, men, anyone to embrace themselves exactly how they are. Diversity is sexy! Loving yourself is sexy!"
She continued, "You know what is NOT sexy? Misogyny, objectifying, labeling, comparing, and body shaming!!! Talking about people's [bodies] as if they're on display ASKING for your approval/opinion. THEY ARE NOT!!!! CELEBRATE YOURSELF. CELEBRATE OTHERS. The things that make us different from one another make us BEAUTIFUL."
Lest anyone think that Grande's strong stance was the result of being jilted by the would-be suitor in favor of her curvier peer, let the chosen bachelorette, Winter, put that idea to rest.
Winter followed Grande's post with her own response: "Thank you @ArianaGrande," the actress tweeted. "Women should empower one another. Celebrate each other—you're all beautiful."
Winter has been outspoken about the body image pressure that women in Hollywood face, citing public ridicule about her shape as part of the reason she opted to undergo a breast reduction surgery earlier this year.
Both women have received a tremendous amount of public praise for their response to the tweet as well as their support of one another. Their unified stance against body shaming is a welcome contrast to the stereotype of competition and catfighting that many people still associate with female relationships (see: comments about this week's all-female spaceship crew experiment in Russia).
To the dismay of anyone looking for Hot or Not drama, it's just not going to happen on Grande and Winter's watch. Not only do they refuse to claim that their own body type is in some way superior, but they also refuse to put up with the idea that any body type is superior. Instead, they're collectively setting an example of the kinds of beauty that all women can aspire to: confidence, edification, boldness, and intellect. Now that's hot.