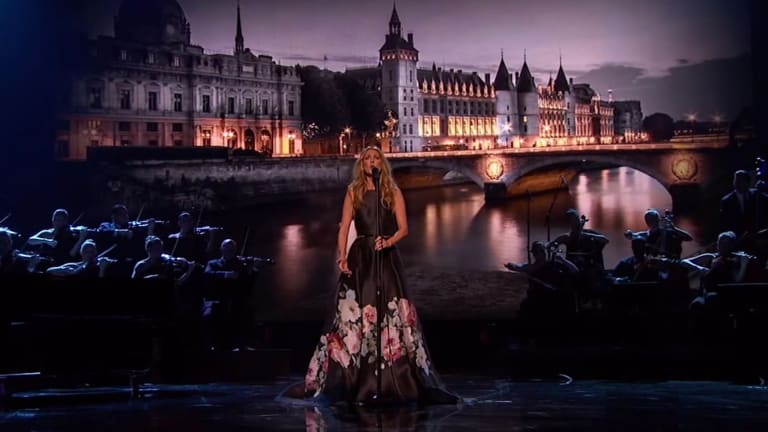 Unmissable Moments from the American Music Awards
Sunday's AMAs had something for everyone.
Sunday's 2015 American Music Awards provided viewers with hours of spectacle, some of it actually celebrating musical accomplishments of the past year and some of it simply celebrating celebrity culture. The show had something for everyone—audience dance parties (even without dance-party queen Taylor Swift), powerhouse performances, awkward presentations, and poignant tributes. Here are some of the standout moments from the night:
01. Ariana Grande continues to impress with both her incredible voice and positive attitude, taking home the Favorite Female Pop/Rock Artist award and giving a touching shout-out during her acceptance speech to her date for the evening—her grandmother. Giving credit where credit is due, Ariana thanked her "Nonna" for her support (and votes!): "I think I owe a lot of this to my Nonna, who made sure to remind me that she voted. She goes, 'Ariana, I went on the computer; I voted, so I think you'll win.'"
02. Favorite Female Country Artist winner Carrie Underwood (who looked like a golden, glittery superhero in her caped dress) added a thoughtful comment about family, happily talking to red carpet reporters about her baby boy and how even though he makes getting glam for a night out a longer process, he is still "the best thing my husband or I ever did." Underwood took the questions about how she keeps a good work–life balance in stride, assuring fans that while being a mom has changed her (How could it not?), she still loves making music and performing.
03. The unofficial award for best commercial of the evening went to The Muppet Show, which parodied Adele's recent smash hit "Hello" by recreating the music video to reference the much-publicized breakup of Kermit and Miss Piggy. This is not the first time that Miss Piggy has channeled her inner Adele, and the continued juxtaposition of puppetry and soulful music will always bring a chuckle. Here's hoping that Miss Piggy, like Adele, will eventually find her happy ending!
04. This year marks the twentieth anniversary of Alanis Morissette's iconic album Jagged Little Pill, which has thrown the singer back in the spotlight, and happily so. This album is the soundtrack for my middle school years, and I continue to love it. The queen of angst took the stage to perform "You Oughta Know" alongside Demi Lovato (who was all of 3 years old when the song first came out). The energy of the two women was palpable, with Lovato impressively matching Morissette glower for stomp. Take note, fellas—these aren't ladies to mess with.
05. Finally, the show paid tribute to the victims of the Paris terror attacks. What could have been an awkward ploy for ratings came across as a genuine show of support, with Thirty Seconds to Mars front man Jared Leto (whose band had played at the Bataclan venue a few months prior) introducing French–Canadian songstress Céline Dion. Dion performed a powerful rendition of Édith Pilaf's Hymne à L'amour, offering a reminder that art can be a powerful force for healing and that, as Leto said, "The entire world matters, and peace is possible."
Photo Credit: ABC