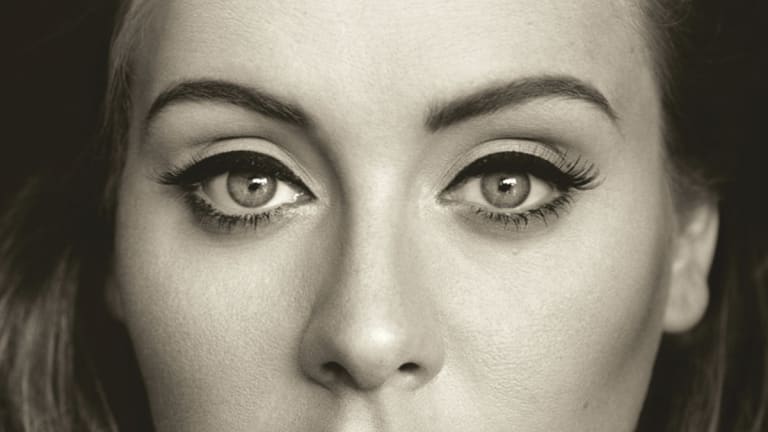 Here's What Makes Adele Such a Refreshingly Different Pop Star
Adele's back, and we couldn't be happier.
Adele is back. And man, is she back with a force. After almost four years of silence, the British songstress has returned to music with one big "Hello." Dropping on October 23, the single from her upcoming album, 25, was downloaded more than 450,000 times within the first two days. Within a week of its reveal, the music video has more than 100 million views and counting. In typical Adele fashion, without fuss or hype, she smashed records previously held by Taylor Swift and Star Wars.
Praise for "Hello" is pouring in from all over. Twitter is screaming #adeleisback, and her recent joining of Instagram gained her more than a million followers overnight. Even celebrities such as Katy Perry and Kate Hudson have been tweeting their love for the ballad.
I will happily admit that along with the rest of the world, I, too, am ecstatic that Adele is back. Adele and I have a rich history. I stumbled upon her first album, 19, several years ago and instantly fell in love with her voice. In an attempt to not be too dramatic, I will only say that her sophomore album, 21, completely rocked my world. I had never before heard an album that moved me so deeply. I remember sitting cross-legged on my bed, listening to Adele sing "Someone Like You" live at the NPR studios. I didn't cry—I sobbed. Every song hit some part of my heart in a different way. Her music brought me entertainment, but more than that, it gave me a sense of personal connection to her—like we've shared parts of life together.
Adele transcends pop culture and celebrity in a way few are capable of. She is on top of her game yet maintains a mysteriously low profile that has everyone thinking: "Who even are you?" She isn't on a stadium tour like Taylor. She isn't refusing interviews like Beyoncé. So, what is it about Adele that makes her so likable—so real?
I think it has a lot to do with her authenticity. Adele is an international superstar, yet the singer stays true to herself through her music. She stays out of the music-industry rat race. No gimmicks, no costumes, no dancing. Just that voice. It's refreshing in an age where female stars often feel the need to reveal more skin or promote their sex appeal to be noticed. All the same, Adele doesn't criticize other artists; she just says, "That's not me."
She appears completely unfazed by the concept of celebrity. In a recent interview with Ryan Seacrest, who labeled her a hermit, Adele revealed that she has no interest in fame whatsoever: "I'm not blinded by the persuasion of fame," she said. "Fame is not real, so how am I supposed to write a real record for anyone to enjoy if I'm living a very fake life?"
Maybe this is the secret to her gripping music. She isn't a celebrity—she is a woman, a fiancée, a mother, a friend, a daughter. She is herself—and sometimes just to see that, to hear that, is empowering to others to be themselves as well. I certainly find it true for myself.
Adele offers little pretense when it comes to her work. Her vulnerability is evident in her albums. It's no secret that Adele's past two records have been about past boyfriends, especially 21, which chronicles the heartbreak of her first true love. Adele openly admits that almost all of her songs come directly from her diary. She writes and she sings about exactly what she feels, no matter how painful that may be.
I remember seeing Adele perform live about four years ago. The place was packed, but due to the small venue, we were quite close (and yes, the woman is even more stunning in person than in photos). When she sang "Someone Like You," everything seemed to stop. By the end of the song, she was crying, and we all were, too. It was as if everyone felt like they could open up and breathe for three minutes. We were all standing there with our hearts in our hands because she was holding her heart out to us.
Her new single "Hello" is no different. In addition to its stunning music video, the song explains feelings of regret, the pain of hurting others, and moving on in a world that moves so fast. Even if you haven't shared her exact experiences, her emotional honesty has universal appeal. I've never felt that same intensity of romantic heartbreak, yet I relate to her.
A woman owning her feelings, allowing herself to go through an emotional journey, and sharing that with others exudes such an incredible strength and security. It makes others want to share their hearts as well, and the more that happens, the more we free we are. It's the realization of, "Oh, hey, you feel this way, too? Maybe I'm not so alone."
So, hello Adele. Welcome back. We've missed you!