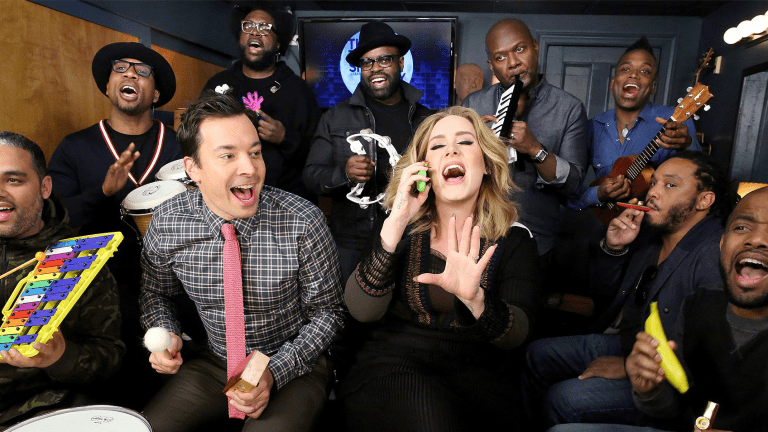 These Hilarious Videos Featuring Adele Totally Made Our Week
For your Thanksgiving merriment!
Since Adele's latest hit song "Hello" was released—and her album 25 came out this week—the artist has been making the rounds on TV and online videos publicizing the album. Adele is famous for performing with little more than a microphone and a spotlight—rare in our day of dance routines and hydraulics. But what she doesn't add to her performances in pizzazz, the media offers in its interviews, publicity stunts, and comedy spoofs. Allow us to share with you some of our favorite, impossible-not-to-love clips that have come out since "Hello" hit airwaves.
SNL // A Thanksgiving Miracle
Bracing yourself for some awkward Thanksgiving table conversation with family members of differing views? It couldn't get much worse than this Saturday Night Live skit below. But, it turns out, everyone has a little Adele inside of them prepared to reach out "to the other side." In this past week's SNL skit, the universal love for Adele's music ultimately saves the day.
BBC News // Adele Crashes an Adele Impersonator Audition
This one is actually really touching. You can dress up like Adele, and you can try to sing like Adele, but no one can really touch the voice of Adele. In this staged audition for Adele impersonators, watch what happens when the contestants realized that the real Adele is disguised among them. Heart. Warmed.
The Tonight Show Starring Jimmy Fallon // Toy Instruments
In this clip, Adele visits The Tonight Show, in which Jimmy Fallon invited the British singer, alongside the band The Roots, to perform using only what would appear to be elementary school–grade musical instruments. Talk about a testament to how much you can do with just a little! My favorite part is her use of the cell phone at the end.
So, if this Thanksgiving, you have some awkward silences or table conversations, just pull up Adele's "Hello," or bring to mind these laugh-worthy videos. Who knows? You just might experience, as Saturday Night Live put it, a Thanksgiving miracle.