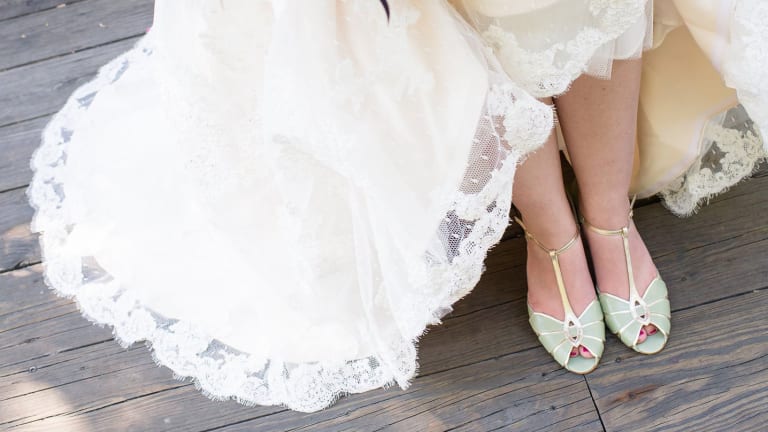 These Beautiful Accessories Are the Perfect Finishing Touches for Winter Brides
Add some no-stress magic to your bridal outfit.
We'll admit it: We love weddings, and of course we love to ooh and aah over the bride's fabulous dress. Few brands make us swoon season after season like BHLDN. We'll be sharing their advice for brides here on Verily, and you can check out the goods at BHLDN.com.
It's weeks before your wedding, and up until this point, you've epitomized the chill, laid-back bride (or maybe not—no judgment here). All the major decisions are behind you: venue, dress, flowers; check, check, check.
But, there are always those last-minute to-dos that creep up as the big day approaches, which can leave even the most relaxed bride feeling a bit frazzled. "Would people just RSVP already so I can finish this stupid seating chart?" "Hmm, if we're taking pictures outside, maybe I should have something warm to throw on . . ." "Shoot, aren't I supposed to have something blue?" "Jewelry! I completely forgot about jewelry!"
First of all: deep breaths. You've got this. Though I can't help you figure out where to seat quirky Aunt Matilda, I can offer up a few ideas for all those last-minute winter bridal accessories that are sure to add a little sparkle to your "I do."
COZY UP //
Let's face it: If it's snowing (or just plain frigid) on your wedding day, the last thing you want are hundreds of teeth-chattering photos of you trying to force a smile through the cold. Invest in a warm wrap that suits your bridal style.
Love the luxe look? Try a faux-fur or feathery shawl. If you want to go for the more modern, Keira Knightley à la Love Actually look, a beautiful white sweater is a toasty and versatile option. More of a vintage gal? Go for something long-sleeved and lacy or a capelet dripping with beading for an added dose of wow.
ADD SOME ICE //
It can be difficult to know where to begin with all the wedding jewelry options out there. For winter weddings, stick to classic gems in hues of white and silver to celebrate the frosty season. Dangling chandelier earrings conjure images of icicles, and no one can go wrong with a pair of classic crystal drops. Add a matching bracelet or delicate necklace as a final flourish.
HOLIDAY HAIR //
I'm obsessed with halos. They look stunning paired with a veil and add some visual interest that says, "Hey, I'm the bride," if veils aren't your thing. The BHLDN Pearly Dreams Halo even resembles clusters of snowflakes—perfect for the winter bride. For a subtler look, delicate crystal bobby pins are a great way to give your updo that extra something special before you walk down the aisle.
THAT SOMETHING BLUE //
This tradition is as old as time (stemming from an Old English rhyme, according to The Knot), but it's pretty easy to incorporate the "something blue" custom into your wedding look. A pair of vintage-inspired icy blue pumps is perfect for the time of year. Or go with more modern footwear such as the Oyster Bed d'Orsays, which are not only designed by the aptly named Something Bleu but also feature a blue rhinestone on each sole.
SNOWY EXTRAS //
Once you have all the essentials covered, consider adding on some last-minute accessories you might not have thought about. What about a pair of elbow-length gloves for the ceremony? They're not only elegant but will also help keep you warm. Or, invest in a feathered or beaded clutch so that you can store your lipstick and cell phone. Practical, pretty, and something you can use after the wedding, too!