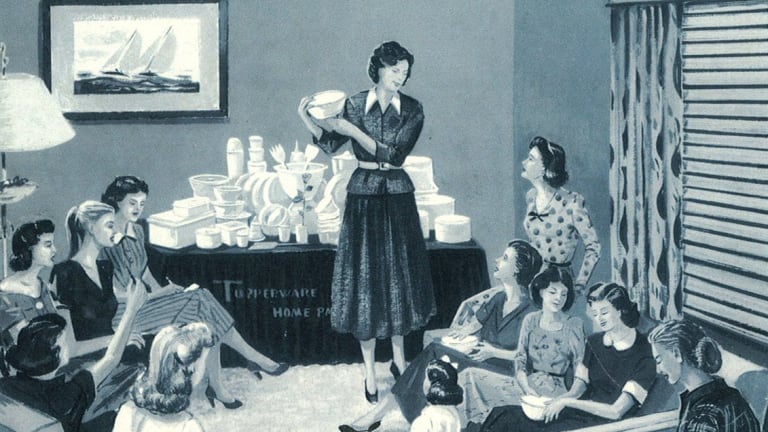 What Is Network Marketing, and Can It Help You Make Some Extra Money?
Stella & Dot or Avon—here's what you need to know about network marketing before you sign up.
"There's food everywhere!" my 11-year-old-self exclaimed. We were at a Pampered Chef party. With no cooking experience, the culinary and cutting tricks I watched performed like a magic show were amazing. Mom—we should buy that! Please, Mom, we need that! Oh! Mom, can you make those?
Filled to the brim with snacks and treats, we left that party a little fuller and a little richer—in cooking supplies. From then on, I distinctly remember being more interested in cooking. It's a love I still carry to this day.
As a consumer, network marketing seemed great. I look fondly upon that lady from Mary Kay who helped me choose my first makeup palette. My favorite dress as a little girl—it had a "ducky" on it, as I recall—was also bought at "one of those parties," my mom told me nostalgically. And the company Norwex fundamentally shifted how I clean my house.
But what if you're thinking about joining the other side? Everyone has a pesky story about trying to be recruited in a "pyramid scheme." And it doesn't take much Googling to hear a horror story about how any network marketing opportunity was deemed a scam. As a generally open-minded, outgoing person, I can't even count all the times I was asked to sell something.
No doubt, there can be an awkward side to it. Combining business with one's social network can get a little testy. And I understand why. During my own short stint selling skincare products for Arbonne, one of my friends told me, "I made a pact with myself years ago when all of my friends started selling things that I wouldn't go and wouldn't host."
Yet, the concept of multilevel marketing has been around for longer than a century. During a time when women didn't exactly have options, Avon founder David H. McConnell found a way to mobilize women to be their own representatives and entrepreneurs by selling beauty products. Many companies—and great ideas—followed. The prevalence of Tupperware is an undeniable example of how MLM can be incredibly influential and successful, as it shifted the way we store and transport food. But the question remains: Is network marketing still friendly to women?
More Options, More Flexibility
As I interviewed woman after woman who are active MLM sellers, the most repeated word was "flexibility." After all, you are your own boss. While you have an "upline" that you sell under—often the person who recruited you, the person who recruited them, and up the line—your time is your own. You drive the business when it's convenient for you. This flexibility is particularly attractive to mothers as well as women who simply want supplemental income to help them achieve their other career goals.
"I have never been the 9-to-5 type, and the thought of sitting in an office all day makes me want to cry," shares Nicole Hensch, a rep for Stella & Dot. "My dream has always been to teach yoga, but yoga is not a high-paying career, and I know I could never live the life I wanted just teaching yoga."
Sarah Fischer, who sells Norwex—and is a professional actress as well as a mother—also cites flexibility as a key part of her choosing this career. But she also believed it was a job that constantly challenged her. "This job has really pushed me to get out of my comfort zone. I've been thinking a lot about the gender wage gap recently and how women make less money than men for the same work. And I know there are many reasons for the gap, but I think the biggest one is that so many women don't have the gumption to ask for what they want and what they deserve. And this job is teaching me how to do that, slowly and surely."
Speaking of Money . . .
Before we officially raised funds for the tech start-up I work for now, I was recruited to sell Arbonne for a bit of extra dough. I particularly liked Arbonne for its high-quality ingredients and effectiveness—the thirty-day cleanse, for me, was life-changing. But monetarily, I came out about even. I never prospered. I far more enjoyed collecting products than selling them. But frankly, my heart was never in it. I was in the midst of cofounding a tech start-up in Austin, as well as building a side career of freelance writing. Something had to take the back burner. And for me, that was Arbonne. While I still love (and consume) the products—cold selling isn't a priority for me now. And at this rate, it probably never will be.
But some women are truly successful in this business. It's a fact. They did what I didn't and have no energy to do: focus and prioritize this job. "The income that I do receive from parties and events is helpful and has allowed me to pay for a summer vacation that was never in the budget before," shares Stephanie Ledgerwood, a rep for Jamberry.
How to Make It Work
Qualms about MLM jobs not constituting "real" jobs are prolific. But many women attest that it's not true. "Ah, the 'When are you going to get a real job?' question," Nicole commiserates. "I just purchased a home, earned a free trip to Jamaica, and pay for all living expenses with my income from Stella & Dot. How is that not a real job?" To Nicole, selling Stella & Dot has been a substantial way for her to earn income.
Before you jump in and think it's a golden road with a clear pathway to success, however, think again. I believe that there are three key ingredients to be successful with a network marketing group.
01. Your Upline
A lot depends on your upline, or success line. If you are interested in this kind of business, make sure that your upline is made up of people who are trustworthy and, frankly, people you just want to be around. As you slowly discover whether this business is right for you, it's important to work with people who can support you and who will teach you—and not simply insist that you invest in hundreds of dollars of product before your first show. With the wrong people, it can be easy to be taken advantage of or to get caught up in the hype and overextend yourself and your budget.
02. Your Time and Your Social Life
Do you have time for this? Because, as many MLM women have shared with me, this is "not a get-rich-quick scheme." Grace Cleaton, from Arbonne, said it took her nearly a year to start making anything resembling an income. And that was only after she began really making her business a priority in her life—and letting herself be "coachable" to the woman who recruited her.
Still, remember that a good saleswoman in this line of work doesn't just sell you the products, she sells you the business. And she paints a great picture of what it's like or what it could be like. But the reality is, it takes a whole lot of grit—and tunnel vision—to get there. Simultaneously, it's a tricky balance, as your work will often interfere with your personal life. If you sell Jamberry nail wraps, and your friend refuses to buy your products but then asks you to get a manicure before an event, do you have the ability to not take it as an insult?
03. Your Belief in the Product
Even if you're really good at this business, it doesn't come easy. What's different is that you're all on your own. Sure, you may have a support network helping you with goals, but ultimately you are in charge. Because you'll be experiencing a lot of lows, make sure that you love and really believe in the product.
Sarah shares: "I've always been on team 'green,' but I've become even more aware, and consequently more passionate, about what goes into my and my child's body. The mission actually makes it really easy for me to do my job. I never really think of my job as 'selling.' There are so many people who don't know that this progressive way of cleaning exists, so it's my job to teach them about it."
Many articles reveal a horror story here and there of someone who is convinced it's all a vicious evil pyramid scheme that sucks the life out of people. However, there are many parts at play—the morality of your particular line and your own understanding about how it works.
"Picking a product you can easily market and stand behind is key," Nicole explains. "I wear my product all day, every day—I get stopped at the grocery store, after yoga, and walking on the street asking where my bag or necklace is from. It is an easy-to-market product!"
So, is network marketing the road to success or a scam?
From extra income to main income, MLM can be a great financial boost. However, you must do it right—and for the right reasons. It only works if you truly love the product and care about how it fits into your clients' needs and interests. As Nicole shares, "I had previously been with two other network sales companies, and they weren't my thing. Stella & Dot, however, just clicked." As in any job, you have to find your own niche. Network marketing isn't right for everyone, but those who hit their stride can definitely make a career out of it.
Image Credit: Tupperware Collection