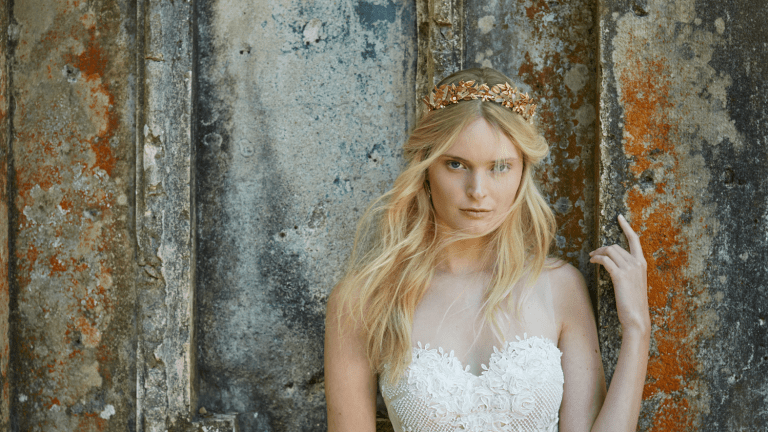 These Are the Wedding Dresses You'll Want to Wear This Spring
Add these to your secret Pinterest board.
We'll admit it: We love weddings, and of course we love to ooh and aah over the bride's fabulous dress. Few brands make us swoon season after season like BHLDN. We'll be sharing their advice for brides here on Verily, and you can check out their goods at BHLDN.com.
With New York International Bridal Week in full swing October 10 through 12, we're diving into beautiful lace, tulle, and satin crepe to bring you a full report on all things trending for spring 2016 weddings. Even if you aren't quite engaged yet, there's no harm in adding a few looks to your Pinterest board, right?
01. Bridal Separates
Love parts of certain dresses but not the whole thing? We feel you—and luckily, so do dress designers, with bridal separates arriving in a major way this year. We love the idea of pairing full and flowing skirts with sparkly corsets or silky camisoles for total customization. And for the ultimate day-to-night look, you can rock a slim cocktail dress under a romantic skirt for an easy ceremony-to-reception conversion. Why settle on just one look when you can have two in a snap?
Separates beg for layering, so adding a lace topper or even a furry shawl for an early spring wedding when the weather can still be chilly is a great way to further build your own look.
02. Back Drama
Dramatic back detailing has been on the rise for several seasons, and it's certainly here to stay in 2016. Whether beaded, plunging, or an illusion back decked out in lace appliqués, when you think about all your guests who will see your back when you're standing at the altar, it really is the perfect opportunity for a "wow" moment.
03. 3-D Florals
Floral never goes out of style in the bridal world, but this season we're seeing lots of gowns decked out in three-dimensional flower appliqués and embellishments that give gowns added texture, visual interest, and whimsy. If a gown adorned in tiny white hydrangeas or rosebuds isn't your style, try adding a belt or sash decorated with silk flowers to bring a little enchantment to a more understated dress.
04. Illusion Bodice
With celebs dropping jaws on red carpets with so-called "naked dresses," the bridal world is thankfully taking a more demure but no less showstopping approach. Illusion bodices constructed from sheer tulle and embellished with lace and beading were in several collections, allowing for the appearance of skin while still keeping it classy. Illusion necklines, sleeves, and backs continue to be top trends as well—which is great news for anyone who wants to get away from the ever-present strapless gown.
05. Boho Bride
If we know one thing about trends from Fashion Week in September, it's that the seventies are back. Bohemian vibes are rippling through the 2016 bridal world in an even bigger way than seasons past. Not just for the alternative, hippie gal (though she fits right in there, too), the 2016 bride is boho-chic, donning intricate embroidery, tiered skirts, romantic lace, and detailed beading—sometimes all on the same gown. The antithesis of minimalism, this look lets you have it all, with flowers in your hair.