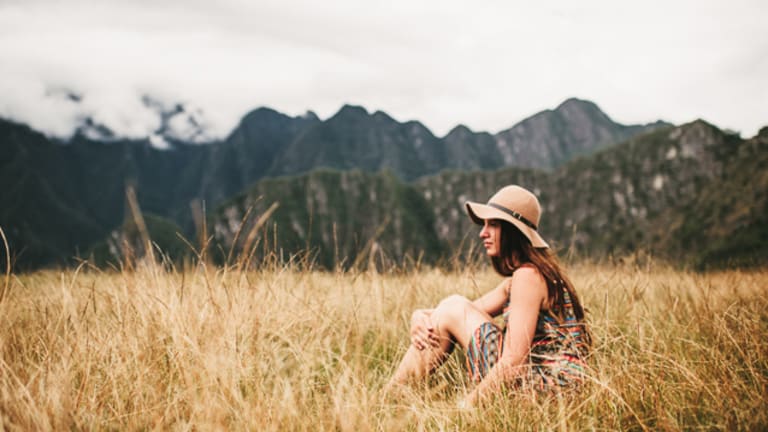 Why Traveling Solo Can Be Good for You
Going at it alone doesn't mean you're lonely.
I've always been an independent person. I love my group of friends, but I rarely feel any qualms about going to the movies alone, dining alone, or even going to parties alone. In fact, I've never quite understood why many women insist on going to the bathroom in packs. I crave alone time—a brief respite to think by myself, recharge, and contemplate what's going on.
But even though I enjoy doing things alone, I've never actually traveled alone. It seems outlandish. What if I get abducted? What if I get lonely? What will happen if I get lost? After a recent solo business trip, though, I became curious about traveling without companionship. What is it like to fly solo?
Before we met, my husband often traveled by himself. At first, I thought it was an odd quirk, almost a little weird. Didn't he have any friends? Didn't he want to be with friends? He later shared that it was the only type of vacation where he came back to reality more relaxed and rejuvenated.
Turns out, traveling alone can actually be quite good for you—and surprisingly, the opposite of lonely. I talked to several people about their experiences vacationing alone. Lori, 49, tells me, "It was amazing to not have to worry about anyone else but me!" Although she was apprehensive about the idea at first—having, like me, only traveled alone on business trips—in the end, she felt like it was precisely what she needed. And Lori isn't alone. Here's what else I learned about the benefits of solo adventuring.
01. You mark places off your bucket list with efficiency.
Seasoned international traveler Katie, 26, says that the biggest advantage is there are no compromises in prioritizing the places she wants to see. With no added opinions or complaints, she's able to check off sites she is most enthusiastic about. "When I was in Italy, there were a lot of classics sites that I wanted to see. I'm very focused on the art and architecture," she shares. "And while I love my family, when I went to the Louvre with them, they always lamented the fact that I was a bit too intense," she laughs. "Even when I traveled to Germany with friends, I could tell that they tired of the fact that I kept taking pictures of . . . well, everything."
02. You enjoy at your own pace.
To Elly, 30, a vibrant traveler who blogs about her experiences, the ability to sightsee at her own pace was the best part of traveling alone. "I'm able to explore places on my own time," she tells me. "It's the freedom to choose my own path, get lost wandering, or choose to stay longer or leave earlier."
Mike, 28, is another traveler who has traveled across borders alone several times. "When traveling, spontaneity is the name of my game," he shares. With a life that's normally extremely regimented and structured, he finds that it's refreshing "rolling without plans."
Journeying alone can cut one of the bigger stressors of travel: time. When you travel by yourself, you can go as fast or slow as you want, without trying the patience of others.

03. You become more contemplative.
Katie also says that traveling alone helps her step back from day-to-day life. It helps her to simply sit with her own thoughts and evaluate her habits and goals. "A lot of what I like about traveling is the getting away. I don't really require other people. When I'm alone, I take that time to listen to audiobooks and reflect." It even inspired her to start doing one of life's most contemplative practices: journaling.
"When I was in Kenya, it took hours to travel from one city to the next, and I would journal roughly the whole time. I never journal in real life, but I like to journal when I travel," Katie shares.

04. You learn a lot by people-watching another culture.
Without paying attention to someone else, you can pick out people and events that you might otherwise miss in a new place. For Shelly, 25, traveling solo allows her to slow down and absorb the ambiance in full. She's able to pay closer attention to her surroundings. "I was more reflective and able to take in more details," she says.

05. You make new friends.
Traveling stag doesn't mean that you're lonely. "Traveling alone encourages me to meet new people and make new friends," Elly shares. "Other travelers are so welcoming and friendly. I frequently go on adventures with these new people." It pushes her to be in the moment and experience the culture, especially if she's with locals.
Mike agrees. "I think I've mastered the ability to make what I call 'day friends,'" he says. "Sure, the trip might start and end alone, but there are interludes where I meet groups of people at functions."

06. You become more self-reliant.
Besides building social confidence, traveling alone can be a tangible way to bolster faith in your own abilities, too. "The first solo trip I took was a little nerve-racking. I was in a new city, with people I didn't know, and I didn't speak the language," Elly shares. She's learned how to practice self-reliance as she forces herself to learn new skills and grow past her discomfort.
According to Katie, traveling alone has taught her how to take the lead in executing her traveling goals. "On my own, I do a bit of research beforehand, make a list of places I want to go, and then map it out the most efficient way," she says. She's discovered that the most fulfilling part of traveling, for her, is to simply "come, see, capture."
For many, traveling alone can be one of the most fulfilling, soul-baring trips imaginable. After having learned from many solo travelers, I no longer think that they're too free-spirited nor do I feel sorry for them for being lonely. Traveling solo can be therapeutic—a holistic retreat that helps inspire, rejuvenate, and enlighten our everyday lives for when we return.
Photo Credit: Manchik Photography