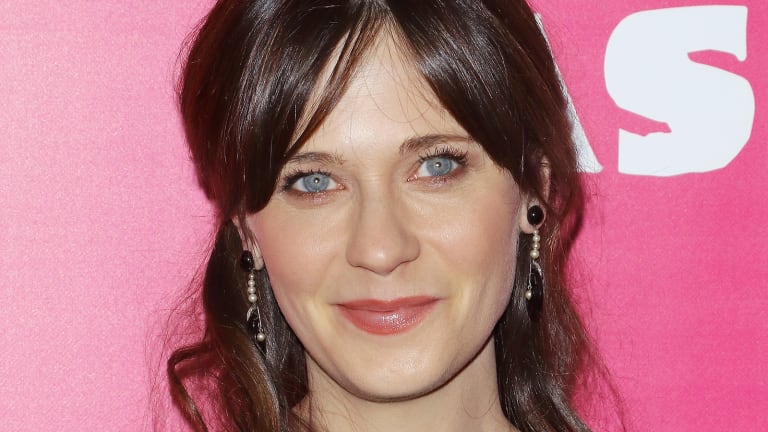 Time Inc. Wants in on Zooey Deschanel's Quirky BFF Brand of Business
The powerhouse actress–singer sold HelloGiggles, the site she started with her real-life BFFs, for a cool $30 million.
Fans of Zooey Deschanel all have (at least) one thing in common: We're pretty sure we'd be friends with her in real life. She's funny, quirky, and relatable, and every group of girlfriends needs someone like her. Especially now that she's buying the next round of drinks, courtesy of the $30 million purchase that Time Inc. just made of her start-up.
Deschanel cofounded— along with two of her actual BFFs— a general-interest women's website called HelloGiggles back in 2011. Today, the platform reports sixteen million unique visitors a month stopping by to soak up all sorts of Zooey-esque content daily.
The site currently offers articles on everything from a 92-year-old's poetry about her wrinkles, to improvements in Intel's maternity leave policy, to how one Zooey Deschanel came up with her daughter's unique name (It's Elsie Otter, you guys, because according to Deschanel and her husband, "We both love otters." Any other questions?).
The terms of the acquisition were not disclosed. The only outside funding in the venture was a small seed round in 2014. Business Insider reports that those investors made a 5X return on the deal. Not too shabby.
As for Time Inc., it believes that HelloGiggles will be a powerful complement to its multimedia portfolio, which also includes pop culture mainstays People and Entertainment Weekly. "We see the opportunity for HelloGiggles to continue to evolve and grow as a multimedia content business," Time Inc. Chairman and CEO Joe Ripp said in a release after the news broke. "The site provides strategic benefits including a contributor network that unlocks access to a new pool of editorial and creative talent, an expansive audience of highly engaged consumers, and experience in branded and native content solutions."
It appears as though Deschanel has taken this opportunity to exit the company, with cofounder Sophia Rossi staying on to run the ship, reporting to one of Time Inc.'s executive VPs.
The site's "About Us" section states that "we were founded . . . as a place on the Internet to inspire a smile. We're still trying to do just that." It might all seem a little trite on the surface— the name HelloGiggles, a mission to "inspire a smile"— but for young women attempting to carve out their own identities amidst a sea of conflicting messages and endless scrutiny, the Internet can be a dangerous place. Leave it to our imaginary bestie to dream up a place where girls like us can get together and share a laugh. Oh, Zooey, you know us so well.
Photo Credit: Getty Images