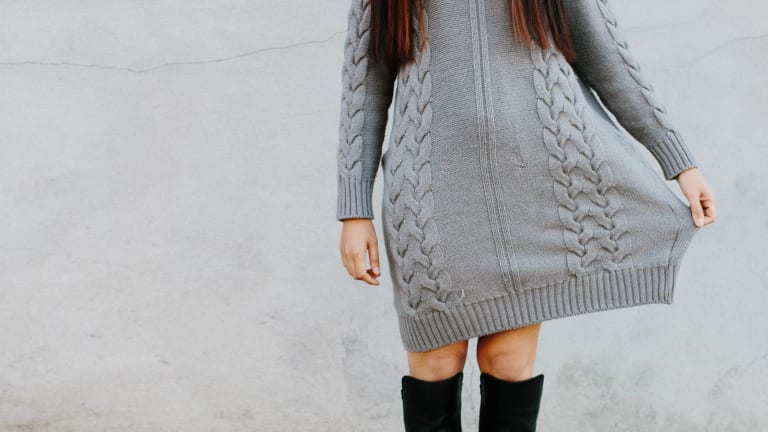 What a Loyal Pants-and-Sneakers Girl Learned from Wearing Dresses for 5 Days
Have you noticed that people look at you differently when you wear a dress?
I am the ultimate lazy girl when it comes to fashion. I wear three outfits on rotation throughout the week. I only wear black because I can't be bothered to color coordinate. I try to pass it all off as if I have effortlessly locked down the minimalist black-on-black New Yorker style, when really I am simply trying to mask the fact that yes, I wore these same pants two days ago . . . and the day before that.
Needless to say, wearing dresses has never been my M.O. It would deviate too far from my standard black hoodie, black pants, and black Chucks ensemble. And more importantly, it would require me to shave my legs. Did I mention I was lazy?
When Verily's style editors approached me with the challenge of wearing dresses for five days straight, I cringed. Dresses are frilly little things reserved for my well-groomed counterparts with manicured nails and extensive shoe collections. I, on the other hand, am a close-mouthed photography nerd with chewed nails and little more than a pair of beat-up sneakers to my name. After weeks of prodding, I finally relented to wearing not only one dress, but five—one for every day of the week. Here's what happened.

Day 1 // Magenta Dress
My first day of wearing a dress was, er, suboptimal. "Subway entrances suck," I muttered as I walked into work that morning. What used to be serviceable stairwells leading into air-conditioned sanctuaries from the residual summer heat were now giant wind tunnels where I, ever the novice dress-wearer, inadvertently mooned every Brooklynite commuting to Manhattan. I scrambled down to the bottom of the stairs, trying to balance my work bag and camera bag on one shoulder while frantically pulling the dress back down with my other hand. The metro newspaper distributor downstairs was extra-flirty that morning. Two hours in this retina-burning magenta dress, and I was already making friends. Great!
Day 2 // Sweater Dress
I begrudgingly pulled this floppy gray sweater dress on in the morning and went, "Now what?" My styling skills were put to the test. With not much in the way of necklaces and belts, I was pushed to master the art of "layering" to add more dimension to the outfit. I chose a textured navy scarf, which served as a nice embellishment to my otherwise blocky silhouette. Also, I did not moon anyone on the train today. Progress.
Day 3 // Black Jersey Dress
The black jersey dress was undeniably comfortable, especially during a long day of sitting at the office. I was never conscious of my tightening waistline after eating that delicious pastrami sandwich for lunch, and upon returning home from the office, I was able to slip out of my loose frock and dive into my jammies in about four seconds flat—a new record.
Day 4 // 'Tip' Dress
When attempting to style this tunic zip dress, I could hear the hoodie-and-Chucks version of me yelling, "A scarf with no jacket? Why would you want to keep your neck warm and nothing else?" But something about that decorative scarf clicked. When I pulled on a light blazer to top it off, something worked. Maybe I should grab some bangles and statement earrings to match? Who the hell am I?
Day 5 // Black Crepe Dress
This, by far, was my favorite dress. Partly—OK, mostly—because it's a slit dress that requires you to wear pants underneath. But I also loved the fact that it pairs nicely with masculine accessories, such as this black leather jacket, while retaining a feminine silhouette. In fact, my affinity for this little number proved that wearing dresses isn't such a far-fetched concept after all.
By the end of my dress challenge, I will admit that I still prefer wearing pants. But it has also been a strong testament to the benefit of some dresses. I've grown to love the billowy slit dresses that you can wear with pants underneath. They give off a polished vibe with elements of fun and whimsy, which surprised me.
I must say that I was pleasantly surprised by the feedback I got from people on the street. Men were slightly more attentive when I wore the black crepe dress with long black boots. Women glanced over when I wore the magenta dress with the black leather jacket. Wearing dresses seemed to indicate that I was invested in my appearance and, therefore, required an extra split second of fashion scrutiny. My usual getup would have elicited little more than a nod ("Oh, I have that jacket") or a quick glance ("She's coming this way. Maybe I should move"), but the dresses seemed to draw out a wider range of emotions. Though I am not entirely sure which I would prefer, one thing's for certain—dresses, regardless of their style, catch people's eyes.
Maybe I'll try swapping one into the rotation (but don't tell our editors I said so).