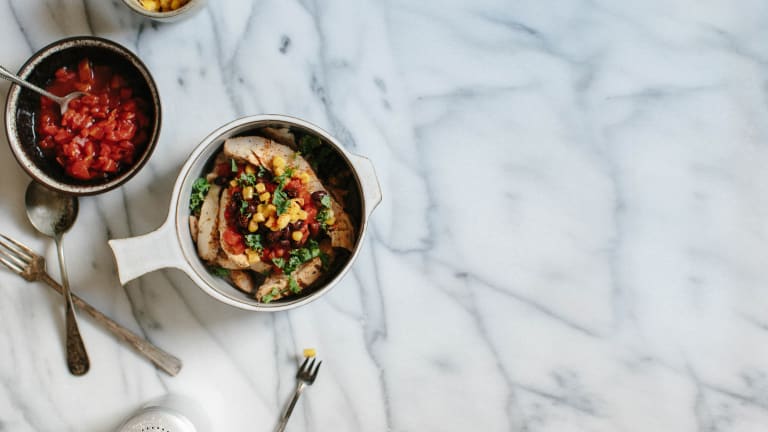 Easy and Delicious Santa Fe Chicken Recipe
This versatile chicken dish is about to become your favorite go-to meal.
This is a wonderfully versatile recipe that is gluten-free, dairy-free, and so simple. It's also great to freeze and pull out for a quick no-prep meal (check out the serving ideas after the recipe). This recipe can be easily doubled, tripled, or even quadrupled. Play around with this recipe, and adapt it to your tastes by trying different salsas, changing up the spices, etc.
INGREDIENTS
3 cups cooked chicken
15-ounce can of corn
28-ounce can of pinto beans
15-ounce can of black beans
10-ounce can of tomatoes with green chilies (such as Ro*Tel)
20 ounces salsa
1 tablespoon chili powder
1 tablespoon cumin
1 teaspoon oregano
1/4 teaspoon salt (to taste)
DIRECTIONS
Cube the chicken into bite-size pieces.
Drain and rinse corn, pinto beans, and black beans.
Mix beans and chicken in large bowl; stir in tomatoes and salsa. Feel free to add more or less salsa depending on your salsa's consistency. You don't want the mixture to be soupy, but you also want it to have enough salsa so that the dish doesn't dry out when you heat it.
Add the spices and salt. Stir to distribute throughout the mixture.
Divide (if necessary) and freeze. The portion size that you freeze depends on your family size and how you plan to use this recipe (see below).
SERVING SUGGESTIONS
Rice Bowls: Place Santa Fe Chicken in a lightly greased baking dish (one recipe should fit in a 9-by-13-inch dish), top with cheddar cheese, and bake at 350 degrees for twenty minutes or until heated through. Garnish with chopped green onions, and serve with sour cream and rice.
Tacos: Heat the Santa Fe Chicken, and serve as a filling for tacos or lettuce wraps. Serve with cheese, sour cream, salsa, and cilantro.
Nachos: Spread corn chips on a baking sheet lined with aluminum foil. Sprinkle Santa Fe Chicken over the corn chips, and top with cheese. Serve with sour cream, guacamole, and cilantro.
Tortilla Soup: Use the Santa Fe Chicken as a tortilla soup starter. Simply combine 32 ounces of chicken broth and 15 ounces of diced tomatoes with the mixture in a pot. Bring to a simmer, adding more chicken broth until the soup reaches your preferred consistency.