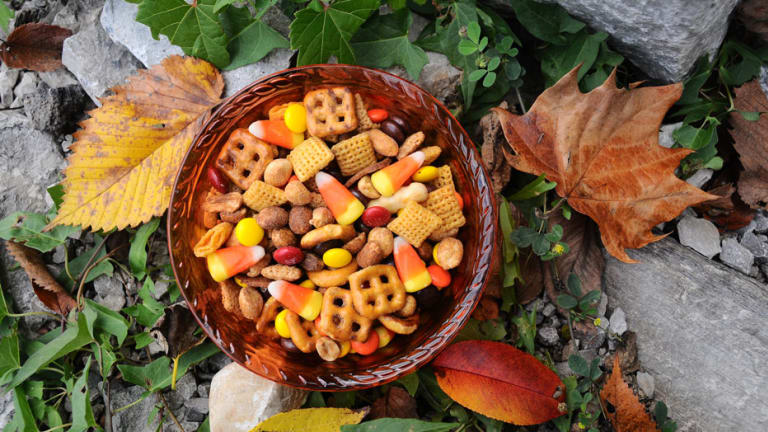 10 Last-Minute Halloween Desserts That Require Zero Baking Skills
Holidays sneak up on us, but that doesn't have to cause you stress.
As the official springboard into the holiday season, Halloween sure knows how to keep us busy. Every year, it seems to sneak up on us in the spookiest of ways. In the hustle and bustle of life, rushing to prep for this ghoulish holiday is far too common.

Between coordinating parties and planning clever last-minute Halloween costumes, brewing a tasty dish may be the last thing on your mind. Instead of slaving over a hot oven, try making one of these super-easy no-bake Halloween desserts! They're quick, festive, and just in time for your next ghostly gathering.
01. Sweet & Salty Halloween Snack Mix
No time? No problem! This sweet and salty Halloween snack mix is here to prevent the witch in you from coming out. With just a few ingredients and a quick toss, you can whip it up at the last minute.
Made with regular Chex Mix, peanuts, and a medley of festive candies, this addictive snack is easy to customize. Cut out the peanuts to make an allergy-friendly snack, or throw in some apple chips for a sweet touch. Sprinkle on some brown sugar or nutmeg for full-fledged fall vibes. Cinnamon, which is a powerful natural antioxidant, is another delicious option. Thanks to the warm colors of the candy corn and Reese's Pieces, this is prime Halloween-munching material. If you want to go old-school, sub caramel popcorn or roasted almonds. Just be sure to snag yourself a serving before it all mysteriously disappears. (via The Miniature Moose)
02. Halloween Candy Bark
There's something so divine about chocolate bark any time of year. Maybe it's the way you can wrap it up in a clear bag, tied with a ribbon of your choice. Or maybe it's the way the assortment of candies embellishes the surface, in all its delicious glory. Whatever the case, we're loving it.
Thanks to the orange melting wafers, whipping up a batch of Halloween candy bark is as festive as it gets. The bulk of the recipe requires melting, sprinkling, and waiting. The hardest part will be stopping yourself from munching it all away. (via Upstate Ramblings)
03. No-Bake Pumpkin Cheesecakes with Caramel Sauce
For rich fall flavors, try these classy mini pumpkin cheesecakes with caramel sauce. They're the perfect marriage of decadent creaminess and classic autumnal flavors. We're talking pumpkin puree, vanilla, cinnamon, and brown sugar, just to name a few. With a Biscoff cookie crust and a caramel sauce topping, making this no-bake dessert is as easy as eating it. Just mix, pour, and enjoy. (via Cooking Classy)
04. Apple Caramel Teeth
By the time Halloween rolls around, there's a good chance you've snagged a haul of handpicked apples from the nearest orchard. It's the perfect season to stock up on this delicious superfood, after all. If you haven't? Make a quick trip to the grocery store because these apple caramel teeth are too cute to pass up.
Made with nothing more than sliced apples, marshmallows, and peanut butter, these no-bake treats only need simple assembly. If you're looking to work around allergies—one of the most important things about hosting a party—swap out the peanut butter. Sunflower butter is a great option for those sensitive or allergic to nuts. Just like that, you have a simple dessert that will put a smile on everyone's face. (via Mom.me)
05. Orange Sherbet Pumpkins
We may associate sherbet with warm weather, but who says the fun has to stop there? Enjoy one last bit of summer with these charming orange sherbet pumpkins. If you're a frequent maker of orange smoothies or juices, this is a great way to put those peels to good use. And if you're not? It wouldn't hurt to start taking them up. After all, the hefty dose of vitamin C will help boost your immune system, just in time for cooler weather.
All you need are a few simple carving skills to make these refreshing treats. It's an easy way to get some practice in before taking on real pumpkins for your Halloween festivities. They also happen to look a heck of a lot better than plastic bowls or waffle cones. (via Mom.me)
06. Pumpkin Caramel Almond Butter Cups
Over the years, peanut butter cups have gained a cult following. But why follow the crowd when you can make your own with a twist? These pumpkin caramel almond butter cups are like the cooler older cousin of traditional peanut butter cups.
Thanks to the homemade chocolate made of melted coconut oil and cocoa powder, you'll be able to swap out the extra sugar for a generous helping of essential fatty acids. These cups are also filled with an antioxidant-rich blend of pumpkin, crunchy almonds, and autumnal spices. (via Yummy Beet)
07. Vegan Witch-Finger Cookies
When it comes to the Halloween season, witches seem to steal the show. That's why these raw vegan witch-finger cookies are a must-make (not bake!) for your next party. At first glance, they may look like regular sugar cookies, but they're made of healthy ingredients such as pitted medjool dates, chia seeds, and strawberries. Not bad for a deceptively vitamin-packed snack.
While you won't have to break out the oven mitts, it's important to note that some of the ingredients need a few hours to thicken. The plus side is that you can take care of other Halloween errands during this time. Once you form the cookies, bring in the almonds for a few "fingernails" and essential fatty acids. (via The Full Helping)
08. Chocolate & Caramel-Dipped Apple Slices
As the unofficial treat of autumn, caramel apples add a delicious seasonal touch to any party. But when you've got a big group of guests to feed, prepping whole apples can be time-consuming. Try these chocolate and caramel-dipped apple slices instead. Just divvy up a single apple into sixteen slices, and you've got enough to please a crowd.
Thanks to the no-bake factor, you won't have to do much after covering each slice with sticky goodness. This particular recipe also shows how to add each slice to a lollipop stick for a miniature take on the classic candied apple. This handy addition makes it even sweeter to serve this recipe. Less mess, less stress. (via Mom.me)
09. Pumpkin Spice Latte Bites
Every autumn, the pumpkin spice latte makes an infamous return to our favorite cafés. Unfortunately, tasty as they are, holiday lattes can be quite unhealthy. Full of sugar, artificial dyes, and preservatives, the average PSL could use a little tweaking. Try these no-bake pumpkin spice latte bites for a quick fix. With a cake-like consistency and a quintessential autumnal flavor, these treats are something special.
The best thing about this recipe is the wide array of ingredient alternatives. You can use any nut butter depending on preference or allergies. Instead of gluten-free oat flour, use quick oats or oat bran. Make it dairy-free with coconut, almond, or soy milk. Bring it all together, and what do you get? A familiar fall snack in just fifteen minutes. (via The Big Man's World)
10. Pumpkin Cheesecake Truffle Mummies
During a holiday full of cutesy pumpkins and kitschy ghosts, it can be tricky to celebrate Halloween in a "grown-up" way. Fortunately, desserts such as these pumpkin cheesecake truffle mummies prove that there can be a perfect balance. It all comes down to simplicity—and pumpkin cheesecake, of course.
Making this recipe is too easy. Just mix some pumpkin puree, gingersnap cookie crumbs (find gluten-free cookies, if you like), and softened cream cheese (or find a dairy-free option at your grocery store). Add a few autumnal spices to kick it up a notch. Top it off with a white chocolate hard shell, and you've got a treat to impress your guests' eyes and taste buds. (via Creme de la Crumb)
With these ten no-bake dessert ideas, you'll be well on your way to celebrating Halloween in the sweetest and quirkiest way. Now just have a ghoulishly good time!