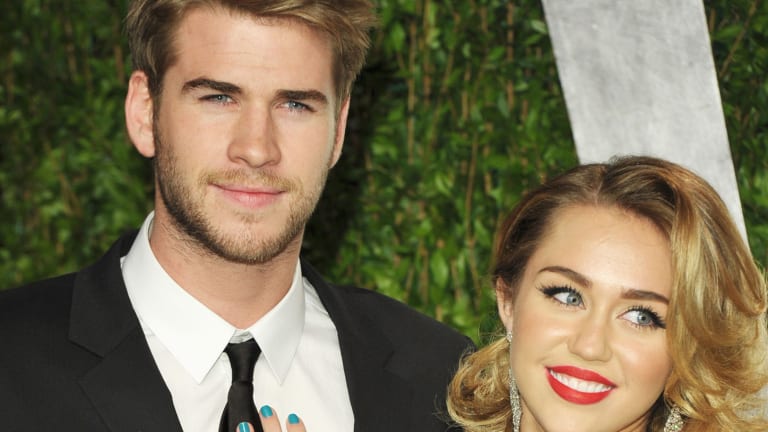 Miley's Ex Liam Hemsworth Shows That You Can Date and Be Classy, Even in Hollywood
The Hunger Games star completely passed on dissing ex-fiancée Miley Cyrus.
Liam Hemsworth, 25-year-old Hunger Games star, surfer, and (recently) vegan, is on the cover of the Men's Fitness November issue, which includes a lengthy interview with the actor. The most notable part of the interview was his response to a question about his ex-fiancée, Miley Cyrus.
For context: Long before her days of foam fingers and pasties, Cyrus and Hemsworth were engaged. The two got together in 2009 on the set of The Last Song and became engaged in 2012. The wedding was called off in September 2013.
Although it's been some time since the break, the interviewer still asked Hemsworth about it. "Right now, your life and your approach to celebrity couldn't seem further from hers. Does it feel like you've dodged a bullet at this point?" the reporter asked. Rather than taking the bait and allowing "Liam Hemsworth Fires Shots at Miley Cyrus" to become the headline, his response was short, kind, and apparently genuine.
"You fall in love with who you fall in love with; you can never choose. I guess some people just come with a little more baggage. I mean, look—we were together five years, so I don't think those feelings will ever change. And that's good because that proves to me that it was real. It wasn't just a fling. It really was an important part of my life and always will be. She's a free spirit. I think she'll always surprise people with what she does, but she's not a malicious person in any way. She's a young girl who wants to do what she wants to do."
I am really not one for celebrity gossip—I discovered that Cyrus and Hemsworth were together long after their engagement ended—but I'd have to be living under a rock not to be familiar with the buzz that's been surrounding Cyrus over the past couple years. Cyrus has set herself up—intentionally, it seems—as a magnet for criticism. Between her wild outfits and her penchant for controversy, it seems that every other day she is criticized for yet another bizarre or inappropriate thing she's said, worn, or posted.
This is why I like Hemsworth's response so much. Not only is it easy to find fodder to judge or insult Cyrus, but, given their history, he also has more reason than probably anyone to do so—which is what makes his restraint and good will so respectable. Breaking up is always difficult; doing so without indulging in the desire to "get back" at one's ex is exponentially more difficult. And yet, taking the high road is beneficial for both parties in the long run.
Hemsworth's composure and gentility couldn't help but remind me of Verily's article about maintaining one's dignity in the face of a breakup, written by Maria Walley earlier this year. Among the many pieces of solid advice provided, she warns against gossiping about your ex. "Will detailing all his failings to your girlfriends make anything better?" she asked. "Words can't be taken back." It's nice to see someone—especially someone in such a public space—follow that good advice.