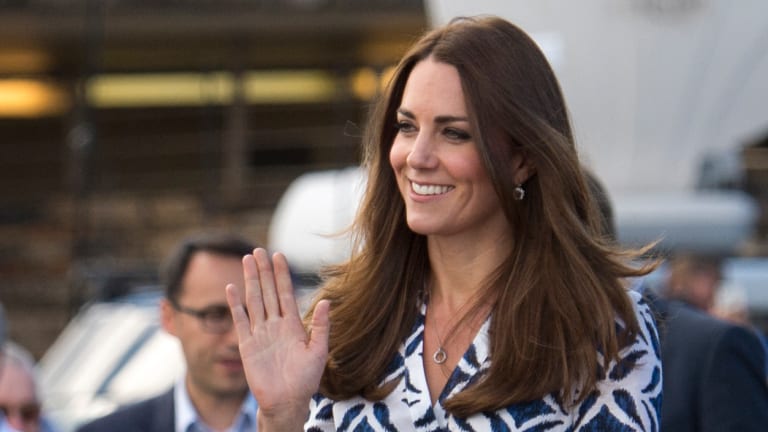 24 Dresses You'd Totally Find in Kate Middleton's Closet
Recreate this classy princess's style in your own wardrobe.
No question, Kate Middleton is one of the most stylish princesses of all time. Her go-to silhouettes are always feminine and classic, two elements that are universally flattering and easy to find on your own—if you know what to look for. We've broken down some key elements of Kate's most iconic looks that you can use to guide your own fashion choices. Because who doesn't want to look and feel classy and beautiful?
Sleeves //
It all started with the royal wedding gown. Seemingly overnight, brides were ditching popular strapless looks for gowns with sleeves. If you want to channel Kate's day-to-day style, sleeves are a great place to start. A little coverage is sophisticated but still highlights the feminine lines of the arms and is appropriate for any occasion. The most classic Kate Middleton sleeve length is a three-quarter sleeve, but she is often seen out and about wearing wrist-length sleeves as well.
A-Line //
Many of Kate's most iconically feminine looks feature A-line silhouettes. An A-line dress is flattering on every body type; it cinches in at the waist and flares out at the hips into a full circle skirt. When you know you're wearing a figure-flattering dress, you just can't help but feel regal. Look for skirts that are knee-length or a little past the knees. Kate often experiments with fashion-forward pleating or lots of flowing fabric that drapes well.
Fitted //
Kate is not afraid of a bit of va-va-voom when it comes to her more fitted dresses. But whether it be a business-appropriate dress or an elegant evening look, Kate always keeps her curve-hugging dresses classy. The key is to balance the look. Fitted dresses show off your figure on their own, so opt for a little more coverage in other areas. Look for dresses that hit at the knees or lower; the Duchess never wears dresses that are very short. She is also often seen wearing cap sleeves or three-quarter sleeves with her fitted dresses.
Lace //
The other phenomenon that resulted from the royal wedding? Lace. Kate's most "once upon a time"–worthy and absolutely dreamy princess dresses are her lace ones. Rather than wearing poofy tulle skirts and tiaras, Kate's modern-day fairy-tale gowns are adorned with lace appliqué and detailing. Look out for dresses featuring this delicate material with an A-line circle skirt or dresses with lace sleeves or a high lace neckline.