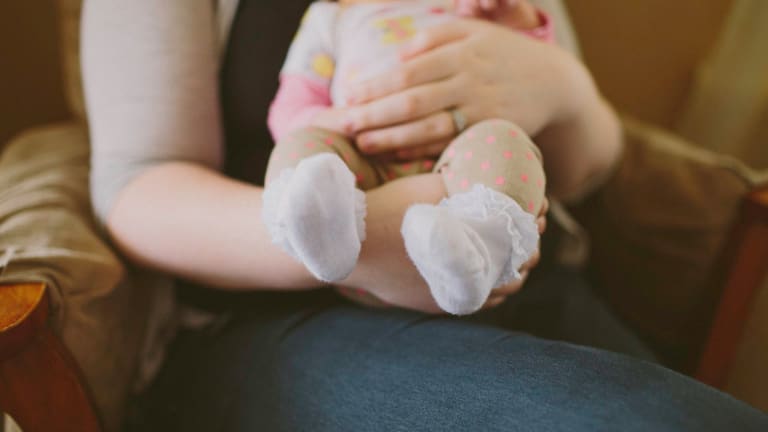 The Working Mom Revolution Is Here, and I Couldn't Be Happier
Say goodbye to the Mommy Wars.
Nursing my baby and responding to emails at the same time is a gift that was previously unavailable to most women. The working mom landscape is different than it was in 2003 when Lisa Belkin wrote the New York Times cover story "The Opt-Out Revolution," focusing on the wave of mothers who were leaving the workplace in an effort to spend more time at home with their children. And I, for one, couldn't be happier that it is.
For years women had two options: work outside the home or stay at home. The options of part-time at-home work were quite limited. Mommy wars prevailed, and in these battles all mothers lost. No one felt supported, and while working women felt left out of coffee dates and trips to the zoo, the stay-at-home moms feared résumé gaps and the dreaded "What do you do?" question.
Today, thanks to technology and Internet connections, instead of facing this either/or option, women are able to say yes on multiple fronts. We get to choose, but our options are both/and: I choose to both work and stay home with my children, simultaneously. Whether we want to be in-office working moms or part-time work-at-home moms, women have freedom; women have choices.
For many women, like me, who need both the income and the outlet, working part time is a blessed answer. I'm thankful that today loads of mothers are making strides in both the public and the private sectors from the comfort of their own couches. I'm glad I get to be one of them because the work-at-home-mom (otherwise known as WAHM) community is an excellent one. It seems that the tides are turning and the battle cry of the mommy wars are quieting; thanks to a new climate—a new way of leaning in, if you will—we seem to be coming together as a community of women, supporting each other in our choices to raise kids, explore creative endeavors, start businesses, and find ourselves in a whole new way.
Sheryl Sandberg challenges women to think about their careers as jungle gyms instead of ladders: "Ladders are limiting. Jungle gyms offer more creative exploration. There are many ways to get to the top of a jungle gym." Today, that jungle gym is expansive, and it can be accessed from anywhere. Because of the Internet, both information and resources are more readily available. Additionally, more work-from-home jobs are generated by the development of personal blogs, online shops such as Etsy, and websites such as The Work at Home Woman and PowerToFly. These online opportunities make it possible for more women to opt in, and as more women sit on the floor of their children's bedroom awash in the light of a laptop while their kids build with Legos, a cultural shift takes place—a shift that I experience every day.
I was recently on a conference call when my 3-month-old began to cry. I rushed to mute myself and my crying daughter, proceeded to change her diaper and quiet her, and then rejoined the conversation. "I'm sorry!" I apologized as I clicked unmute. "You're leaning in on all fronts, Mama!" my colleague said. "Way to rock it."
In the moments leading up to this comment, I had felt harried, stressed, and worried that I wouldn't be perceived as thoughtful or professional because my baby had cried out. But instead, I found support. The other women on my call were, in fact, working from home as well. They understood and knew that I could be both a mom and professional. I could change a diaper and discuss grading norms for the curriculum we were developing. To date, one of my favorite work-related text message exchanges happened with a friend while we were both breast-feeding. We were wildly productive in that "meeting."
I know that from the outside my life looks a little (a lot?) crazy. So much of the time I feel like I'm playing a game of human Jenga: All of my pieces have to balance just so in order for the tower to stand. Like Jenga, sometimes we fall, and other times we are remarkably sturdy. I'm still learning what it means to find balance. Still, I am well aware that working from home (or my van) is a luxury. I feel so grateful that I can cobble together a series of part-time jobs and opportunities in order to help support my family and still play with Playdough mid-morning on a Monday.
Now that I have three kids, people ask me if I'm going to cut back. Am I going to work less or write less or do less because I have several small children? Any given day you ask me, I might shrug my shoulders and mumble something about student loans and how kids are expensive, but the truth is that the answer is never. I'm never going to lean out on the areas of life that bring me joy.
I am a better mother and a better wife because of my work and my community. I am finding myself, and I am finding others like me. In fact, as much as I've experienced a shift in perspective about working and motherhood, I am raising children who see that creating a professional life and raising children are not mutually exclusive. Both my daughters and my son are seeing that it's possible to flourish on all fronts, and frankly, as a working mom, that seems like the best kind of feminist revolution.
Photo Credit: Erynn Christine Photography