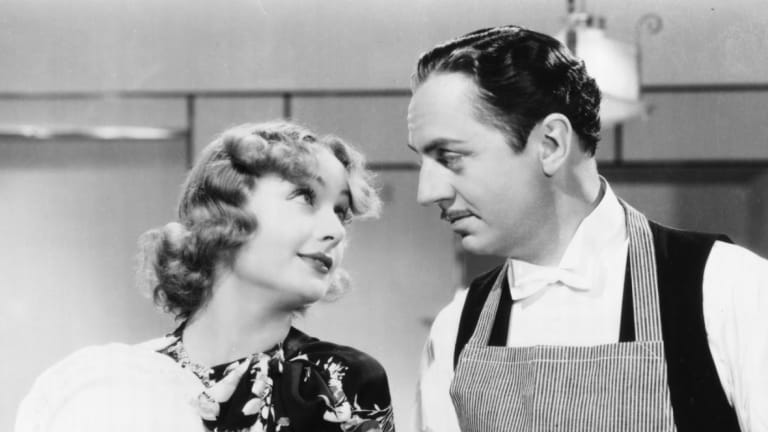 5 Old Movies with Dynamite Leading Ladies
Let these gems inspire the choice for your next film night.
Classic films mean fabulous women. Women who mix sass and substance to serve up a potent cocktail of female awesomeness. Whether you're throwing an all-gal anti–Super Bowl party or holing up in your jammies for a lazy day, try these movies from the golden era of cinema. These strong female leads from all walks of life will inspire you, even if it's just to buy a pair of vintage pumps! Here's to the dynamite ladies in classic and classy films who inspire us.
I Know Where I'm Going!, 1945
As Joan Webster (Wendy Hiller) waits on the shore of an ethereal Scottish loch for the ferry that will bear her to her wealthy fiancé, a gust of wind blows a travel itinerary out of her manicured hands. We watch it swirl into the dark water. With this lyrical image the filmmakers lead us out of the realm of the everyday to meander among mysterious forces that change the course of life.
Joan starts out as a self-determined, materialistic young woman whose lifelong goal has been to marry into money and status. When the local Gaelic ferrymen won't take her to the isle where she's to be married because of bad weather, she has to shelter from the gale in the company of a handsome kilt-wearing Scottish laird, Torquil MacNeil (Roger Livesey), and his penniless and quirky companions:
Joan: "People around here are very poor, I suppose."
Torquil: "Not poor, they just haven't got money."
Joan: "It's the same thing."
Torquil: "Oh no, it's something quite different."
As Joan is influenced by the rustic beauty of her surroundings and the unpretentious locals, we can almost see the question forming in her mind: What is wealth, after all?
As a complex leading lady, Joan shows tenacity, self-control, and fidelity as she risks crossing treacherous seas to reach her fiancé—not to mention courage to face the hard questions that her journey has raised.
How do you say "romance" in Gaelic?
My Man Godfrey, 1936
The definitive screwball comedy, My Man Godfrey follows the madcap antics of an eccentric high-society family as it takes on a down-and-out "forgotten man" to become the family butler. Comedienne Carole Lombard plays Irene Bullock, a ditzy blonde Fifth Avenue socialite who falls for a hobo named Godfrey (William Powell). She takes the bewhiskered man into her home and heart as her protégé, and Godfrey, in turn, begins to fall for her sincerity and generosity.
Spunky Irene may not be the sharpest knife in the drawer, but she's got her heart in the right place. Well-endowed with humility and courage, she doesn't seem to care if she makes a fool of herself for the right cause. Her keen sense of responsibility shines through her privileged upbringing.
Godfrey, resplendent in his new butler's livery, is jaded by a heartbreak that led him to become a forgotten man in the first place. It's Irene's loony persistence and vulnerability (and perhaps her gorgeous satin evening gowns) that woo the commitment-shy Godfrey away from a life of confirmed bachelordom. It's hard not to admire a woman who displays both the determination and courage to devote herself completely to the man she loves.
Roman Holiday, 1953
Part travelogue, part romantic fantasy, Roman Holiday stars the enchanting Audrey Hepburn as Princess Ann. Fed up with her rigid royal life, Princess Ann has a breakdown, and she's given a sleeping draught to calm her nerves. Under the influence, she drowsily totters out of the embassy into the streets of Rome, where she runs into a handsome American reporter, Joe Bradley (Gregory Peck).
Not knowing who she is, Joe tries to ditch the pretty little pain in the neck who keeps falling asleep on his shoulder. When the morning papers show pictures of the missing princess, he quickly recognizes that the hapless waif he's sheltering is the very same. His journalistic instincts kick in. He pretends he doesn't know who she is, and, relishing her new freedom, she pretends she's "Anya," a schoolgirl playing hooky.
If Princess Ann were just a shallow royal beauty slumming it for a day before she returned to her royal digs, chances are that audiences would still have fallen for her winsome charms as well as the romance between her and Joe. Thankfully, Princess Ann is far more nuanced—we see the steel under her satiny exterior, her painful struggle between duty and the inclinations of her heart—and we're left with the impression that she's made of sterner stuff. Her interior strength shines through every circumstance, and it's that strength, rather than jewels or gowns, that makes her a real princess.
As she says in one of the most famous and touching lines of the film, "I will cherish my visit to Rome in memory as long as I live," . . . and so will we.
The Bells of St. Mary's, 1945
In this gentle, unassuming tale of parish life in the forties, a luminous Ingrid Bergman plays the strong-willed and caring nun Sr. Mary Benedict, the prioress of a parochial school. The inner city school she runs is in disrepair, and a local magnate plans to bulldoze it to become the parking lot of his multi-million-dollar high-rise. If that weren't bad enough, her health isn't what it used to be, and a new and unconventional pastor, Fr. Chuck O'Malley (a breezy Bing Crosby) has come to supervise the nuns.
Sister has spent her whole life tending young lives. She carries herself with a supernatural grace, charm, and steadiness whether she's giving out boxing lessons or books. She manages not to be bitter when the new pastor seems to side with those who'd rather have a skyscraper than a school. Sister and Father share good-natured rivalry despite serious differences, and Bergman's Sr. Mary exhibits a faithful, quiet courage and heartfelt devotion to the welfare of others that never goes out of style.
As she famously says as she's trying to convince the local magnate to donate the building to the church, "It isn't what we acquire in life, is it? It's what we give." Amen, Sister!
It's a Wonderful Life, 1946
"Every time a bell rings, an angel gets his wings," goes the famous tagline of It's a Wonderful Life. In this beloved Christmas classic, George Bailey (James Stewart) meets his guardian angel on the worst night of his life, so this is a film about George's wonderful life, right? Seen from a different perspective, it might be about someone else—Mary Bailey—a determined, resourceful woman who knows how to follow her heart wherever it leads. Though it may seem corny these days to marry your childhood sweetheart, we have to hand it to Donna Reed's character Mary—she knows how to land a gun-shy fella.
As a little girl, Mary whispers, "George Bailey, I'll love you 'til the day I die!" into George's bad ear. A few years later, she's a lovely young woman who finagles a dance with George when he comes to her prom. Sure enough, fate soon offers a chance for the two to realize they're in love, and the next thing we know, their wedding guests are throwing rice at the happy new couple as they leave the chapel.
Once they're hitched, Mary uses her ingenuity and down-to-earth good temper to keep things humming along. She spends her honeymoon money to keep her new husband's business afloat; then that very same night, she spruces up an old house, leaking from floor to rafters, to be their makeshift honeymoon suite. All the time, Mary never seems to notice that her husband might be a bit of a fixer-upper, too.
It's her strength that makes it possible for her to stand by George when the chips are down, and it's her faith in him that ups the ante on his life—without Mary to organize a crowdfunding scene at the end of the film, this wouldn't be the movie we all know and love. In the end, it's Mary Bailey whose love transforms her husband, her family, and, in turn, the whole town of Bedford Falls, and it wouldn't be such a wonderful life without her.