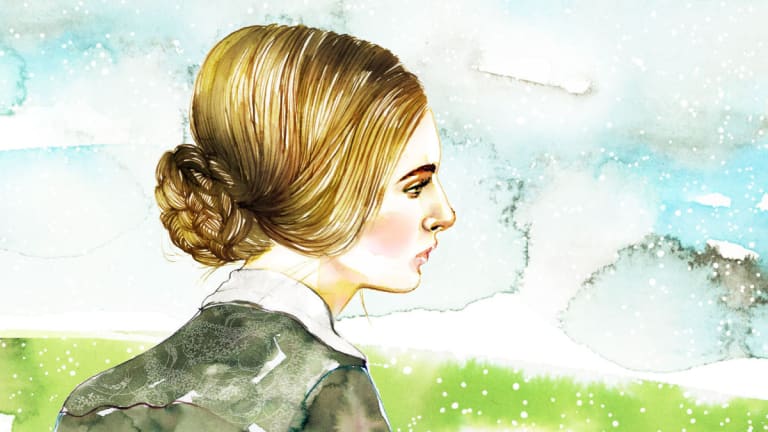 Looking for a Good Girl-Power Novel? It's Time to Go Back to the Classics
We can learn a lot from old-school leading ladies.
The live-action remake of the Disney classic Cinderella, released earlier this year, was a box-office and critical success. In my view, this was for good reason: Not only was the movie beautifully set and made, but it also retells the classic fairy tale as more than a rags-to-riches plot or royal romance. This version celebrates the rich interior life and authentic femininity of its heroine, Ella.
This version of Cinderella maintains that our greatest attributes come from within—in our gentleness, strength, compassion, and capacity to forgive. Likewise, our true feminine beauty begins in our hearts. We learn that bringing down other women gets us nowhere. Acceptance and forgiveness set us free. We never have to deny our femininity to be strong nor downplay our strength to be feminine. Women can be both gentle and remarkably resilient. Kindness may take courage, but it will not go unnoticed. Genuine beauty outshines vanity. And virtue never goes out of style.
The revised focus is notable, and refreshing, in today's pop culture landscape. How underrated are themes of genuine kindness, forgiveness, and inner beauty? This film may not be the antidote to our culture's fixation on vanity, appearance, scrutinizing women, and external measures of worth such as fortune and fame. But Cinderella points us in a good direction—one, I might dare to say, that harks back to themes we used to see far more often in female protagonists. Next time you're looking for a wholly good story with a strong-heroine punch, consider any of these classic novels, which still speak to strong women today.
A heroine who relies on her inner strength: Jane Eyre by Charlotte Brontë
The Victorian audience of Charlotte Brontë's day considered Jane Eyre radical. Today, we consider it one of the first feminist novels and a classic coming-of-age story: Jane sets out on a journey and returns a wiser, more mature, and self-assured woman.
As an orphan not known for her beauty or wealth, Jane can seem at first like an unassuming "plain Jane," but her character is anything but plain. For one, Jane demonstrates great courage and self-respect. She ends a relationship after realizing that her fiancé is not who she thought. Jane trusts that if she does what's right—trusts herself and her capabilities—then her strength will undoubtedly see her through.
This is perhaps what's most admirable about Jane; she never betrays her beliefs. Jane cares for others who feel abandoned because she knows what it's like to be alone. She may not have much, but she gives of her material wealth and herself. And she practices gratitude, realizing how "supremely blessed" she is, in spite of her suffering.
She follows her heart and finds fulfillment in the end. Jane reminds even the most independent women that giving and receiving love are entirely worthy purposes. "I know what it is to live entirely for and with what I love best on Earth," she says.
Because Jane Eyre teaches us that growth comes when we learn to be self-sufficient and step outside of ourselves, she definitely makes the cut of strong females from the classics.
A story of sisterly love and strong female relationships: Sense and Sensibility by Jane Austen
Jane Austen breathed life into several dynamic, strong, and virtuous heroines who are still loved today. Sense and Sensibility features two heroines, sisters, who share the bonds of family and close friendship—and they're Austen's best example of how strong female relationships can build us up and allow us to grow.
Marianne and Elinor Dashwood are about as different as two sisters can be. Elinor is "understanding" and "affectionate"; she's only 19, but her good judgment can counsel even her mother. She has "an excellent heart," an "affectionate disposition," and strong feelings, but she keeps her feelings to herself. Marianne, on the other hand, wears her heart on her sleeve. She's "sensible and clever but eager in everything; her sorrows, her joys, could have no moderation."
Elinor and Marianne have an irreplaceable bond. When other relationships let them down, they have each other to lean on. The sisters are each other's greatest support in times of loss and heartache, and when fate takes a turn for the better in each of their lives, they celebrate together. Their different personalities even help one another grow: Elinor learns to express her feelings, and Marianne learns to be more levelheaded.
Austen shows us how vital female friendships are for companionship; for emotional support, as well as growth; and in every phase of life. After all, what would life be without our girlfriends?
A heroine who fights for the common good and finds power in perseverance: Agnes Grey by Anne Brontë
Never underestimate a Cinderella story: Agnes Grey, Anne Brontë's debut novel, follows the Cinderella model, but it also addresses nineteenth-century issues of social instruction and oppression—all through the example of a heroine who serves the greater good.
A "wise and good governess," Agnes has a strong sense of purpose: She wants to teach children not only "how to live" but how to lead a morally upright life as well. Well, to her surprise, her pupils treat her terribly, stating their power over her and even tormenting her. Agnes may be powerless, as most nineteenth-century women were, but she presses on in her commitment to the greater good. Agnes takes control of her situation by doing what she does best: She teaches. When she catches a young boy torturing birds for fun, Agnes steps in and defends the defenseless—not without sharing a lesson, of course. She explains that all deserve mercy, even those who seem inferior or undeserving.
Time and again, Agnes overcomes mistreatment by choosing mercy over resentment—and in the end, she's happier for it. In Agnes Grey, the virtuous life grants happiness and, more importantly, true fulfillment. Put simply, "the best way to enjoy yourself is to do what is right, and hate nobody," Brontë writes. After all, what good can bitterness do?
With every circumstance that could turn Agnes bitter, she still resolves to better her world. Through her steadfast dedication to the greater good, Agnes reminds us to persevere in our own missions, no matter the challenges we face. Keep it up, ladies!
A heroine who makes the best of any situation: Anne of Green Gables by Lucy Maud Montgomery
You may have read Anne of Green Gables in elementary school, but this children's classic can captivate older readers, too, by virtue of its timeless lessons and endearingly quirky heroine, Anne Shirley.
Anne spent her childhood in foster homes and an orphanage, relying on imagination to get through every trial. By (a happy) accident, she's adopted and brought to Green Gables. When she arrives at her new home, Anne still has to cope with deep-seated fears and feelings of being unwanted. Even so, Anne faces life with an infectiously optimistic spirit. "It's easier to be cheerful and bear up under affliction on a sunshiny day," she says. Anne could easily linger over grief, but she focuses on gratitude instead.
Anne can adapt to any situation and, with the magic touch of imagination, make the best of it. She's resourceful, even if her well-intentioned schemes get her into trouble more often than not. By the novel's end, starry-eyed Anne grows into a bright, purpose-driven 16-year-old, eager to lend a hand in her community, starting (literally) in her own backyard.
Always a romantic, young Anne says she "would love to be remarkable." In the end, Anne creates a remarkable life for herself in the most ordinary ways, through "the joys of sincere work and worthy aspiration and congenial friendship." Anne lives and loves wholeheartedly. She never lets the thought of failure keep her from trying—and trying again. She finds beauty everywhere, delighting in the gift that each day brings. Most of all, Anne is remarkably herself—remarkably hopeful, imaginative, loyal, determined, smart, caring, and brave.
Anne's example attests that perspective changes everything. And with hope, gratitude, and maybe a little imagination, we have the power to make the best of any situation.
A novel that celebrates the unique gifts and vocations of women: Little Women by Louisa May Alcott
A story of four sisters coming of age, Little Women lends us the same lessons that the March girls learn from experience—lessons on love and sacrifice, ambition and humility, sorrow and happiness.
The March sisters—Meg, Jo, Beth, and Amy—have wonderfully different personalities, talents, and flaws. They're perfectly imperfect heroines, ordinary girls from a poor family. And yet, the March family is rich in love, family bonds, gratitude, and joy, "the real blessings of life."
The March girls put love into their work. Jo, the main protagonist, publishes stories to earn money for her family. Yet Jo believes that her accomplishments as a young writer are not the best measures of success. Instead, she finds that "the true success, which is possible to all" resides in the heart—in genuine virtue, good will, and our ability to love. Her generous heart compels her to use her gift of writing for her family's benefit rather than her own—and that's "true success." In Little Women, virtues and talents aren't flaunted for their own sake; gifts, such as creativity or compassion, should be shared.
Louisa May Alcott considers the meaning of authentic womanhood in its different forms, as she takes her characters from childhood to career life, romance, marriage, and motherhood. As the sisters grow up, their uniquely feminine gifts serve them well; they find ways to use their virtues and talents in their different vocations. In Little Women, the various vocations of women—whether artist, mother, writer, or teacher—are equally praiseworthy (and not mutually exclusive).
Little Women reminds us to accept, if not celebrate, what we're given—our personalities, circumstances, talents, and even our trials. For through our own vocations, using our distinct gifts, we can give back something beautiful.