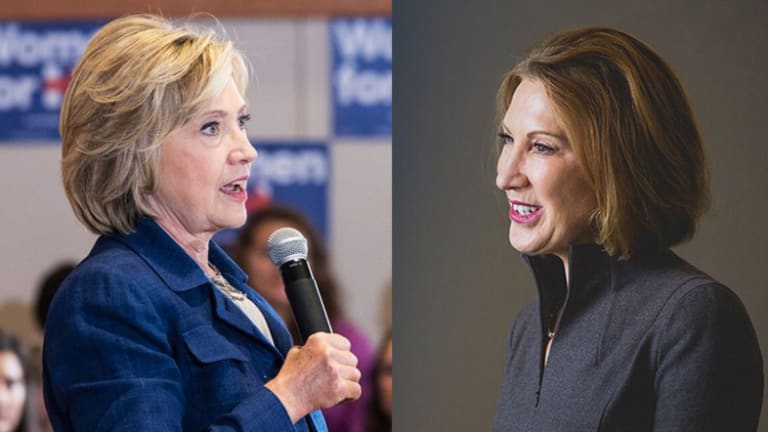 Whatever Your Politics, Here's Why Carly and Hillary Are Making This an Exciting Election
It looks like female leaders are finally here to stay.
You've seen the bumper sticker before, right? "A woman's place is in the House . . . and Senate."
Or its sister sticker: "A woman's place is in the White House."
For a while, the White House version of the sticker has carried with it a political undertone because for the past twelve years, there has only been one woman on the presidential-race radar: Hillary Clinton, of course. But now that Clinton and Carly Fiorina are representing both sides, respectively, female voters everywhere have a woman they can root for.
Having two women running, and on opposite sides of the aisle, makes my inner feminist celebrate for many reasons.
For one, it reminds us that women can be no-nonsense leaders like any man . . . maybe even better. We've all heard the tired trope: Who could trust a woman as commander in chief? The world wouldn't survive a woman having access to nuclear codes, with all her PMS and emotions. These falsehoods might get a room of men laughing, but they're shallow in facts. Women are passing up men in many areas, ranging from education to the workforce. What's true is this: Not only are women as capable as men at being leaders, but women also bring different assets to the table, including insights and complex analyses that differ from men's.
Second, brave women are always inspiring. Put aside politics for a second, and you'll see that both candidates have faced hardships with resilience and poise. Clinton was arguably the most humiliated woman on the planet after Monica Lewinsky, and to get back up, stick to your goals, and keep putting your face out there takes courage. Fiorina was brave in the face of breast cancer and in coming back after being ousted at HP. Both women have been put through the ringer and came out stronger. And that's always uplifting to see.
Third, this race has brought to the national stage important reminders about how women face different challenges than men, particularly in leadership roles. It is common knowledge that Clinton and Fiorina are scrutinized for their looks more than their male counterparts. They're also ridiculed for showing leadership qualities such as, I don't know, assertiveness. Clinton is often called out for, pardon my language, seeming like a b****, when actually she's just being assertive—something that men don't ever get accused of. Never afraid to stand up for their fellow women, Tina Fey and Amy Poehler refuted this idea in the 2008 race, exclaiming, "B****es get stuff done!" Hard to argue with that.
Lest we think that Fiorina has had less scrutiny as a relative newbie to the presidential race, think again. She already faced the inevitable judgment of her looks by Donald Trump when he exclaimed in an interview for Rolling Stone, "Look at that face. Could anyone ever vote for that?" Fiorina replied to Trump's slight in an empowering video and delivered a knockout response in the following Republican debate: "I think women all over this country heard very clearly what Mr. Trump said."
Finally, this new political frontier reminds us that women can think for themselves and support a range of views. Contrary to what some think, there really is no "women's party"—there are women on both sides speaking up for what they think is important. To think otherwise would be a mistake. Now that we have a female face on both sides, we have a palpable reminder of that.
Whether or not these powerful women win, female leaders are here to stay. Clinton said in the first Democratic debate that if she is voted president, "Finally fathers will be able to say to their daughters, 'Yes, you, too, can grow up to be president.'" Fiorina said at last night's Republican debate, "I know that in your heart of hearts you cannot wait to see a debate between Hillary Clinton and Carly Fiorina." I think she's right. I think that seeing both of these ladies right now is a win for women across the board. Like the bumper stickers say, no matter where one sits politically, many of us have a woman we'd love to see take her "place." That is, her place in the Oval Office.