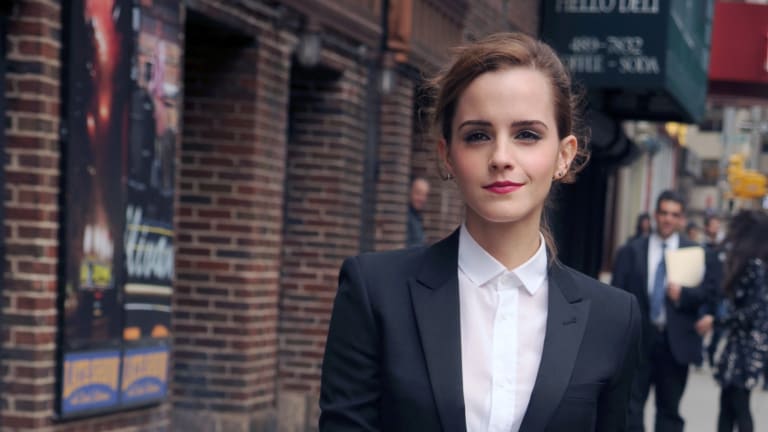 Get Inspired by Emma Watson's Seriously Classy Style
This star proves that style and grace are a great combo.
In case you haven't noticed, 25-year-old Emma Watson has become quite the style icon. Oh, you haven't noticed? Well, that's probably because you haven't seen her splashed across tabloid covers or buzzed about on E! News.
This fly-under-the-radar starlet, of course known for her role in the Harry Potter series but more recently as the United Nations ambassador for the HeForShe initiative, is often fashion-forward but also accessibly classy. Her style is elegant with an edge and lets people know that she's a force to be reckoned with. We've taken note of Watson's top-notch style—whether she's speaking to the U.N. or walking the red carpet—and you can, too.
Black on Black //
Watson proves that her black basics are anything but. These pieces are attainable and will look great on every woman for almost any occasion. Her draped silk blouse is professional yet soft and feminine. Her black skinnies are sleek yet casual. And if you're eyeing those accessories, you're in good company. You can't go wrong with a classic black leather purse and black pointy-toe heels. Pair all these chic elements together, and, clearly, you get one dynamite outfit.
Classic Suiting //
As an advocate for gender equality, Watson is not afraid of being proudly feminine with a touch of masculine air. Who would've thought that a suit could look so ladylike? Watson proves that suits can highlight femininity just as much as they can exude masculinity. This is a power suit that could own the room at the office or a fancy event. Her choice of navy blue trousers and blazer adds intrigue, while the tailored fit flatters her silhouette. If you want to try this look out yourself, remember to pick fitted pants and a blazer that cinches at the waist. Watson's button-up blouse adds an edgy, fashion-forward flair, while her pointy-toe heels and clutch add the final touches.
Feminine Meets Masculine //
What Watson succeeds at time after time is looking comfortable. Having standout style is great as long as you look like yourself. Who would've thought that a simple white button-up could look so incredible with a maxiskirt? We're definitely inspired by this practical yet innovative look. Watson's wearable style truly shines, as she took staples you probably have in your closet and pieced them together to make a Grace Kelly–worthy ensemble.