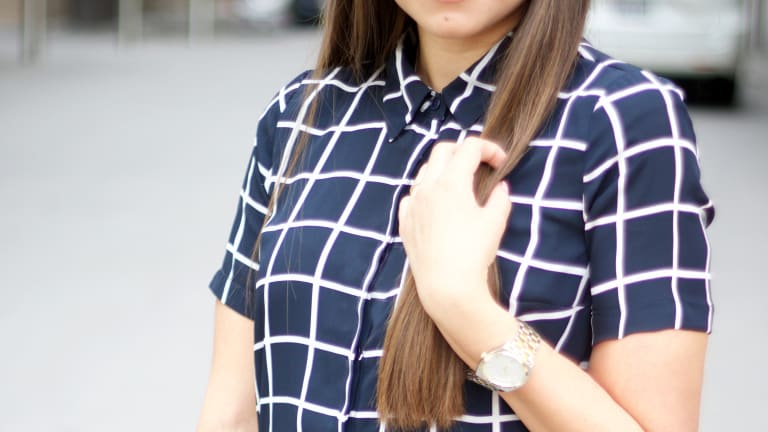 3 Ways to Make Your Office-Wear More Comfortable (and Still Look Professional)
Let's make 'Comfortable Work Appropriate' a thing.
We all have those images in our mind of women dressed for success: beautiful stilettos, a perfectly fitted pencil skirt, and a stiff blazer. But, while poised and professional, work-wear often lacks a major element of good style—comfort. If you want to be your best self, you have to feel at ease in your outfit. You don't want to be distracted thinking about your aching feet or the fact that you can't freely move in what you're wearing.
Somewhere in between too-tall stilettos and pajama-like sweatpants, there's a middle ground full of comfortable clothes that are office-appropriate and actually wearable. We asked Lauryn Hock of Lauryncakes to show us some ideas to give your office wardrobe the style—and comfort—you want and need.
Jersey Pencil Skirt & Block Heels //
"My go-to heels for work are definitely these block-heel babies. They have a thick, low heel that supports all-day standing, and they match almost every outfit. If you want a little height without the foot ache, then block heels are the way to go. Pair these low-maintenance shoes with a jersey pencil skirt, and you could sleep at your desk. Just kidding, we don't want that. But jersey is much more movable than traditional pencil skirts and is a must-have for any cozy clothing lovers."
Stretchy Slacks & Flats //
"Invest in a pair of fitted black pants that have some stretch. Unlike classic stiff black pants that often have a less-than-flattering shape, this type of trouser will look stylish and be secretly cozy. Instead of looking drab or inappropriate, these pretty pants create a sleeker version of 'office lady' that will make you feel like you can take charge and look good at the same time. Even better, they are easy to move in. Every woman knows it is essential to walk fast and powerfully and that forgiving clothing is needed to do so.
"While we are talking about the luxury of feeling happy in work attire, let's also talk about flats. They are the easier-to-walk-in sister to heels. The pointier the toe, the better. That's not to say that all flats are created equal: If a flat makes your feet ache, toss 'em. Take time to find, and maybe spend a little more, on a comfortable and stylish pair. Often 'cheapo' versions lack support and don't hold up."
Swing Dress & Knee-High Boots //
"I find myself reaching for this dress every day when I'm getting ready for work. The swing dress is completely flattering on all body types and has the softest material ever. Yes, once again, it is jersey material (cue comfort!). It's important to have a dress that can be layered and worn multiple times for any work situation. Here I topped mine with a cropped sweater. You could also add a blazer, a colorful scarf, or statement jewelry to change up the look.
"When I'm having a 'too late to shave my legs' kind of day, these over-the-knee boots save my ego. They are warm, comfy, and give me a little extra coverage in the leg region. The great news is that they can be worn over a pair of pants or with a skirt or dress. They're a perfect look for fall, and they'll have you strutting to your desk with an extra boost of confidence."