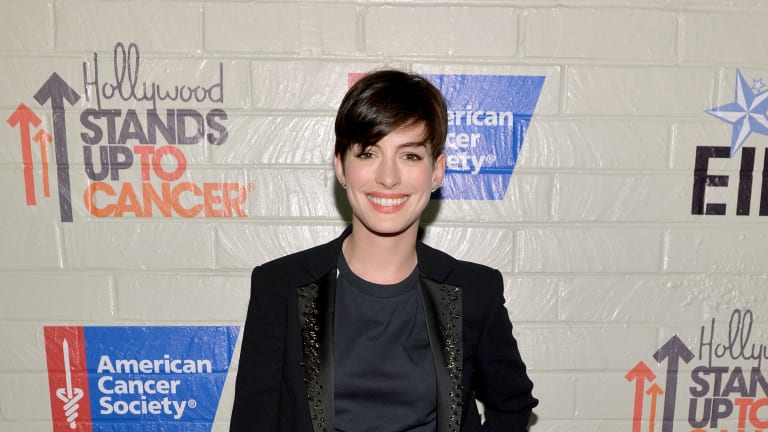 Anne Hathaway–Inspired Outfits for Pear-Shaped Bodies
Get some celeb inspiration on how to look great as a pear shape.
Celebrities are just like the rest of us; they are human, and they come in different shapes and sizes. Anne Hathaway is a great example of dressing to flatter a pear shape. A pear-shaped body type is someone whose silhouette is widest in the hips and thighs and narrower in the shoulders. Hathaway is known for her Old Hollywood–worthy red-carpet gowns, but she is also known for her daring fashion choices off the red carpet. We've selected some of our favorite flattering Hathaway styles to inspire you.
Blazer with Wide Shoulders //
In this sleek black-on-black ensemble, Hathaway gave more structure and width to her shoulders by wearing a menswear-inspired blazer. The wide shoulders match the width of her hips, creating balance in her silhouette. Her black skinny jeans are also flattering, as they highlight the graceful and feminine lines of her legs. Hathaway's heels carry on the length of her legs and elongate her silhouette. Luckily for us, a black blazer, jeans, and heels are very accessible for everyday wear.
Flared Midi Skirt //
This outfit is a win for pear shapes. The white button-up adds width to Hathaway's shoulders, creating balance with her hips, and the high-waisted skirt highlights her waist (which is an instantly flattering move for any body type). The A-line is especially great for pears, as it doesn't cling to the hips and thighs. Hathaway's outfit is femininely voluminous and fun and easy to recreate.
Patterned Top //
Because pear-shaped women are smaller on top, patterned blouses are especially flattering. A little action up top creates more volume on the torso to balance with wider hips. Hathaway's choice of a polka-dot top with sleeves creates the illusion of wider shoulders. Last but not least, her understated black leather skinnies keep the focus on the printed top while elongating her legs.