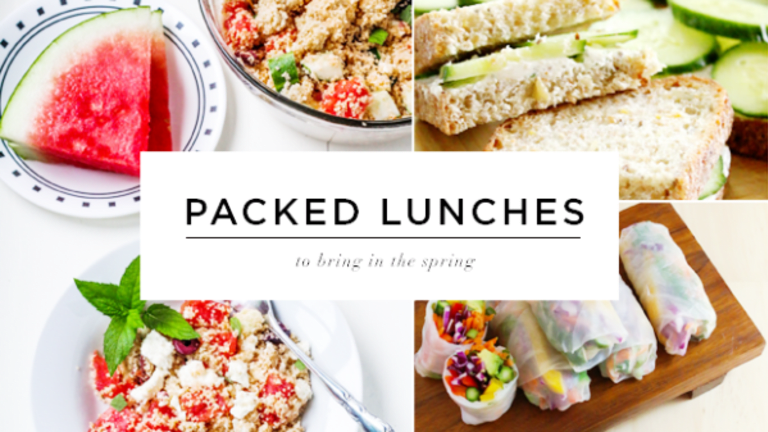 6 Easy and Healthy Packed Lunch Ideas For the Spring
Bring back some excitement to your midday meal!
Feel like you're in a lunchtime rut? It's time to bring back some excitement to your midday meal! A wealth of fresh fruits and veggies abound in the spring, making this the perfect opportunity to spring-clean your lunch routine. The best produce this season includes asparagus, avocados, and berries—all easy to incorporate into your lunches. We scoured the blogosphere for some healthy and eye-catching spring-inspired lunches to get you started. Pack up some of these seasonal budget-friendly, delicious, and nutritious meals.
01. Greek Couscous Salad
Watermelon and basil add a fresh flavor twist in Best Friends For Frosting's gorgeous Greek couscous salad. With feta for protein, this salad can serve as a complete meal. Add more fiber to the recipe by using whole wheat couscous or substitute quinoa for the couscous.
02. Herbed Goat Cheese Spread
Eat Good 4 Life's refreshing herbed goat and cream cheese spread is the perfect lunch spread or dip. Try it paired with crudités, whole grain crackers, and a side of fruit salad for an easy boxed lunch. Or spread it on a sandwich using whole grain bread with cucumber slices and a squeeze of lemon juice. This recipe is sturdy enough for a picnic and dainty enough for afternoon tea, so be sure to keep it in your back pocket.
03. Spring Rolls
Fresh homemade spring rolls are a fun way to get out of the same old wrap or sandwich routine. Make Thirsty For Tea's colorful take using raw veggies. Add sliced mango and some cubed, firm tofu for a sweet and savory, protein-packed roll. It's spring break for the eyes and your tummy.
04. Vegetable Quiche
Flavorful spring vegetables are delicious additions to brunch favorites like quiche. Whip up this asparagus, spinach, and feta quiche from Two Peas and Their Pod the night before; store in the fridge and pack a slice for lunch. Serve alongside mixed greens and a piece of fruit.
05. Spinach Salad
This beautiful almond, berry, and chicken spinach salad by Chelsea's Messy Apron is another simple make-ahead option. Treat yourself to gorgeous berries that offer antioxidants, almonds full of fiber and healthy fat, and chicken as a lean source of protein. With a dish this flavorful, who could resist?
06. Avocado Egg Salad
Re-think egg salad by replacing regular mayo with good-for-you avocado. Try LSL's avocado egg salad sandwiches on whole-grain bread paired with some sliced fruit and vegetables for a balanced, satisfying lunch. It's a nutritious and delicious twist on a favorite classic!