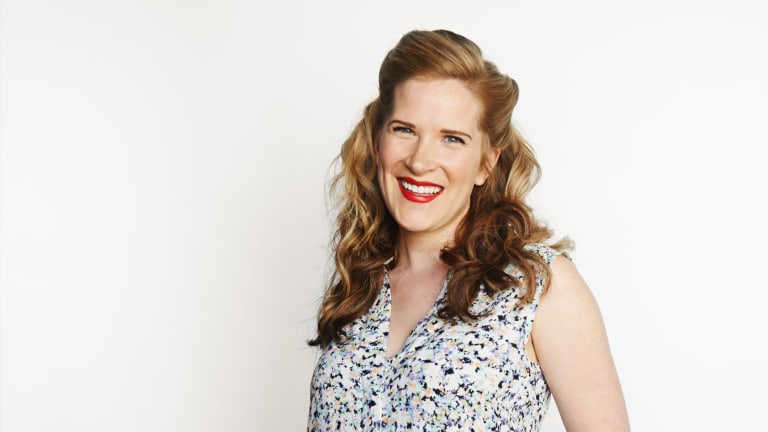 A Romantic and Retro Hair Tutorial
OK, you caught us. We're on a retro-inspired kick when it comes to outfit ideas and shopping (have you seen our Lauren Bacall, Katharine Hepburn, or Grace Kelly features recently?). And the vintage frenzy is spilling over to our beauty and hair inspiration. The romantic 'do below is a modern take on a retro pompadour hairstyle, great for an evening event or brunch with the girls. The key to making this look modern is to give the hair some texture and movement while keeping the wave loose and touchable.
Tools
sectioning clips
1-inch or 1 1/4-inch curling wand or curling iron
teasing comb or brush
4 bobby pins
Products
hairspray
beach spray or texture spray
STEP ONE//
Side part your hair the way it naturally lies. Create a section on the larger side of your part by separating the hair from the top of your ear to the crown of your head. Clip this section away for now.
STEP TWO//
Curl the hair around your head in one- to two-inch sections, switching the barrel of your wand or iron in the opposite directions from section to section. Curl all of your hair except the top section that's clipped away.
To achieve loose waves, hold the barrel of your curling wand parallel to your head with the top of the tool pointing downward. Take the section of hair closest to your head and start wrapping it around the barrel of the iron until you reach the end of your hair. Hold the hair on the barrel for about 10 seconds, let go of the curl gently, and allow to cool completely.
STEP THREE//
Once your whole head is curled, curl the top section of your hair just as you did the rest. Allow the curl to cool.
STEP FOUR//
Apply your texture spray to the roots of your top section to create grip and hold. Use your teasing comb or brush and backcomb the roots a bit to give extra hold and volume to the twist you are about to create.
STEP FIVE//
From the top section of hair, pull a piece from the front and twist, starting from right above the inner corner of the eyebrow and work your way away from your part, adding hair into the twist as you go along. Use two bobby pins to secure your twist and lock it into place above your ear at the crown of your head.
STEP SIX//
Shake out all of your hair. To add balance as needed, twist a small section of the hair on the opposite side from your main twist and pin in place. Feel free to brush through the curls, tousle with fingers, and add some extra texture spray to complete the look. Hairspray as needed to keep the twist in place.
Beautiful!