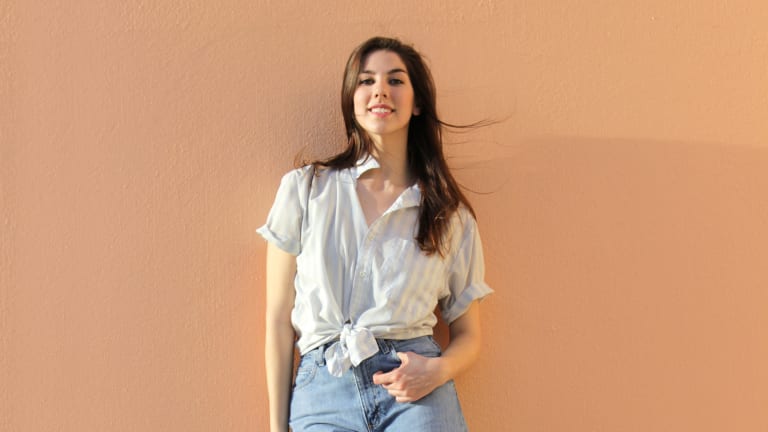 Why the Return Of High-Waisted Jeans Is a Good Thing For Womankind
Our Style Editor makes a case for giving 'mom jeans' a chance.
Mom jeans. A phrase bemoaned by young women in dressing rooms across America. You know, those horribly unflattering denim pants spoofed by Tina Fey and Amy Poehler. After more than 20 years of loathing high-waisted jeans, the fashion industry has welcomed back the prodigal son of pants.
I'm not talking about the tiny high-waisted shorts that hipsters have been sporting at Coachella these past few summers. I'm talking about the full pant legged "mom jean"—the kind that have been in thrift-store exile since the end of the 1990s; the once-adored Calvin Kleins seen on Brooke Shields that have since become a fashion "no-no."
These pants are back and better than ever. And I've got to say, I like it.
Street-style bloggers and off-duty models have flooded my Pinterest feed, looking effortlessly cool in their high-waisted denim. I was intrigued. A future free from low-rise jeans and the constant fear of bending over too much? Sign me up!
Seeing as this was the height of style a few decades ago, I opted for the thrift store to see what I could find. I arrived slightly overwhelmed at the idea of scouring the entire pants section–hundreds jeans that date from 2000 B.C. to now. I must have been blessed with superpowers from the thrift store gods, because I found two denim treasures in my size hanging on the end rack. Clearly, shopping can be providential.
For a mere $6, I bought a loose-fitting boyfriend pair as well as a tighter pair that I have to yank to get on. (We should all be thankful for the invention of stretch denim.) I drove home, imagining all the Pinterest-worthy ensembles I would create. But my outfit expectations came crashing down when I finally got home and put them on. Apparently my size-10 lower half doesn't look quite the same as the size-0 bloggers I had been eyeing.
"Well, duh," I thought, "I have hips."
I looked in the mirror every which way, trying to find an angle that made me look like those petite fashionistas. I tried cuffing the jeans. I tried them with heels, with sneakers, with the shirt tucked in, and with a flannel tied around the waist. All day, I put them on and then I took them off. Yet I couldn't muster up the courage to wear the jeans in public. I thought my hips simply looked too big.
I was perplexed by my reaction because high-waisted jeans were what women of all sizes wore in the 1980s and '90s. Before these pants were "mom jeans," they were just… jeans. They were considered attractive at one point!
So what happened? I asked myself (and my roommates who witnessed my crisis).
Why are women today so repulsed by the appearance of their own hips and thighs? It seems that an obsession with thigh gaps and narrow hips has become the theme of women's jeans in the 2000s. The low-rise jean especially emphasizes a physique like we've seen on Kate Moss during the "heroin chic" era and Britney Spears in her infamous "Slave 4 U" music video.
As a sales associate at American Eagle Outfitters, I learned a lot about women and jeans. For many of the women who came into the dressing room, the goal was to find jeans that made them look as skinny as possible. They almost always chose low-rise skinny jeans over any other fit and recoiled at the mid-rise bootcut and flare fits I brought them to try on. Any fit that added a little more fabric to the hip and thigh area, no matter how figure-flattering, was immediately deemed a dressing room "no."
I understand the struggle.I, too, find myself in dressing rooms critically examining how a pair of jeans fit my hips and thighs, and repeatedly asking my friends, "Are you just saying that these look good?" It seems like we what we really want is a pair of denim Spanx that suck in and smooth out every single curve on our bodies in order to disguise our real shapes.
This focus on having a skinny lower half for the past 20 years has made the resurfacing of high waisted pants jarring for many–including men, some of whom have vocalized their dislike for high-waisted fashions in numerous articles specifically because they believe it makes women look "frumpy" and "unfortunate."
Here's where I get really confused. Why are these men so turned off by women with hips and thighs and a pair of pants that accentuate her natural physique? If you flip through the latest issues of GQ or Men's Health, you will find that the very features that make up the feminine, womanly form are often not featured. Last year, Victoria Secret's "Perfect Body" campaign consisted of models with thigh gaps galore, leaving out the majority of women's body shapes. Look to the 1950s and '60s and you'll see plenty of examples of ample hips and thighs as the ultimate feminine silhouette (Marilyn Monroe, anyone?). In the past two decades, it seems the obsession with thigh gaps and tiny hips has both men and women confused about the female figure and its various forms.
But we, the proud owners of hips and thighs, don't have to be confused.
The reality of the situation is this: Many women do not have thigh gaps or narrow hips and that is a beautiful thing. By all means, look for styles that are flattering—but that doesn't necessarily mean skinny. We shouldn't have to spend our lives searching for pants that make us look thinner than we are, and we shouldn't feel ashamed when a pair of pants accentuates our feminine figures.
After my revelation, I made the decision to reclaim my feminine shape and wear my new high-waisted jeans that make me look like me, hips and all.
And I've got to say, I like it.