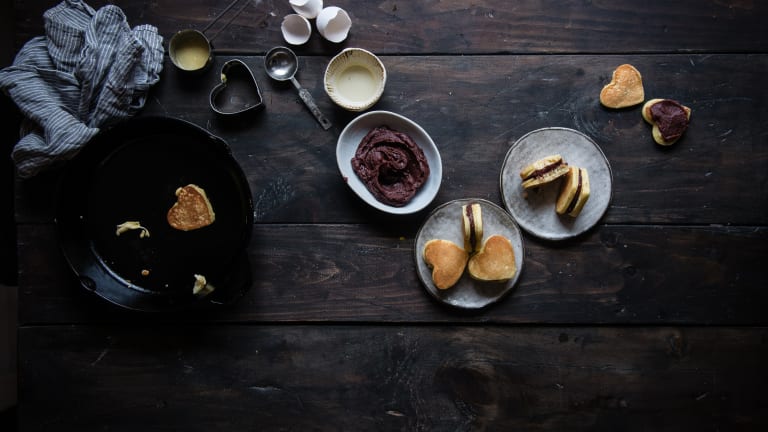 The Ultimate Valentine's Day Recipe
The most polarizing holiday of the year is upon us. Are you celebrating Valentine's Day this year? All talk of flowers, chocolate, and Hallmark cards aside, I kind of love Valentine's Day. It gives me license to take all the food we'd normally be eating anyway… and make kitschy hearts out of them. Heart-shaped eggs? Yes, please. Heart-shaped mounds of rice to go with those eggs? Even better!
This year, my heart-shaped food of choice are these dorayaki, a Japanese dessert similar to a pancake sandwich. They're a touch sweet and stuffed with a generous dose of red bean filling. The pancakes are smooth and velvety, denser than their fluffy American counterparts. I added just a touch of almond extract to the batter because it pairs well with the red bean paste. Dorayaki are traditionally round, but I couldn't resist using a cookie cutter to make these miniature heart ones. The cookie cutter slows things down a bit, so to make the process simpler, feel free to make traditional round pancakes. You can also sub Nutella, peanut butter, or another filling of your choice. Either way, they're cute, tasty, and easy to make for a Valentine's Day breakfast for a date or just you. Enjoy!
Red Bean & Almond Dorayaki
serves two (makes about 6-8 pancake sandwiches)
2 eggs
1/2 cup sugar
1 tablespoon honey
1/2 teaspoon almond extract
1/2 teaspoon baking powder
1 1/4 cup flour
1/3 to 1/4 cup milk
oil for frying (about 2 tablespoons)
3-inch heart-shaped cookie cutter (optional)
about 1/2 to 2/3 cup red bean paste, store-bought or homemade
Directions
01. Crack the eggs into a medium bowl. Add sugar, honey, and almond extract, then whisk vigorously until fluffy.
02. In a separate bowl, whisk together baking powder and flour. Add the dry ingredients to the egg mixture. Mix gently for a few stirs, just until some of the flour is moistened. Add the milk, then fold gently again until the mixture comes together into a wet batter, with small lumps remaining. For me, this was a bit thinner than I make pancake batter—it should be pourable but not entirely liquid, somewhere between crepe batter and pancake batter. You may first want to add 1/4 cup of the milk, then adjust the thinness to your liking. I also found that the batter does not need to be thinned as much if you're not using a cookie cutter.
03. Next, prepare a small, shallow dish of oil (optional, if you're making heart-shaped dorayaki). Heat a cast-iron or non-stick skillet over medium-low heat for 2 to 3 minutes. When hot, lightly grease the surface of the skillet—a very light layer is what will give you a more uniform brown surface on the pancake. Dip the heart cookie cutter into the oil so that all edges are well-coated. Place it on the skillet and let that heat for an additional 30 to 40 seconds.
04. When you're ready, pour about 2 tablespoons of batter into the cookie cutter. When bubbles appear around the edges of the cutter, use a small piece of paper towel to gently lift the cookie cutter from around the pancake. Don't use your bare fingers—the cutter will be hot. Gently flip the pancake (making sure it's golden brown underneath), and cook the other side for an additional 20 to 30 seconds, then transfer to a plate. Repeat with the remaining batter.
05. When all the pancakes are made, sandwich red bean filling between two pancakes and assemble into pancake sandwiches. Enjoy warm!
Note: I found that it took me a few tries to get the hang of making the pancakes in a cookie cutter, especially without it sticking to the cutter. Make sure to oil the cutter generously and allow it to warm fully on the pan before pouring the batter. Or omit it altogether and make traditional dorayaki! Not a fan of fillings? Try this method for heart-shaped American pancakes!