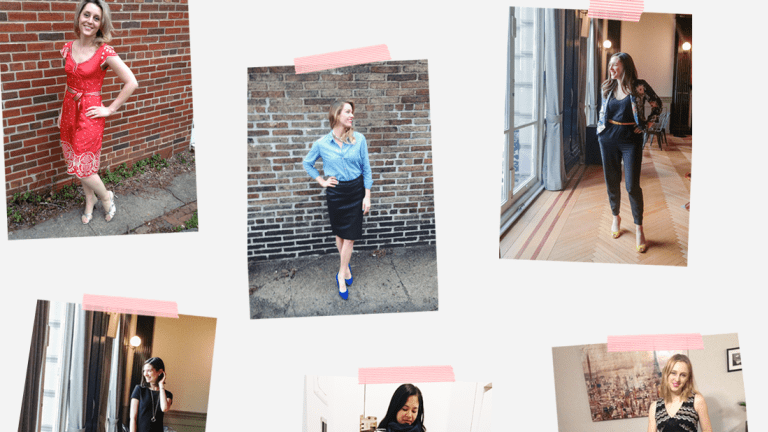 Our Favorite Thrifty Outfits Under $100
Brought to you in partnership with National Thrift Week
The Verily team loves a good shopping steal when we see one, and our elation most certainly overruns when we happen to find a buried treasure at a thrift shop or on the sale rack. (Have you read these fantastic style blogger tips for thrifting?) Today, we're celebrating our favorite outfits we've found from said shops and racks for less than $100—and that's including shoes!
Most of the items below were bought on sale, thrifted, gifted, or best of all, swapped. Hosting a clothing swap party with your besties or roomies is a great way to re-use perfectly good—and cute—items to add to your wardrobe. We challenge you to clean your closet and schedule the next swap during these cold and dreary months.
Get inspired by our outfits below, and show us your own budget-conscious outfits on Instagram with #verilystyle!
KARA, CO-FOUNDER & EDITOR-IN-CHIEF//
jumpsuit, Forever 21 $20 / blazer, Zara, $60 / shoes, swapped / belt, J.Crew, $10
This black jumpsuit is possibly my favorite thrifty find ever. Super comfortable, and I wear it at least once a week, so my per-wear cost is well below 50 cents. I am pretty sure I got this blazer on sale, and it's my go-to for meetings where I need to look a bit more professional. I snagged these pumps in a clothing swap with an old roomie, who had actually acquired them from a friend of hers in a swap before. These babies even made their way into our first-ever Verily photo shoot three years ago! And the belt is from a consignment store. I'm not much for thrift store finds, but I am pretty great at consignment shops. Thank you to whoever got rid of this guy!
Total: $90.00
JANET, CO-FOUNDER & STYLE EDITOR//
chambray top, Gap, $35 (when on sale) / leather midi skirt, thrifted, $8 / heels, Old Navy (similar here), $20 / necklace, vintage, $12
I'm always scouring Gap and Banana Republic for their eternal sales, plus having a Gap card helps a lot for discounts. I about fell over when I saw this leather skirt in a rundown thrift store in Pittsburgh. Leather is so in right now, as well as the midi-length. Win! And the brooches that make my necklace are from one of my first dates with my husband. He bought me these in Williamsburg, Brooklyn, after I ogled at them for 20 minutes.
Total: $75.00
MAGGIE, MANAGING EDITOR//
dress, Uniqlo, $40 / boots, H&M, $39 / tights, Target, $10 / necklace, H&M, $10/ earrings, vintage / watch, Kate Spade, gift
I bought this LBD on a whim at Uniqlo (an amazing and affordable store for basics). I like to jazz it up with gold jewelry and bold nail polish. H&M is great for cheaper boots—and I find a stiletto heel like this one tends to look way more expensive than it actually is. I've had the tights and necklace for a while. And these stud earrings are my favorite! They used to belong to my mom—gotta love a sparkly '80s-era find.
Total: $99.00
KRIZIA, LIFESTYLE EDITOR//
shirt, thrifted, Pilcro brand from Anthropologie, $9 / pants, Motherhood Maternity, $24.99 / boots, Treze Sabates in Barcelona, $65 / earrings, $1 / scarf, gift
I'm not pregnant and I'm down to pre-pregnancy size, but I still love to wear these maternity denim pants because they're so versatile and comfy! The rest of my outfit is from across the globe. The boots are from Barcelona, while the earrings are from a small jewelry store in Hawaii. And the scarf is a gift from Istanbul from my mother-in-law.
Total: $99.99
MARY ROSE, CULTURE EDITOR//
knit dress, thrifted, $15 / shoes, thrifted, $20 / black cardigan, gift / cigar purse, gift / earrings, $3.99
If you've ever lived in NYC, you need to check out Beacon's Closet—an incredible thrift store with four locations in Manhattan and Brooklyn where I found my dress and shoes. I would estimate that this cardigan cost $35 and the purse $20. Even with those two gifts factored in, my outfit comes in under $100. There's something about getting a good deal that makes me feel even more chic!
Total: $38.99
KATHERINE, ART DIRECTOR//
dress, Yoana Baraschi, thrifted, $40 / shoes, Naturalizer, $35 / earrings, gift
I picked up this mint condition dress at a thrift shop in Alexandria, Virginia, and I love how luxe this tomato red looks. My shoes were recycled from a wedding I attended. The dangling earrings were a gift, but I'd estimate they cost $20.
Total: $75.00
This article was produced for National Bring Back Thrift Week, a movement to encourage thriftiness in America. National Thrift Week begins each year on January 17 (that's this week!), in honor of the birthday of Benjamin Franklin, the "American apostle of thrift." You can find out more about NBBTW on their website or Facebook page.
To find out more about our approach to sponsored articles, see our About Us page.