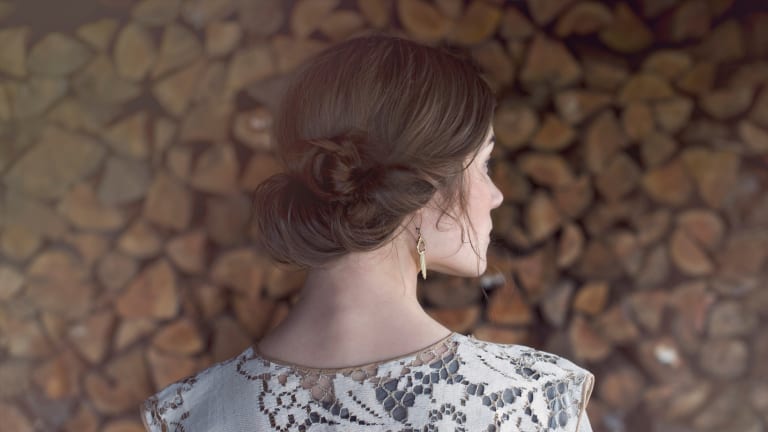 Get the "Poetry in Motion" Look With This Elegant Updo Tutorial
We're happily reminiscing over the featured fashion spread in our very first print issue: "Poetry in Motion," inspired by the secret life of Emily Dickinson. On a misty, cold April morning in 2013, we scampered about with the amazing women of The Weaver House on their rustic Northwest farm, reveling and getting lost in the ethereal, imaginary storyline. And it seems you couldn't get enough of the dreaminess as well!
Last fall, we posted a #TBT image to model Meredith Adelaide's gorgeous, windswept up-do from the shoot. From the request of you, dear readers, we're bringing you a step-by-step video tutorial on how to create the look for yourself, with the help of none other than the beautiful Meredith Adelaide herself, who joined us almost two years later. Yay for reunions!
Step by step:
01. Use a comb to part hair at your natural part.
02. Tease and then comb back the crown.
03. Section a piece of hair on the right side of your head, just above the ear. Roll hair away from your face and toward the back of the head.
04. Secure with pins along the roll, pinning downward into the roll.
05. Roll the remaining hair into a loose bun.
06. Secure with pins, pinning all around the bun.
07. Gently pull out a few loose tendrils around the face.
08. Fluff the crown to add volume.
09. Voila! You're finished.
Watch this video tutorial to see it all come together.