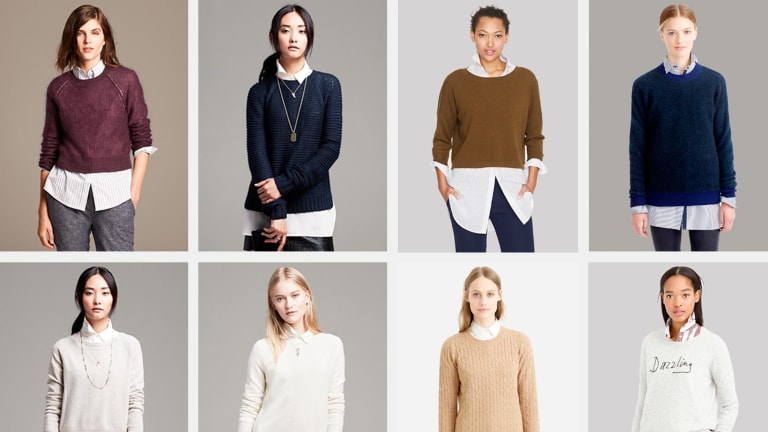 The Effortlessly Wearable Long Shirt and Cozy Sweater Trend
Part of my job is regularly scouring the web for cute, affordable pieces (always filling up Verily Shops) and I couldn't help but notice a recurring trend at what seemed like every major retail brand: an extra long, button-down collared shirt layered underneath a cozy sweater. It's simple, classic, and best of all, warm. And, somehow, the effortless, slightly oversized oxford with a sweater is fresh, modern--editorial even!--yet doesn't contain a hint of stuffy preppy-ness.
I've rounded up our favorite pieces below that are totally wearable and shoppable. Bonus, Christmas sales are just ridiculous right now, so stock up!
Banana Republic is known to be sleek, simple, and cool, and we totally love these silky tops with simple, neutral sweaters in cream and deep tones. So dreamy for winter!
1. Mohair Cropped Pullover, $50 / 2. Horizontal Stitch Pullover, $89 / 3. Metallic Pleat-Backed Pullover, $60/ 4. Pleat-Back Cropped Pullover, $50
 J.Crew, while more on the upscale side, has fantastic pieces for inspiration, and we love how they push the envelope ever so slightly, like this super oversized top with a cropped sweater and this candy-cane striped top with a clever graphic pullover.
1. Collection Cashmere, $198 / 2. Brushed Mohair Boyfriend Sweatshirt, $98 / 3. Cambridge Cable Crewneck, $88 / 4. Hugo Guinness for J.Crew, $95
Oh how we love LOFTfor their perennial sales, and they brilliantly made layering easy as all of these sweater-shirt combos are actually two-in-one tops!
1. Chambray Two-in-One Top, $59 / 2. Striped Two-in-One Top, $59 / 3. Dotted Two-in-One, $59 / 4. Two-in-One Top, $59
Madewell, the younger, funkier version of J.Crew, has a more bohemian and slightly androgynous feel, and they've inspired us to layer silky shirts and dark chambray under ultra-thick fisherman sweaters.
1. Turtle Neck Sweater Vest, $79 / 2. Back-Zip Pullover Sweater $79 / 3. Easy Cable Pullover, $98 / 4. Cityblock Turtleneck Sweater, $128