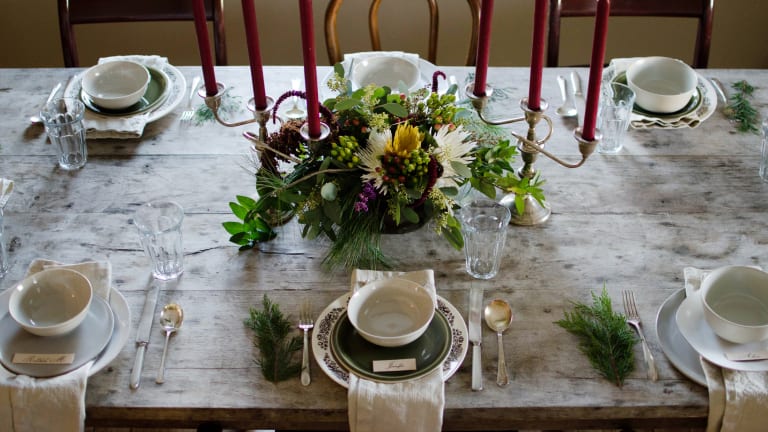 7 Tips to Help You Host Your Most Stress-Free Party Yet
You'll spend less time stressing out about the details and more time enjoying your loved ones.
Confession: I love throwing parties. But no matter how many I host, I end up feeling like I got hit by a ton of bricks—the planning! The cleanup! Well, fellow party-throwers, stress no more. Rebecca Gallop, founder of A Daily Gathering, hosts lovely gatherings on the regular and she's sharing her best tips with us.
With a busy toddler and another bundle due any day now, Rebecca has learned when to take the helm and when to let others steer (a humble habit many of us have yet to learn). She shares her secrets for how to make planning, execution, and cleanup more efficient, so you'll spend less time stressing out about the details and more time enjoying your loved ones. After all, isn't that what the holidays are about?
01. Go paperless.
Online invitations are great for a casual party. RSVPs are neat and tidy, and it's easy to send reminders and updates to the group. Keep the design simple and your wording to the point. Paperless Post has an array of beautiful digital invites that mimic the look and feel of traditional paper.
02. Create your theme around the food.
A great way to make meal planning simpler: Get all your recipes from one cookbook! It's a blast to plan dinners around a memorable theme—so why not include the food? We planned a supper using theVirginia Hospitalitycookbook by the Junior League of Hampton Roads, which includes recipes dating back to the 18th century. It's full of history and gives a detailed background for each course. Sharing recipes from one cookbook helps guests feel like they're all participating in paying homage to the cuisine, chef, or history of the food in a meaningful way.
03. Cook what you can in advance (and ask for help when needed).
To avoid getting caught in distractions and unexpected mishaps that get in the way of a perfectly timed party, plan a menu that can be partially made ahead of time. Save tossing the salad and popping rolls into the oven for right before guests arrive.
If this doesn't work out the way you planned, learn how to be vulnerable and admit you can't do everything. It's OK to hand a guest a wooden spoon when they show up early. Or ask a friend to bring something from the menu. Taking one or two things off your own list will allow you to stress less and spend more time with your guests.
04. Mix and match your tableware.
Play around with different combinations of dishes, linens, and centerpiece ideas the week leading up to your party. A mismatched look using new and thrifted or antique items makes for a one-of-a-kind tabletop. If you're in the market for dishes to entertain, get a supply of neutral dishes for layering. Toss in a few found treasures such as mismatched salad bowls, assorted flatware (easy to find at thrift shops!), and vintage salt and pepper shakers. Borrow unique pieces, like platters or gravy boats, from family members and friends.
05. Don't underestimate the power of florals.
Wintry and wild plants are easy to put together, last long and have big visual impact. Even better: it doesn't cost you an arm and a leg. I place a small flower order with Costco for seeded eucalyptus, spider mums, and hypericum berries. Pull everything else—cedar, pine, berries, textured greens, branches, and grass—from a local flower farm or shop.
For the centerpiece, aim low. (You want your guests to see the person across from them at the table!) Using a vintage pot as your vase, create a grid using tape over the opening to keep the stems in place. Play around with different stem lengths spread throughout, being careful to remember this arrangement will be seen from all sides. Create a simple garland (at least 3 feet long) using zip ties and any leftover flowers and branches. With 3M strips and fishing line, hang it wherever you need to detract attention away from an ugly light fixture.
06. Make cleanup easy. 
When prepping in the kitchen, clean as you cook so that most of the mess is gone before guests arrive. Place a few empty bins nearby for guests to toss disposables in during casual parties. For a more formal party, clear almost everything off the table between dinner and dessert. When you clear the dishes, scrape the plates and stack everything to save counter space. Having guests clear the table breaks up the flow of conversation, so only allow one or two to help. Have someone load the dishwasher while you prepare coffee or tea and get dessert on the table.
At the end of the evening, learn to accept help with grace if someone offers it. Enjoy the lingering conversation as the dishwasher runs, and you can hand wash and dry pots, pans, and wine glasses together. Rinse anything that didn't fit into the dishwasher and load it first thing in the morning.
07. Thoughtful favors don't have to be costly or complex.
I love coming up with small, useful gifts to send home with guests–nothing too expensive, and something they'll likely use in their own kitchen. A jar of herbs de Provence sea salt is a favorite—you can use it on almost everything. We sent each guest home with a copy of Virginia Hospitality. We also put together small jars of Russian Tea, a simple recipe from the cookbook. These gifts can double as table decor or place cards, sure to bring smiles to your guests as they come and go. A successful party indeed.